https://hkmb.hktdc.com/en/1X09WM42
2014 Chinese New Year sales: Dalian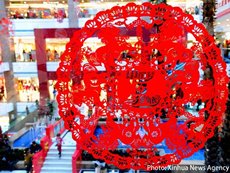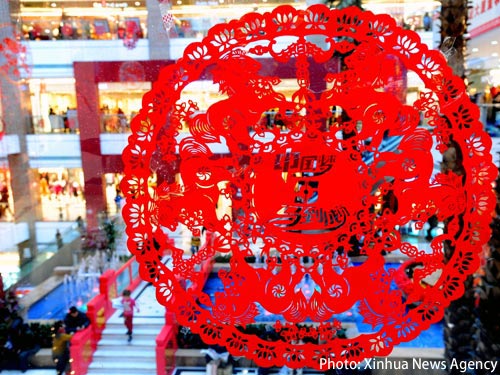 Festive decorations at a shopping mall.
HKTDC's mainland offices, namely in Beijing, Dalian, Qingdao, Xi'an, Shanghai, Hangzhou, Nanjing, Wuhan, Chongqing, Chengdu, Guangzhou, Fuzhou and Shenzhen, made market visits to high-end, mid-high end and mid-range shopping centres in their cities a week after the Chinese New Year to find out how holiday sales have fared this year.
The following is the sales situation of three leading stores in Dalian:
Store
Dalian Friendship Shopping Center, main store (department store)
Dalian High-tech Park Wanda Plaza
(shopping mall)
Dalian Market
(department store)
Grade
High-end
Mid-range
Mid- to low-end
Top-selling items
Food and men's wear.
Entertainment category (mainly cinema and catering services) has posted better results.
Food, clothing and accessories.
Price range

Food products: Rmb1,000- 3,000
Men's wear: Rmb3,000-5,000

Movies: Rmb60
Catering service: Rmb100

Rmb300-500
Average spending per customer
Rmb1,500
About Rmb600
Rmb500
Year-on-year sales change
Up8%
Not available (store opened in 2013).
No change.
Sales highlights
Among food products, sea cucumbers and nutritional tonics sold well.
Catering of beverages (notably English tea) achieved outstanding sales.
None.
Promotion tactics
Sales promotion activities included Chinese New Year sale, lucky draw upon purchase of Rmb1,000, and reward points for purchase. Such offers were publicised through the store's official account on WeChat, traffic news channel and newspapers.
Promotions were targeted at entertainment rather than goods sales, and WeChat and Weibo were the main channels used. For cinemas, catering service and children-related consumption, promotion was mainly in the form of membership discounts.
Sales promotions were mainly in the form of free gift certificate upon purchase of Rmb100 and discount offers for selected goods, with TV as the major publicity channel.
Jasmine Lao, Dalian Office
Mainland China
Mainland China