https://hkmb.hktdc.com/en/1X09W5L0
Social media in China: how one tee-shirt company engaged its target market
An interview with Jack Lo, chief production officer, and Sang Lai, chief operating officer, of Teelocker
In 2007, three young people from Hong Kong founded a T-shirt brand on the internet, giving designers and artists a platform to show off their talent and creativity. In 2008, Teelocker opened a store at Sogo Department Store in Causeway Bay, Hong Kong. In 2009, it entered the Chinese mainland retail market by establishing a presence in NOVO Department Store. Today Teelocker has two concept stores in Hong Kong and nine concept stores and concession counters in the mainland. In addition to its official website (www.teelocker.com), it also has official flagship stores on two of China's leading B2C platforms, Tmall and JD.com. Teelocker's development strategy is to have online stores and physical stores complement each other in expanding its client base and meeting the needs of its customers.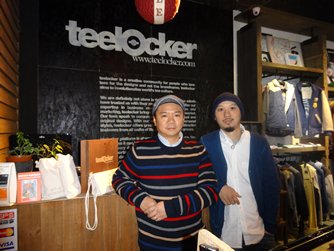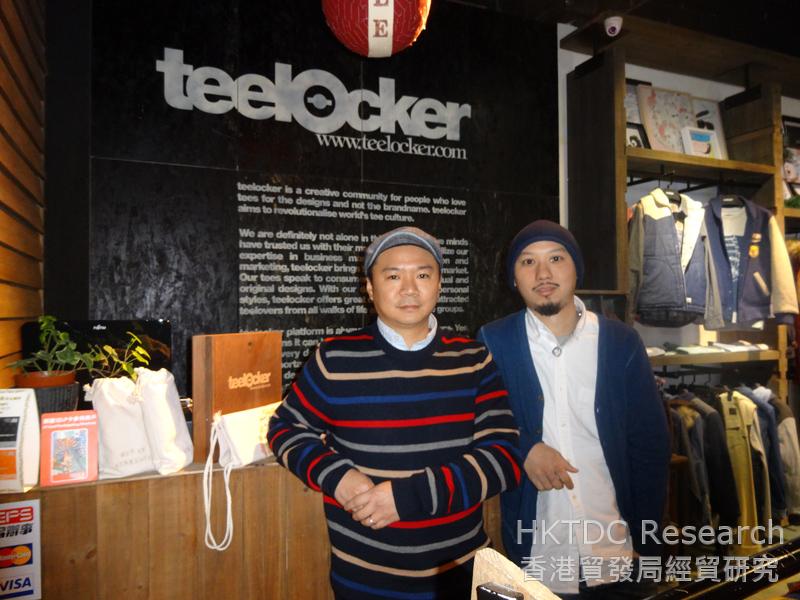 Teelocker chief production officer Jack Lo (left) and chief operating officer Sang Lai
Converting offline customers online
The business model of Teelocker is to provide an online platform for designers and artists from around the world to express and communicate their designs by using the T-shirt as a medium. Under this model, designers need only focus on designing and Teelocker takes care of the rest, namely production, packaging, sales and marketing, as well as logistics and display. Teelocker's seven-member design team decides which designs are finally printed on T-shirts for sale. Currently Teelocker works with designers from Hong Kong, the mainland, Japan, Thailand, Malaysia, Hungary and France, among others.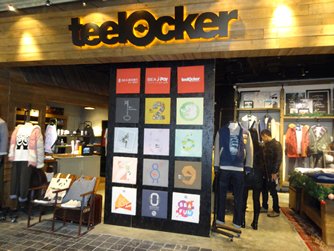 Concept store in Langham Place, Mongkok.
Individual designers also write blogs on Teelocker's official website so that consumers can learn more about the story behind each T-shirt and the ideas that the designers want to get across through their designs and products. What's more, the personal image of designers will be highlighted. Since Teelocker's target customers are the internet-savvy, 18-30 age group who shop online regularly, the online stores are posting good business results.
Due to business expansion, Teelocker opened concept stores and concession counters in Hong Kong and the mainland in 2008. These physical outlets are intended for promoting the designers by displaying their works and allowing more consumers to know more about them. This will in turn attract more designers to cooperate with Teelocker, creating a win-win situation. In addition to being a sales channel, concept stores and concession counters help reinforce the Teelocker brand name. As product display platforms complementing online sales, physical outlets are also intended for converting offline customers online, not least because it is impossible to establish a physical presence in every mainland city given the vast market size. Hence, Teelocker's strategy is to win more customers by running concept stores and concession counters in major mainland cities. E-tailing is its long-term business model.
Official website for brand image building
Teelocker's official website is primarily intended for building the brand's original design image. Many designers and students of design institutes overseas come to know about Teelocker through this website and subsequently become their collaboration designers. The website is also a platform for publicising brand events and for marketing communications purposes. Teelocker is the main sponsor of the Youth 'Dreamers' ChariTEE Design Competition jointly organised by the Hong Kong Association of Youth Development and Hong Kong Design Institute. One of the contest's objectives is to foster creative work. To Teelocker, it helps reinforce its original design image.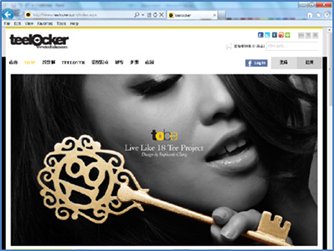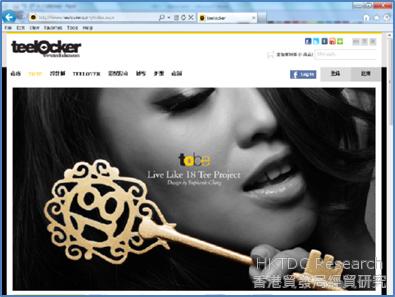 Teelocker's official website.
Another advantage of having one's own website is to be able to try out different business strategies. In addition to promoting the works of collaboration designers, the "tobe" section on the Teelocker website is dedicated to budding designers who would like to trial launch their original designs for production and sale on the website with the guidance of the Teelocker design team. Interested users may use the simulator provided on the website to select the tee body and colour, adjust the location and orientation of the design, and select other details such as packaging. After going through the whole simulation process, a final product can be submitted. If the design is selected, the Teelocker team will offer professional advice to the designer on production and marketing. Teelocker will allow the final products to be sold on its official website, thereby providing up-and-coming designers with a platform to bring their art to market. "tobe" also carries out crossover collaboration with Hong Kong artists. For example, Stephanie Cheng, a Canto-pop singer in Hong Kong, has designed and launched a "Live Like 18 Concert Tee".
Selling across China via third-party platforms
Teelocker's official flagship stores at Tmall and JD.com are used mainly for product sales. Because the layout designs of these two websites are standardised, it is difficult to make changes according to the company's development direction and marketing strategy. Yet these third-party e-commerce websites have heavy traffic, and Tmall and JD.com have attracted many online shopping aficionados. Moreover, online stores are like branch stores, reaching consumers from all quarters. This is an obvious advantage of third-party sites. It is worth noting that Tmall and JD.com are mainly frequented by mainland consumers who are usually younger and more price-sensitive. On the other hand, Teelocker's official website offers greater product varieties and is visited mostly by overseas consumers who are less price-sensitive. Different types of online platforms complement each other.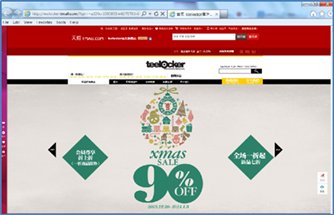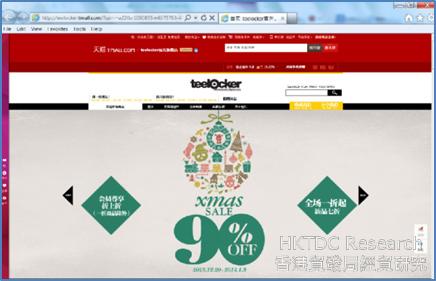 Teelocker's flagship store at Tmall.
Effective use of social networks
Teelocker does not advertise in traditional media. Instead, it uses social networks such as Facebook, Twitter, Instagram and Weibo to communicate with consumers and carry out marketing and promotion. Through these social media it shares interesting handicraft titbits with its fans as a way to boost the cultural flavour and original design image of its brand. It also releases on Weibo some event photos and behind-the-scenes production trivia to engage its fans and keep them interested in the company's news. Although most Weibo users are mainland consumers, Teelocker's posts are deliberately written in traditional Chinese characters. The idea is to strengthen Teelocker's image as a Hong Kong brand through such a differentiation.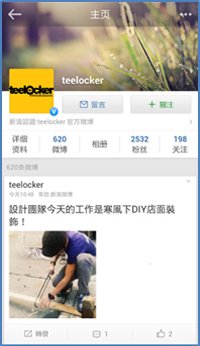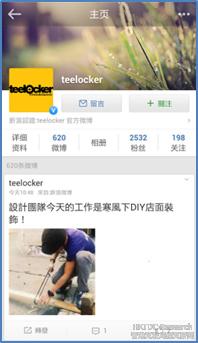 Tee production: behind-the-scenes.
Teelocker also announces new product releases on Weibo, but the contents are quite straightforward to avoid hard sell. This is so because customers interested in a product can reach Teelocker's official website through the web link provided in Weibo to read product details and the designer's profile before buying.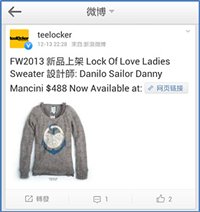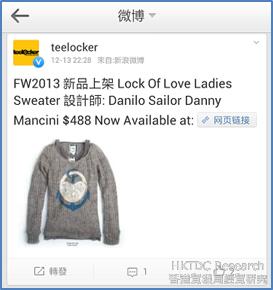 New product write-up.
Teelocker has run a campaign at its stores aimed at bringing its physical store customers to its online stores and turning them into fans on Weibo. After finishing shopping, a customer who tweeted Teelocker's post to five friends on Weibo was presented with a small gift. Such a campaign was quite effective because posts tweeted by friends often enjoy higher click-through rates and word-of-mouth can also be established among the customer's friends. Nowadays young people are generally receptive of social media marketing, so Teelocker is going to further step up its marketing efforts by setting up a public account on WeChat.
Mainland China
Hong Kong
Mainland China