https://hkmb.hktdc.com/en/1X09UXWD
Guangxi: China's link to ASEAN free trade opportunities
Surge in demand for consumer goods in ASEAN
ASEAN's consumer markets have been developing steadily in recent years. According to IMF figures, after the financial tsunami, ASEAN economies grew at a rate of 7.6% and 4.6% respectively in 2010 and 2011. From 2012 to 2014, continual growth is expected at an annual rate of 5.5% to 5.7%3 thereby driving a steady expansion in private consumption.
Economic growth of ASEAN countries
Per capita GDP (US$)
2012*
Real GDP growth (%)
2012*
Real growth in private consumption (%)
2010
2011
Brunei
41,703
1.3
1.8
3.7
Cambodia
934
6.5
9.7
10.4
Indonesia
3,592
6.2
4.7
4.7
Laos
1,446
8.3
--
--
Malaysia
10,304
5.6
6.5
6.9
Myanmar
835
6.3
2.7
--
Philippines
2,614
6.6
3.4
6.3
Singapore
51,162
1.3
6.5
4.1
Thailand
5,678
6.4
5.2
--
Vietnam
1,528
5.0
10.0
4.4
* Estimates
Sources: World Economic Outlook Database, International Monetary Fund, April 2013; Asian Development Bank


The growth in incomes of ASEAN consumers is stimulating the demand for consumer goods. In some countries such as Myanmar and Cambodia, there has been growing demand for daily consumer goods of relatively higher quality but cheaper prices such as garment, leather shoes and furniture. This not only bodes well for local wholesalers and retailers, but is fuelling import demand for the products concerned. Other than this, in some faster-growing economies such as Vietnam, as foreign investment flows in, infrastructures improve, power supplies to main cities and towns get increasingly stable and telecommunications networks become increasingly widespread. Consumers can buy more consumer electronics and home appliances to raise their standard of living, thus boosting sales of electronic and electrical products.
Thanks to these developments, Guangxi's exports to ASEAN have expanded rapidly in the past few years. Major exports include garment, accessories and various types of consumer electronics such as medium- to large-sized flat-panel TVs, relatively upmarket mobile phones, computers and peripherals, audio-visual products, home appliances and lighting products, which Hong Kong manufacturers are good at producing,. While some of these products are assembled and produced locally in Guangxi, many are either procured by local traders from other provinces or exports from enterprises in Pearl River Delta (PRD), Yangtze River Delta and other places to ASEAN through Guangxi.
| | |
| --- | --- |
| Power switching devices produced in Guangxi | Flat-panel TVs produced in Guangxi |
In order to capitalise on tariff cuts under CAFTA, Guangxi manufacturers have been expanding into the ASEAN markets in earnest and setting up direct sales channels there in recent years. They are also leveraging on the advantage of geographic proximity to the ASEAN markets to capture business opportunities arising from ASEAN's rising spending power. Also, because of Guangxi's proximity to the ASEAN country Vietnam and enjoys relative ease of customs clearance and logistics in ASEAN trade, it has developed gradually into an important gateway for China to enter the ASEAN markets. Thus, it provides sales channels for tapping into ASEAN business opportunities to the manufacturers concerned and to Hong Kong companies that are producing various types of consumers goods and electronic products.
Guangxi-ASEAN supply chain taking shape
In the meantime, foreign capital continues to flow into the ASEAN. According to a 2013 UN report, due to rising production costs in the Chinese mainland in recent years, some multinationals have been decentralising their production operations by relocating the more labour-intensive processes and export operations to Southeast Asian countries with lower income levels4. These relocated operations include garment manufacturing as well as assembly of components and end-products of electronic/electrical devices.
Increase in industrial production activities has directly triggered import demand in related countries for all types of industrial supplies, particularly parts and components as well as other upstream industrial products. Among Guangxi's exports to the ASEAN markets, in addition to consumer goods, there are also a lot of raw materials for garment manufacturing such as cotton yarns as well as accessories, batteries and other electronic parts and components for electronics manufacturing. Also, because of industrial development in ASEAN markets such as Vietnam, some goods vehicles and car parts and components produced in the mainland are also being exported to ASEAN via Guangxi to meet local industry demand. Therefore, manufacturers engaged in the production of various industrial production materials can, in addition to contacting directly their partners in the ASEAN markets, consider approaching Guangxi traders concerned to open up additional sales channels to ASEAN industrial markets.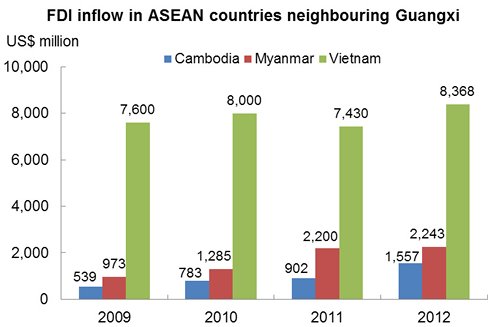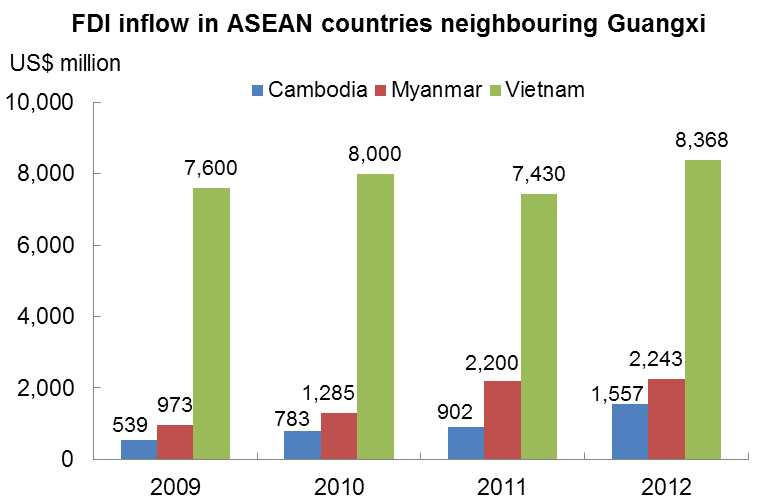 Steady FDI inflow into Guangxi's ASEAN neighbours: Vietnam, Myanmar and Cambodia
Source: World Investment Report 2013, UNCTAD

On the other hand, over half of the products Guangxi imports from ASEAN are energy and mineral products such as coal ore, iron ore and timber. In addition to being used by local energy, metal smelting and processing enterprises as production inputs, some of these imports are trans-shipped to central and coastal provinces to meet the increasing demand for energy items and raw materials in the course of China's industrialisation and urbanisation.
Other imports include agricultural products and live and fresh foodstuffs from ASEAN. It is worth noting that Guangxi is located along the Beibu Gulf of the South China Sea, and it is a key aquatic product processing base in the region. The raw materials for processing come not only from the catches of mainland fishermen in the adjacent waters and from aquatic farms along the gulf coast, but also mainly as imports from ASEAN, particularly Vietnam. The reason for this is that power supply and cold storage facilities in places like Vietnam are inadequate, so other than supplying local markets, local fishermen there are selling their catches mainly to Guangxi enterprises for processing. The aquatic products concerned include fish, prawns, clams and shells. After processing and cold storage in Guangxi, these products will be shipped to other places within the autonomous region or other mainland locations for sale, and some will also be exported to Hong Kong and other overseas markets.
[For more details, please refer to: Opportunities under CAFTA: Guangxi-ASEAN supply chain]
Food & Beverages
Logistics & Supply Chain
Mainland China
Mainland China
ASEAN