https://hkmb.hktdc.com/en/1X09TLYB
Kenya – The launch pad to East Africa
A free market economy with an accommodating trade regime
Serving as the trade hub for East and Central Africa, Kenya embraces an accommodating trade regime. In tandem with its openness and steady economic growth, Kenya's trading relationship with the world has strengthened in recent years.
Between 2007 and 2011, Kenya's external trade, despite a dip in the recession year 2009, soared 51% from US$13 billion to US$20 billion, indicating a compound annual growth rate (CAGR) of about 11% as well as a healthy trend in spite of a volatile global economy.
Taking a closer look at the total figures, imports surged by 55% in the period 2007-2011, while exports grew only 42%. Kenya's ready acceptance of imports, in particular those from the Chinese mainland, is increasingly making it a darling of Hong Kong traders, while Hong Kong can act as a good platform for Kenyan exporters who seek to move up the value chain by branding and diversifying export markets to the Chinese mainland and other Asian countries.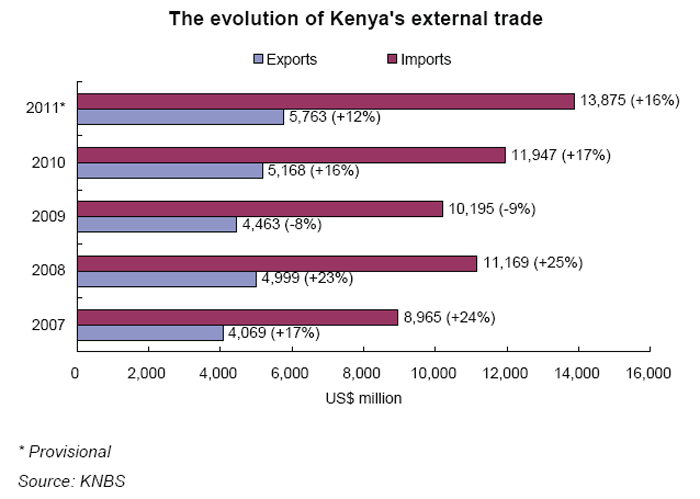 As the region's economic engine and a major access point to the sea for East and Central Africa, Kenya has been supplying its neighbours such as Uganda, Tanzania and Rwanda with a wide variety of products ranging from food and beverages, industrial supplies to consumer goods. Given Kenya's limited domestic production of consumer products, many of the items are indeed re-exports coming from Asian suppliers.
Thanks to Kenya's strong history with the UK, the European Union-African-Caribbean-Pacific (EU-ACP) Cotonou Agreement, and the subsequent European Union-East African Community Economic Partnership Agreement (EU-EAC EPA, also known as a Framework EPA (FEPA)), Europe remains one of the country's major export markets, with the UK and the Netherlands ranking high in its export roster. Meanwhile, the African Growth and Opportunity Act (AGOA) has provided Kenya with preferential market access to the US since 2000, making this one of the nation's top-five export markets.
As a member of the East African Community (EAC) and the Common Market for Eastern and Southern Africa (COMESA), Kenya can enjoy duty-free access to 19 African markets, including Egypt. In addition to exporting to the regional trading hub in the UAE, Kenyan exporters are expanding their reach to Asian markets such as Pakistan and India, thanks partly to the strong presence of Indian companies.
Although China is not yet a key market for Kenyan exports, it is the country's number one source of imports, surpassing India with year-on-year growth of nearly 60% in 2010. Mega infrastructure development projects fuelling imports of construction machinery have been considered one of the major underlying reasons for the fast growth, while the supply of electronics, vehicles, textiles and other consumer goods is also on the rise.
Intriguingly, the increasing consumption of petroleum products and the strong Indian business community have boosted the imports from the UAE (for example, more than 90% of crude oil imports comes from the Abu Dhabi National Oil Company, ADNOC) and India.
With Asian suppliers, especially China and India, gaining economic clout in the Kenyan market and accounting for 60% of the nation's total imports, Asia's rivalry with Kenya's traditional suppliers has intensified recently, resulting in lower import reliance from South Africa, the US and the UK.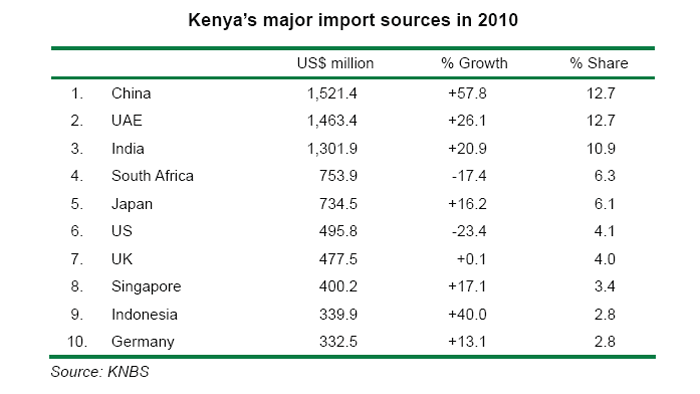 Looking ahead, Kenya is embarking on a journey to transform itself into a "middle-income country providing a high quality of life to all its citizens by the year 2030", with the identification of several pillar industries including tourism, agriculture and livestock, wholesale and retail trade, manufacturing, business process outsourcing (BPO) and financial services.
Import demand for goods ranging from raw materials, capital goods to general consumer goods is set to soar in coming years. To ensure a slice of the up-and-coming Kenyan market, Hong Kong companies, on the back of their strong presence and production capacity on the Chinese mainland, have to adopt a more proactive approach by calibrating a mix of price and quality that can best cater for the ever-growing appetite for quality, innovative products but still limited purchasing power in Africa.
On the other hand, by leveraging on Kenya's role as a regional launch pad, Hong Kong companies can ride on the country's leading distribution network and logistical advantages to reach out to other uncharted but more fast-growing markets such as Ethiopia (average annual GDP growth of 9.7% over the past five years), Uganda (7.2%), Rwanda (7.1%) and Tanzania (6.7%) in East Africa.
---
[1] Kenya was a British colony in the period 1920-1963.
[2] EAC is comprised of Burundi, Kenya, Rwanda, Tanzania and Uganda, with South Sudan bidding to join since Nov 2011.