https://hkmb.hktdc.com/en/1X09TLLO
Dipping a toe in the Kenyan market
Hong Kong companies are eager to dip their toes into Kenya's growing pool of consumers. The greater Central and East African market also beckons, so new-to-the-market players should take heed of potential challenges in relation to limited purchasing power, rudimentary retail landscape and a sizeable informal market. Export trade aside, Hong Kong traders can consider the business prospects of introducing the Asian food specialty market to Kenyan gourmets.
Practical tips for Hong Kong traders
While concentrating marketing efforts on modern retailers and established importers in major cities such as Nairobi and Mombasa, Hong Kong traders can also direct their attention to the nascent pool of new importers flourishing in line with the country's Vision 2030 Development Plan which sets to bolster wholesale and retail trade. These novices, however, may require extra care and considerable communication as most of them are inexperienced and sometimes not fully aware of international trade practices and standards.
At present, major obstacles to direct sales are the small volumes and lack of financial support for importers. To get around this problem, Hong Kong exporters, apart from co-operating with the leading hypermarket/supermarket chains and shopping centres, may consider appointing a sales agent which can consolidate the orders from multiple buyers in the country or region. To obtain information on reliable Kenyan agents, Hong Kong companies can seek assistance from official agencies such as Kenya Investment Authority (KenInvest) and Kenya National Chamber of Commerce and Industry (KNCCI).
Selected contacts of government departments and agencies in Kenya
| | |
| --- | --- |
| Name | Contact |
| Ministry of Trade & Industry | |
| Export Processing Zones Authority (EPZA) | |
| Kenya Bureau of Standards (KEBS) | |
| Kenya National Chamber of Commerce & Industry (KNCCI) | |
| Kenya Revenue Authority (KRA) | |
| Kenya Investment Authority (KenInvest) | |
| Kenya Ports Authority (KPA) | |
Last but not least, trade fairs in Hong Kong are considered one of the most effective means for Hong Kong companies to get in touch with Kenyan and other Central and East African buyers and their trading companies/agents. HKTDC received more than 180 Kenyan buyers to its trade fairs in 2011, with the Electronics Fair (Autumn edition) being the most popular choice.
Beyond the export trade: stirring the Asian market with Kenyan fresh produce
Situated astride the Equator on the East Coast of Africa, Kenya's rich volcanic soils, well-distributed rainfall and long sunny days provide ideal conditions for a variety of agricultural products, including tea, coffee, fruit, flowers and vegetables.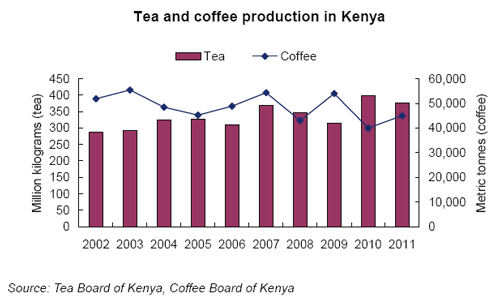 With some 50 varieties, Kenyan tea, for example, has been strengthening its fame and allure in the global tea market with quality (no pesticides and chemicals) and variety. As the leading producer and export of black CTC (crush, tear, curl) tea, Kenyan tea growers are striving to excite the market with new offerings such as black and green orthodox tea, green tea, white tea and purple tea.
In the meantime, Kenya's Arabica[1] coffee, since its introduction to the country in 1893, is famous for its acidity, flavour, body, aroma and undertones. While Kenya's coffee production has trended down, in volume terms, after peaking in 1999/2000, the average auction price of coffee has continuously increased to exceed US$330 per 50 kilograms in 2011. This shows how Kenyan coffee growers concentrate on coffee that carries the finest specialty, instead of competing in volume and the mass market.
Aside from beverages, fruit, vegetables and flowers are also potential sectors for which Hong Kong traders can manoeuvre. Thanks to its climatic advantages, Kenya can be a reliable supplier of fruits such as bananas, pineapples, mangos and avocados, passion fruits, melons, vegetables such as French beans, carrots and asparagus, as well as roses, carnations, statice, alstromeria and gypisopilla.
That said, while Kenya's fresh produce is the mainstay of the Kenyan economy, providing a livelihood to approximately 75% of the population, the country is also no stranger to consumers in Europe and the Middle East, although very little reaches consumers in Asia, except Pakistanis and Afghans.
Seeking to grow their business with the increasing affluence and changing consumption habits in favour of a healthy diet and the romantic connotations of flower giving, in the underpenetrated Asian markets, especially the Chinese mainland, Kenyan gourmet foods and horticulture are set to gain popularity in Asia, presaging lucrative business opportunities for Hong Kong as a trendsetting platform in Asia.
The greater efforts of Kenyan traders to open up new markets through fair participation and business missions, especially on the Chinese mainland, imply greater demand for Hong Kong's logistics and trading sectors to provide reliable and efficient services for Kenyan companies to introduce their gourmet products and romantic flowers to Hong Kong and Greater Asia.