https://hkmb.hktdc.com/en/1X09T4DB
Tips for working with distribution agents (5): EDO's success story in China
An interview with Ellis Wong, chief executive officer of EDO Trading Co
EDO is no stranger to Hong Kong food consumers as they can see EDO products in virtually all local supermarkets and snack shops. Actually EDO has been engaged in the development of snacks for more than two decades and has a good understanding of consumer preferences. It started off as an agent for food brands and eventually developed its own brand. After laying a good foundation in Hong Kong, it gradually extended its business to the mainland. Ellis Wong, CEO of EDO Trading Co, shares his company's experiences in developing the mainland market and building up its marketing network.
Own brand, high production quality
Ellis Wong said his company began acting as an agent for Japanese food and gradually expanded its scope of business to cover packaged food from Southeast Asia, South Korea and other countries. Eventually it had a chance to develop products of its own brand. Today own-brand products account for about 40% of its business while the other brands it carries account for about 60%. Although it does not have its own food factory, its choice of manufacturers reflects an upmarket approach to brand development.

Ellis Wong pointed out that EDO exercises great care when choosing factories to produce its products. While ISO certification is a must, it also takes into consideration whether or not these factories have any experience producing food for export to countries like Japan and the US. "Japan and the US have strict requirements for imported food," said Wong. "Clients in these places are quite demanding and may even have their own quality control standards. Being able to produce food for these markets means that these factories have reached a given standard in their production and we will only consider using these factories as our OEM partners," he said.
From "seller's market" to "buyer's market"
EDO has more than 20 years' experience in opening up the mainland market and has seen with its own eyes its transition from a "seller's market" into a "buyer's market". "In the early days, people would grab anything being offered. At that time we could sell 'with eyes closed' and they would buy 'with eyes closed'. It's okay as long as we have something to sell", said Ellis Wong jokingly. However, an obvious change occurred in the last eight to 10 years. As the mainland market became more and more open, supplies from foreign countries multiplied. Mainland companies also went abroad to look for new merchandise. As supplies increased, the market naturally turned from a "seller's market" into a "buyer's market".
Many analysts pointed out that mainland consumers are becoming increasingly demanding about product quality in recent years. Ellis Wong shared this view. Mainland consumers now know more about the goods they buy. Frequent reports of food safety have also made them more concerned about food quality. In Wong's opinion, there are indeed many small factories that sacrificed quality for profits in the vast land of China and problems of food safety are bound to continue for some time to come. It is only natural that consumers should become increasingly demanding about the quality of food.
On the other hand, mainlanders are also shrewd consumers. They will carefully read the product descriptions and will compare the volume or weight of different packaging.
Product quality the cornerstone of market expansion
Mainland consumers' concern about quality finds reflection in the fact that they are increasingly keen on buying products of famous brands. As Ellis Wong pointed out, mainland consumers have the greatest faith in imported goods of famous brands, meaning they have the biggest edge, followed by imported goods of less well-known brands and then China-made foreign brands and leading domestic brands. On account of consumer confidence, EDO attaches great importance to product quality in its market development on the mainland. Quality requirements are most rudimentary in efforts to build up a good brand image among consumers.
Due to the popularity of imported goods, supermarkets tend to charge lower slotting fees on imported goods than domestic brands. Of course domestic products have a lower product cost and do not have to bear import-related taxes.
Use Hong Kong to build up image and spread north
Although advertising is basically an effective means of product promotion, Ellis Wong said Hong Kong's role as a platform for brand display and image building should not be overlooked. When mainland consumers see this brand in Hong Kong, they would have greater faith in it and think that it must be a good brand. This is an effective means of image-building targeting consumers from southern China, because southern consumers, especially those from Guangdong, have more opportunities to come to Hong Kong for shopping and therefore have a wider exposure to different brands.
EDO also started from southern China in its mainland market development strategy and gradually extended its business to the north after establishing a good foundation and achieving good brand image and word-of-mouth among consumers in the south. As for other parts of the country, it would first target the first-tier cities before reaching out to the second- and third-tier cities in a sure-footed manner. Every region and city has its handling capacity and it is necessary to reach this capacity step by step to avoid overstocking. In the process of market expansion, care must be taken to make sure that consumers know that EDO is a famous foreign brand in order to build up its brand image.
In EDO's quest to extend its business to other parts of the country, Ellis Wong said the activities organised by the HKTDC in promoting Hong Kong brands played an active part in establishing Hong Kong's image and helping Hong Kong companies reach out to mainland buyers.
Build distribution channels using network of local dealers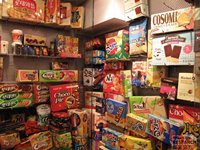 EDO builds its distribution network by cooperating with agents in different regions. Ellis Wong pointed out that some companies tried to set up wholesale business in different regions but did not seem quite successful because they did not know the local commercial network well enough. Some tried setting up their own retail outlets. This has its advantages because it can directly control its inventory and sales. However, it is very difficult trying to establish one's own networks and channels from scratch in different cities, as this requires a lot of manpower and resources. "We have decided to work with agents in different regions because they already have local marketing networks. It would also help us establish marketing channels more swiftly," he said. However, he frankly admitted that the drawback of this practice is that one more marketing intermediary would definitely have its impact on gross profit and product price: either the gross profit margin would fall or the selling price of products would go up.

Other than regular channels like supermarkets, traditional small stores are not to be neglected in the marketing of packaged food on the mainland. This is especially true in the second- and third-tier cities, where the total sales of small retail stores may be quite substantial. It is necessary to rely on local distributors to open up this sales channel.
At present, EDO mainly appoints distributors with cities or provinces as units, but this also depends on the handling capacity of individual cities. If the handling capacity of a particular area is too small, EDO may award the local agent a larger area to ensure that it has sufficient business. The reason for this is that goods are ordered in units of containers. If the local handling capacity is small, products may be overstocked and pass their expiry dates in no time. On the other hand, as the varieties of products sold by the company increases and the retail channels become more diversified, the company may cooperate with more than one distributor in some of the larger and more mature regional markets. However, there will be clear division of work between these distributors. For example, each may be responsible for different product lines or retail channels to avoid conflict of interests.
Achieve greater economies of scale through local agents
Apart from the lack of local marketing networks, one of the reasons why EDO finds it necessary to cultivate connections with wholesalers is that if it only wholesales goods of its own brand or goods it distributes, it may not be able to achieve economies of scale and is not very cost effective, said Ellis Wong in his analysis. On the other hand, "if the local agents have other popular brands in their hands, they may help our products gain access to the retailing channels as they have better bargaining power," said Ellis Wong. EDO has quite a good brand effect in the south China market and the local agents may rely on the EDO brand to boost the sales of other less famous brands. To the contrary, in northern China, EDO may rely on the better-known brands in the hands of the local agents to gain access to the retailing channels.
EDO supplies goods to local distributors in the form of "outright sale", that is, cash-on-delivery. This not only guarantees the collection of payments but will encourage local distributors to promote sales more actively because these are goods they bought with their own money. Consignment sales involves greater risks because it is difficult to ensure that the local agents would actively promote sales, with the result that overstocking may occur and goods may quickly past their expiry dates.
"However, when you choose your agents, the agents are also choosing you," Ellis Wong admitted. "In the case of outright sales, for instance, why do they have to buy your brand and take on this pressure?" Thus, it is necessary to build up one's brand appeal and convince the distributors that there are great prospects in the business before the distributors would take the risk of making "outright purchase". This is also the effect that EDO seeks to achieve.
Build long-term relations with agents found at trade shows
Distribution agents are mainly found at specialised exhibitions, which provide opportunities for companies to get in touch with potential partners. Of course not every exhibition would prove fruitful. Suitable agents must measure up to one criterion, that is, the amount of goods purchased, because goods are delivered in units of containers. Their handling capacity must reach at least one container shipment. "Although orders must be in units of containers, we allow some of the newer markets in the north to order goods that may not fill up one standard container," said Ellis Wong. "Sometimes we offer them the same price as in the south even though their orders are much smaller because we want to support the growth of new markets. We hope to establish long-term relations with them and are not satisfied with merely securing one or two orders."

As far as product publicity is concerned, those with a small gross profit margin do not get much publicity while those with a higher gross profit margin naturally get more publicity. If an agent is interested in a certain product and has purchased a large quantity of this product, it would also devote more resources on its publicity. It may even start an advertising campaign for it, but most of the time it would just post sales promoters at the retail outlets. In order to establish its market and brand image in new cities in the mainland or abroad, EDO would also do its best to win relevant awards, such as the "Hong Kong Famous Brands Award" and "Hong Kong's Most Popular Brands".
When choosing new partners, EDO would also visit the city where the prospective partner is located to find out more about its local sales network and whether the categories and brands of goods it distributes are commensurate with EDO's market positioning. The purchase volume is not the only consideration.
On the question of pricing, Ellis Wong pointed out that EDO would recommend the retail prices to the local agents but noted that the mainland market basically has its own system of calculating retail prices. Of course when orders are big the purchase price would be relatively lower, thus making it possible to fix retail prices at a lower level. "The retail prices for the same product may vary from place to place," said Ellis Wong. In general, the retail prices of imported products are higher because they involve taxes and profits for the agents and retailers. Products with a large turnover may also be cheaper, but the retail prices may be higher in the more remote areas due to transport costs and other operating expenses.
Mainland China
Mainland China