https://hkmb.hktdc.com/en/1X09T3XU
Tips for working with distribution agents (3): Jumping on the mainland food bandwagon
An interview with Guo Yiqun, director & general manager, Guangzhou Qunwang Trading Co Ltd
Guangzhou Qunwang Trading Co Ltd has 20 years of experience in distributing food on the mainland. The company has successfully built up a network of diverse distribution channels, including retail outlet, wholesale circulation, online sale and group buy, selling products to different parts of China. Guo Yiqun, director and general manager of Qunwang, president of Guangzhou Yuexiu District Food Association and vice president of Guangzhou Food Industry Association, gave an account on the characteristics of the changes in demand of the mainland food market as well as the points to note in operating in China. His comments can serve as reference for industry players wishing to enter the mainland food market.
Soft over hard, small over big, innovative and healthy concepts dominate
Based on years of experience in the industry, Guo Yiqun noted that the changes in demand and development trend of the Chinese food market can be summarised into three main characteristics: soft over hard, small over big, and innovative and healthy concepts dominate.

"Soft over hard" refers to the fact that people nowadays pay more attention to the texture of food products. Today, the range of food available on the market is much wider than before and there are many different varieties for people to choose from. In the old days, people had to eat whatever that was on offer, such as hard biscuits and fruit drops. But now people would only buy food that tastes good. The texture and taste of food are most important, and soft and crispy textures are popular.
"Small over big" refers to the increasing demand of people for food in small individual packaging. On the one hand, individual packaging is cleaner, more hygienic, and easy to carry and keep; on the other, such packaging can better meet people's desire to try new products, and gives consumers more choices.
Today, the extensive distribution of large numbers of shopping channels, rich varieties of food available on the market, convenience in shopping, and great diversity of food products, have stimulated people's shopping desire. People now have more choices and are more willing to try new products. This is particularly evident where leisure food consumption is concerned. In order to win amidst intense competition, more and more food manufacturers are injecting innovative ideas into traditional food products to develop more new varieties. Hence, new tastes and new combinations of food ingredients have emerged one after another. Furthermore, as people are becoming more health conscious, an increasing amount of food products emphasising health have come onto the market. Examples include low sugar moon cakes and low sodium preserved fruits.
Spending power grows, imported food gains popularity
As the income of mainland consumers continues to grow and their living standard rises, their demand for imported food has also increased. Imported food does not only satisfy consumers' demand for diversified tastes, it also helps to enhance people's quality of life. Food imported from Europe, the US, Japan, Korea, Southeast Asia, Hong Kong, Taiwan and Macau is flooding the mainland market. In particular, imported leisure food with exquisite packaging, novel taste and exotic touch has won the hearts of mainland consumers and is selling well on the market. According to a report in the Southern Metropolis Daily, imported food has been growing in the mainland at a rate exceeding 15% for 10 years consecutively. Guo Yiqun predicted, "In the next 10 years, imported food will grow at an annual rate of 20% in the mainland market."

To ride on the imported food trend and satisfy the rising demand of consumers for imported food, many supermarket chains have set up special zones for imported foods in recent years. In order to attract more imported food suppliers to enter their stores, hypermarkets give special treatment to imported food zones and offer special preferential policies to suppliers. For instance, both their slotting fee and commission rate are lower than those for domestic products. Guo said, "As more and more imported food enters the mainland market, it is believed that market competition will intensify. As such, the concession given by hypermarkets to imported food will not last forever. In fact, in recent years there are already signs that [these policies] are gradually tightening up, for example, commission rate has begun to rise."
Seller's market gives way to buyer's market
On the changes of distribution channels in the mainland food market, Guo Yiqun finds the change from "sit and sell" to "walk and sell" the most evident. In the early 1990s, agents were having a good time, with buyers representing distributors and retailers approaching them in the hope of purchasing products from them. "They could just sit there and do business," said Guo. But as the number of food suppliers/manufacturers increases and more and more food products and brands enter the market, the food market has moved from a seller's market to a buyer's market. "Nowadays it is not easy to enter retail outlets. Even if [a supplier] finds his way in, he has to put up with the harsh conditions set out by the seller," Guo said, adding, "Today [the agent] has to go out to find business, it is literally 'walk and sell'."
Large retailers such as supermarkets are the major retail outlets for food products. Agents are usually the distribution channel of these large retailers. New products finding it difficult to enter these large retailers have to cooperate with the right agent. Products selling through large supermarket chains must pay a number of high fees including slotting fee, initial fee, and promotion fee. Moreover, large supermarket chains would also collect a commission on the food products, which normally ranges from 15% to 25%. "For hot-selling products of well-known brands, the commission can be set at around 10%," said Guo. It is also worth noting that the payment settlement period of large supermarket chains is usually longer than that agreed. "[The supermarket] may agree to make payment in 60 days, but usually it will delay payment period to 6-9 months." Guo added, "The distributor has to bear great cash flow pressure."
Apart from directly dealing with retail outlets such as large supermarket chains, Qunwang Trading also has other distribution channels such as wholesale circulation, online sale and group buy. "[Our] leading retail clients mainly concentrate in the southern China region. Sales in other regions have to rely on distributors and the goods are sold through wholesale circulation channels." Guo said, "On principle, distributors make purchases by way of cash on delivery, in order to alleviate cash flow pressure on us. The selling price of wholesalers is lower than the selling price of large retailers. Besides, if [the distributor] can meet the sales volume requirement, an incentive in the form of profit sharing on the excess portion would be granted in order to protect the interest of the distributor. Once [the distributor] can make money, he would be willing to work harder for the growth and development of both parties, for example, he would be willing to take up the responsibility of fostering new products." At present, wholesale circulation channels account for the lion's share of sales volume.
Division of labour and integrity lead to win-win situation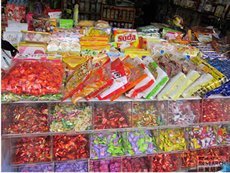 After operating for so many years, Qunwang Trading has accumulated rich experience in selecting the right products and suppliers. The company mainly identifies suppliers via two channels. One is participating in food fairs to collect information on products and suppliers, including direct manufacturers and trading agents. The other is studying the imported food currently offered on the market. The latter includes checking the information of the primary agent on the Chinese label of the imported product and acting as the regional distributor of the primary agent. Where product selection is concerned, attention is mainly paid to the following: niche product, suitable taste, exquisite packaging, and reasonable pricing. Guo said, "Judging from the sales in the market currently, food products from Southeast Asia, Hong Kong, Macau and Taiwan are more popular because on the one hand, their taste suits the palate of mainland consumers better, while on the other, their price is more acceptable compared to that of European and American products."

On the division of labour between the agent and the supplier, Guo said, "The agent is mainly responsible for sales, but he would also make suggestions on publicity and promotion to the supplier based on his own experience. Meanwhile, the supplier is responsible for handling all the certificates and licences (e.g. product inspection licence, Chinese label for imported goods, laser anti-counterfeit CIQ label) required for selling on the mainland, customs clearance procedures (which can be handled by the relevant service provider), goods delivery and replenishment, as well as product and brand promotion."
Where profit sharing is concerned, currently the majority of industry players adopt the sale and purchase price system. In other words, the supplier supplies goods to the agent at a supply price and at the same time proposes a suggested retail price to the agent for reference. Generally speaking, the difference between the supply price and the suggested retail price is about 30%. As such, after deducting the 20% commission collected by the supermarket, the profit made by the agent is around 10%. On the method of payment settlement, Guo said frankly, "It is like a chess game, it mainly depends on which side is at the upper hand." For hot-selling products of well-known brands, since they are much sought after, normally they gain the upper hand. Hence, they can demand cash on delivery and would not offer goods returns service. As for new brands trying to enter the market, since their brand awareness is low, they have to rely heavily on the agent and would usually offer more preferential conditions such as granting the agent sole agency, bearing the distribution fee and promotion fee, adopting the settlement method of "sell first pay later", and offering goods returns service. Guo said, "In cases where cash on delivery does not apply, the payment settlement period for the supplier is usually 80-120 days, with the longest period not exceeding 180 days."
"To the agent, the integrity of the supplier is the most important," said Guo. "[We] have come across suppliers who refused to pay the distribution fee and promotion fee which they had promised to pay. There are also suppliers who grant exclusive rights to more than one distributor within the same region. This can easily create vicious competition among distributors, which would eventually harm the food enterprise concerned. The most extreme case is the existence of parallel goods or even bogus goods on the market, which disrupts the pricing system and market order as well as dampens the promotion drive of the distributor." To build a good cooperation relationship with agents, one should guarantee reasonable profit for the agent and not squeeze the income of the agent. It is only through this that a win-win situation can be reached and the relation between both parties can last and grow.

Hong Kong advantage
"Speaking from my personal experience, in Hong Kong, which is a free trading port, there are more trading companies than food manufacturers." Guo pointed out that, "Many imported products are sold in Hong Kong first before entering the mainland market. As the southern China region is in close proximity to the Hong Kong market and Guangzhou is China's food trend hub, through the connection between Hong Kong and Guangzhou, more products can be introduced into the mainland market."
When introducing products into the mainland market, efforts have to be made in choosing the right type of products to meet the actual demand of mainland consumers, and by so doing, it can kill two birds with one stone. For instance, where imported leisure food products are concerned, since they come in a diversity of type and pricing and the consumer market is huge, they are greatly popular with mainland consumers. In particular, leisure food products in small packaging are the most saleable. Among the traditional foods eaten at China's three big festivals (Dragon Boat Festival, Mid Autumn Festival, and Spring Festival), apart from glutinous rice dumplings, imported moon cakes (e.g. Maxim's moon cakes from Hong Kong) and imported gift food (e.g. Kjeldsens Danish Cookies, Ferrero Rocher chocolates) are widely popular.
Special correspondent, Vantage Marketing & Research in Guangzhou
Mainland China
Mainland China