https://hkmb.hktdc.com/en/1X09T0W4
Tips for working with distribution agents (2): Tapping into China's rehabilitation products market through partnership
An interview with Liu Zilin, president of Guangzhou Create Article Trade Co Ltd
Leveraging on his decade-long experience in dealing in home healthcare and rehabilitation products, Liu Zilin, president of Guangzhou Create Article Trade Co Ltd, has successfully secured the regional agency rights of a number of famous brands. He has also helped expand the company's range of offerings and set up a sales team as well as led many brands to make foray into distribution networks like major retail outlets, wholesale markets, online sales platforms and hospitals. Backed by a wealth of experience, Liu discussed the characteristics of the demands in the mainland home healthcare and rehabilitation products market and the key to succeed in this fiercely competitive sector.
Exponential growth in the market
Create Article Trade deals in a wide array of healthcare and rehabilitation products for the home setting, including meters and monitors (like digital blood pressure monitors, blood glucose meters and test strips, digital thermometers), walking aids (like wheelchairs, crutches), respiratory care products (like oxygen concentrators, nebulizers), hearing devices (like hearing aids), electronic therapy equipment (like electromagnetic therapy apparatus, digital acupuncture therapy apparatus), home healthcare products (like protective apparatus, massagers, health pillows) and Chinese medicine care products (like suction cups, acupuncture needles). The company acts as the agent for many branded products, among which are some international brandnames.
Having worked in the sector for more than 10 years, Liu has gained first-hand experience in the exponential growth of the mainland home healthcare and rehabilitation products market. "The market has grown phenomenally in recent years. Create Article Trade is a typical example. Our turnover has doubled every year in the past several years," Liu said. "Of course, competition has also intensified following market expansion. As the cake gets bigger, more have come forward to snatch a share. With more capital being pumped into the market, profit margins have also been compressed."
As the overall market grows, regional differences in consumption pattern have also emerged. As Liu observed, the more economically developed is a region, the greater is its demand for home healthcare and rehabilitation products and the higher are its requirements on product quality. Take digital blood pressure monitors as an example. Products offered at first-tier cities and southern coastal regions in the mainstream are priced at Rmb400-600, while their low- to mid-range counterparts available in inland, less-developed cities sell for below Rmb300. Moreover, consumers in first-tier cities and southern coastal regions also prefer products with exquisite packaging.
Growth fuelled by multiple distribution channels
Create Article Trade adopts a multi-pronged approach in distribution, whereby products are sold primarily through chain drug stores in the southern regions (Guangdong, Guangxi, Fujian and Hainan) and distributed through wholesale channels and online networks nationwide.
Chain drug stores are the major retail channel for home healthcare and rehabilitation products. For products sold through these drug stores, high miscellaneous charges like barcode fee, counter fee and slotting fee have to be paid. For instance, it costs tens of thousands of yuan a year to display products at a single counter. In addition, chain drug stores also take a share of the revenue, set at a minimum of 30%. In chain drug stores, a limit is also placed on the number of brands offered in a certain category, and usually only a dozen or so brands are allowed in each category. In cases where there is heated competition within a product category, the stores' revenue sharing ratio will be further raised, and only brands offering high revenue sharing ratios will be put on the shelves. Furthermore, mature products are placed within a "special restricted category" whereby new products are allowed entry only when certain existing products have been withdrawn. Where payment period is concerned, most chain drug stores settle payment in 45 to 90 days although some may pay as soon as within 30 days.
Despite the high entry threshold and other constraints in working with chain drug stores, they are eagerly sought after by many operators, with one reason being their high sales volume. For instance, Jianmin Pharmacy, a renowned drug store chain in Guangzhou, boasts an annual turnover of over Rmb10 million for a single outlet. Another reason is that chain drug stores generate good publicity for the brands they offer. Small and medium-sized medical equipment stores often draw reference from major chain drug stores when selecting the brands to sell. As such, it will be easier for a brand to be distributed via other channels once it has made its way into major chain drug stores. Liu said, "The situation is like fashion brands vying for a place in a renowned department store or shopping mall. Irrespective of the sales volume achieved, the presence of the brand in such venues will help enhance the brand's image."
Liu added that as the home healthcare and rehabilitation products market grows, more and more capital is being injected into various retail channels. Given the new capital injection, new retail channels have emerged while existing retail outlets are also continuously expanding. The retail outlets' expansion is in turn expected to fuel further sales growth.
Apart from dealing with retail outlets like major chain drug stores and small- and medium-sized medical equipment stores, Create Article Trade also distributes products through channels such as wholesalers, online shops and hospitals. To avoid a cash flow problem, the company usually requests for cash payment when dealing with these other channels.
Looking at the future development of distribution channels, Liu is particularly optimistic about online sales. "Thanks to the rapid expansion of the online market, online sales of home healthcare and rehabilitation products have soared in recent years. In 2012, the sales volume of blood pressure monitors at 360buy.com hit Rmb146 million. As online shops can provide detailed description of products, operate at a much lower cost than physical stores and command a pricing advantage, they enjoy very good business prospects," Liu said. "However, the growth of online transactions has dealt a blow to the physical stores. Many customers now visit physical stores to look at and try out the products, jot down the model number and then place their orders later with online shops." To mitigate such adverse impact, Liu suggested that manufacturers adopt a strategy to control and make available different products in different distribution channels, say with a series of models specially offered in retail outlets, another series in the online network and a third series in the wholesale network. By doing so, the impact of online shops on physical stores can be minimised.
Various collaboration models to benefit all parties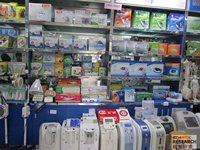 Liu noted that the collaboration between a distributor and a product supplier can be flexible and take many forms, which can be negotiated and agreed upon by both parties. There are now primarily two models. The first model is for the manufacturer to fix the ex-factory product prices and the distributor to purchase the products through cash payment. This model poses relatively higher risks to the distributor who has to conduct detailed assessment of the products and ensure that they have the sales potential before making a purchase decision. Since tariffs are levied on imported products, even if a supplier is willing to have the products returned following poor sales performance, the distributor still has to suffer a loss in tariff payment. The second model is to allow for a payment period whereby the risks are shared between the two parties, hence instilling greater confidence into the distributor. The payment period may vary. In some cases, the first batch of products may be supplied for display purposes, and payment may be arranged on a monthly, half-yearly or yearly basis for the subsequent batches. There are also instances where the manufacturer may supply goods amounting to 1.5 times of the quantity projected to be sold by the agent calculated on the basis of agent's distribution network, with payment to be made on a half-yearly basis. Indeed, a distributor's first batch of products given to the retail outlets are usually for shelf display purposes, and retail outlets only settle payment with the distributor after the second batch of products have been sold. As such, it will be unrealistic to ask a distributor having an extensive retail network to bear all the costs for the products at the outset. Hence, distribution agents normally opt for the second model. In both models, ex-factory prices are fixed by the manufacturer and the distributor sets the selling price based on market competition and possible profit margins.

Regarding the division of work between a distribution agent and a supplier, the agent usually takes charge of sales and assists the supplier in product promotion. The supplier is mainly responsible for securing the relevant documents required for selling the products on the mainland, customs clearance, delivering and replenishing stocks, brand-building and product promotion. Special documents are required for dealing in and selling healthcare equipment on the mainland such as permits for medical equipment and import registration certificates. A supplier can ask an agent to apply for the necessary documents provided that the agent has the relevant import qualifications. However, a longer period (at least two years) is required. To avoid the situation where the supplier transfers the agency right to another agent after the relevant procedures are completed, the agent handling the applications usually links the brands and products with its own company. The aim is to ensure that those brands or products can only be dealt with by itself on the mainland.
Where marketing and promotion are concerned, an agent usually tenders advice to a supplier on how to promote the products based on its own experience. Promotion activities may include charity events targeted at elderly organisations, essays written by medical authorities or doctors on the mainland, promotion of the brands in the mass media such as magazines and newspapers and securing special endorsement or spokesperson status (for example as designated products for the Olympics or products patronised by the US president). Meanwhile, point of purchase (POP) advertising at retail outlets and hiring sales staff for product promotion are also common. POP advertising is costly, as for example an advertisement placed at the staircase of a chain drug store can cost several hundred yuan per stair step a month. The monthly costs for advertising on the position of a drug store's fire hydrant is several thousand yuan while that for a big screen outside a drug store can be as high as Rmb20,000. In addition, promotion fees known in the trade as "recommendation A", "recommendation B" and "recommendation C" charges are also levied by retail outlets. When a customer looks for a certain type of product in a shop, the first product promoted by the sales staff is known as "recommendation A". If it is not accepted by the customer, "recommendation B" will then be promoted and so on. The higher a product is on the recommendation list, the higher the revenue sharing ratio of the retail outlet. An agent will not advise a supplier to place advertisements blindly, but that it should map out a promotion strategy befitting the brands' or products' specific circumstances.
The sale of home healthcare and rehabilitation products also involves after-sale service, and there are two partnership models. Under the first model, the supplier deploys a number of after-sale staff members based on the quantity of products sold. The after-sale staff can be dispatched by the manufacturer or the manufacturer can commission the distribution agent to hire such personnel. The pay for the after-sale personnel is borne by the manufacturer and is calculated on a monthly basis or based on the number of service sessions. The second model is adopted mainly by the major brands. The manufacturer sets up local offices based on the coverage of its sales networks, which will take charge of the functions of marketing support and after-sale maintenance including hiring promotion personnel and maintenance personnel. As this latter model involves substantial investment and high costs, it is not recommended for manufacturers offering a single product in the market.
With regard to how a supplier can choose the best agent, Liu believes that it is most crucial that the agent has established its own retail network and sales force. "Without its own sales network and sales force, the agent may rely more on wholesale channels. The setback is that the agent may carry out transactions whenever there are price differences and a profit to make, and may commit acts which will tarnish the brand image," Liu said. "For instance, it may order a large quantity of stocks in order to raise its revenue sharing ratio, lower the costs and sell products at a low price. This will upset the order of the pricing system and the market." It is hence important for a supplier to exercise care in selecting an agent. Agency rights should also be granted prudently since vicious competition may arise if too many agents in the same district are granted agency rights, which will ultimately cause harm to the brand.
Unique product features, excellent quality and services
On making contacts with and selecting suppliers, Liu noted that suppliers now proactively approach his company. The company also endeavours to understand new products through trade exhibitions, in particular the CHINA-PHARM held twice every year. "The exhibition costs are high, with a booth selling at upwards of Rmb200,000," Liu said. "A manufacturer's participation in the exhibition can be a demonstration of its strength. If a manufacturer is prepared to spend hundreds of thousands of yuan to take part in the exhibition, it is obviously very eager to venture into the market." Create Article Trade prefers to cooperate directly with manufacturers instead of traders, since partnering with traders raises a question of whether the agency rights will ultimately be vested with the traders or his company. Risks are involved in such dealings with traders.
Where the choice of products is concerned, Liu said a product's competitiveness is most important. A product should come with special characteristics and selling points, superb quality and good services. Presently, products are already highly concentrated in certain categories like blood pressure monitors and blood glucose meters. If new brands are to enter these markets, high costs have to be paid and returns cannot be guaranteed. As such, areas with greater growth potential should instead be considered, such as multi-function monitors (monitoring blood glucose, cholesterol and uric acid in one apparatus), sleep enhancement equipment, high-end hearing aids, home medical monitors, ECG monitors, fetal monitors, rehabilitation and healthcare products (infrared therapy apparatus, low- and medium-frequency therapy apparatus) and protective equipment and related products (negative ion insoles). For products having special characteristics and selling points with supply limited on the market, there will be good development potential. In addition, the quality of products must be up to standard. Generally, agents conduct assessment on product samples including quality assessment based on their own experience, and carry out market research for making projections on market capacity and sales potential of the products. Suppliers should have in place a sound management regime and after-sale service plans and systems to ensure that quality services are provided.
Special correspondent, Vantage Marketing & Research in Guangzhou
Health & Beauty
Specialised Products
Mainland China
Mainland China