https://hkmb.hktdc.com/en/1X09SOY2
PRD transformation and upgrade (4): Growth of automation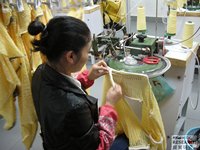 Wing Ka Shing's
production line
Manufacturers pursuing transformation and upgrade at the technological level can increase their overall competitiveness by enhancing production technology and strengthening automation in addition to undertaking technological research and development (R&D) and raising product design capability. The experience of Dongguan Wing Ka Shing Knitwear Co Ltd shows that by implementing production automation in the course of transformation and upgrade, enterprises can maintain customer relations through advanced technique and better quality management in addition to effectively controlling cost and increasing profit margin.

Orders for medium to high grade knitwear: diverse in style and small in quantity
Wing Ka Shing, a Hong Kong-invested enterprise founded in 1979, has been engaging in the business of manufacturing and exporting garments. Garment production often gives people the impression of being a "low value-added and labour-intensive" operation. However, according to Lee Kin-ming, director of Wing Ka Shing, the company mainly exports medium to high grade woollen knitwear and the production processes of their woollen apparel, compared with other garment products, demand more advanced production technique, more sophisticated quality management and production workflow in order to satisfy the various requirements of overseas clients.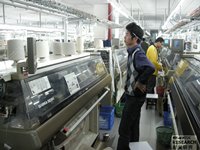 Automated
production line of
Wing Ka Shing
For instance, in mature markets such as Europe and the US where competition is intense and consumer preference changes rapidly, most clients require manufacturers to produce knitwear with sophisticated designs. Orders are usually for diverse styles in small quantity, hence production cycle is becoming shorter and shorter. The fact that manufacturers have to adjust their production lines frequently to meet customer demand has caused production cost to rise and profit margin to dwindle. Moreover, currently the problem of labour shortage in the Pearl River Delta region has made it difficult for manufacturers to recruit experienced workers such as linking machine operators. This has caused a great headache to many manufacturers.
Automation enhances production efficiency and quality
"Wing Ka Shing already started to make heavy investments 10 years ago in enhancing its ability in production engineering. Apart from purchasing computerised wool looms made in Germany and Japan, we also revamped our manual machine, linking, washing, garment making and knitting workshops by introducing fully automated production," Lee Kin-ming said. Today, Wing Ka Shing can easily change the settings of its production lines and manufacture products of different styles and designs according to the different requirements of its clients. This practice, in addition to increasing production efficiency and enhancing quality control, also helps lower overall production and operating costs.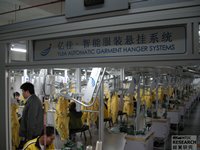 Wing Ka Shing's
automatic hanger
system
Automated production has not only helped Wing Ka Shing reduce its reliance on labour force, but the high efficiency and high quality production brought about has also made the company undaunted despite keen price competition from low-cost regions such as Bangladesh. Currently, Wing Ka Shing uses the advanced ERP (Enterprise Resource Planning) system to manage its production materials supply. The company has also introduced computer-controlled FMS (flexible manufacturing systems) and automatic hanger system for apparel production which does not only raise production efficiency by about 20% on average, but also tracks each and every production process by computer so that quality control personnel can quickly trace and correct production quality problems that may arise in different processes.
Better production environment can also help the company retain talent. Wing Ka Shing's factory in Dongguan now employs more than 2,000 staff and turnover rate is low. The medium to high grade woollen knitwear produced by the company is mainly sold to overseas markets including Europe and the US. Enhanced production technology through automation and stringent quality management are important factors enabling the company to maintain long-term stable relations with clients.
Mainland China
Mainland China