https://hkmb.hktdc.com/en/1X09SOR9
PRD transformation and upgrade (3): Route to domestic sales
When light industry manufacturers seek transformation through developing domestic sales in the Chinese mainland, some may consider opening their own shops and building their own brands. Yet quite a number of them would be discouraged by the substantial upfront investment required, the ferocity of competition in the retail market, and their lack of distribution and retailing experience. Given this, the Dongguan Leather & Footwear Association is actively promoting its "factory shop" as a viable option for footwear manufacturers to open up domestic retail sales channels.
Multi-brand retailing as way out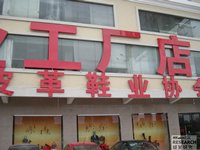 Factory shop initiated by
the Association in Dongguan
The footwear industry is traditionally one of Dongguan's pillar export sectors. In recent years, however, as export markets slowed down and as labour and production costs in the Pearl River Delta area went up, export-oriented manufacturers have been under tremendous pressure. On the other hand, most shoe manufacturers are small-scale operations that do not have the resources to build domestic sales networks or develop brands. Hence, they have difficulties finding a way out despite their outstanding production capabilities.

As a way to deal with these problems, the first factory shop initiated by the Dongguan Leather & Footwear Association opened at the end of 2012. This outlet brings together a number of brands and offers at ex-factory prices leather and footwear products from different Dongguan manufacturers such as men's, ladies' and children's shoes, coats, briefcases and handbags. Wang Shengpei, president of the Association, told HKTDC, "A retail business involves small but frequent orders, short turnaround and fast delivery. Efficient local distribution and logistic support are therefore essential. As such it is an entirely different ball game to export sales characterised by mass production and international container shipments."
Overcoming export-to-retail challenges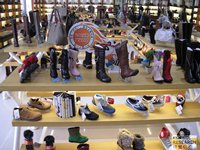 Products sold at
the factory shop(1)
To expand into the domestic market successfully, it is necessary to cater to the demands of different cities and different consumer groups in terms of product design, style and price. There is also the need to plan and execute marketing campaigns and to establish brand names whereas such activities are mostly handled by overseas importers and distributors in the case of export sales. Furthermore, since leather shops generally sell leather goods of various brands and styles, if a manufacturer has to set up its own retail shop, it will have to source products of other brands in addition to selling its own products in order to meet the business requirements of the shop.

Mr Wang said that most exporting manufacturers engaging in OEM are capable of producing high quality products. A factory shop can help manufacturers sell the quality products they produce with their surplus capacity while still continuing with their export business. On the one hand, it will provide a retail sales channel and logistic support to the manufacturers. On the other hand, it will help them overcome various challenges in their transition from export to domestic sales by familiarising themselves with the small batch production mode and brand-building campaigns of retail operations.
Shying away from CBDs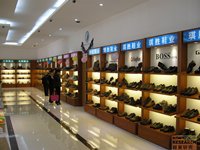 Products sold at
the factory shop(2)
The Association's first factory shop is located in Houjie Town near factory areas in Dongguan. This is a departure from the strategy of most retail brands in locating shops in central business districts (CBDs) in order to capture as much consumer traffic as possible. The strategy of the factory shop is to highlight its manufacturer direct sales nature of selling high quality products at relatively cheap prices. Consumers who have in-depth knowledge of leather goods are targeted on the hope that through their word-of-mouth and shared posts on the Internet, more consumers will be drawn to the shop and the business can spread from Dongguan to markets in other provinces.

One main advantage of this factory shop operating model is its relatively low costs: in addition to avoiding exorbitant rents in CBDs, operating costs are shared by the participating manufacturers so that they can develop retail sales and try building their own brands with a lower start-up cost. Currently this factory shop has brought together more than 10 shoe manufacturers, including Kuari, Baihe, Cyclogs, Anhua, Sanrong, Qisheng, Dali, Zhongguan and Yingsheng.
Mainland China
Mainland China