https://hkmb.hktdc.com/en/1X09SOLF
PRD transformation and upgrade (2): From processing trade to technology
The copper clad laminates (CCLs) manufactured by Shengyi Technology Co Ltd of Guangdong (Shengyi Technology) have been extensively applied in mobile phones, automobiles, telecommunications equipment, computers and various kinds of advanced electronic products with sales volume ranking first on the Chinese mainland. The company has now emerged as one of the world's leading CCL producers. At the early stage of its establishment, however, the company was just but a typical enterprise engaged in processing operation with supplied materials.
Processing trade as a start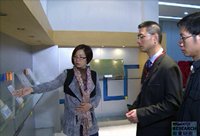 Plant manager Nikki Liu
shows Shengyi's products
to HKTDC staff
Founded in the early 1980s, Shengyi Technology is a Sino-foreign joint venture with Hong Kong capital. It was set up to process single and double-sided CCLs with paper pulp and fibreglass, and supply to manufacturers as basic materials for the production of printed circuit boards (PCBs). The rapid development of the electronic industry on the mainland has generated huge demands for CCLs, which, in turn, supported the stable and steady growth of Shengyi's processing business.
Liu Jinqiong Nikki, plant manager of Shengyi's factory in Songshan Lake of Dongguan, said the company's production technologies and formulas were directly imported from overseas in the initial phase. Profits were minimal despite the continual expansion of its business. "The company management then realised that the sole operation of processing with supplied materials had no prospect. Subsequently, we began investing in technology research and development, quality control as well as resources management system. With years of hard work, we have successfully upgraded and transformed the company, developed and mastered the technologies and production techniques of CCLs, and got certified for ISO9002 quality management system, ISO 14001 environmental management system and ISO/TS 16949 automotive supply chain quality management system. From processing with supplied materials, we have moved on to design and develop our own products and sell to clients in Europe, the US and other downstream PCB manufacturers," Liu added.
Branding and technology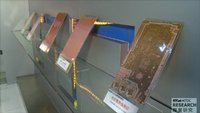 CCL products of
Shengyi
"SL" is the brand and trademark established by Shengyi in the industry over the years. Its image is for sure, not one of consumers' but an industrial brand that represents technology and quality. Thus far, Shengyi has obtained more than 200 patents from within China and overseas and runs a state-class research and development centre in Dongguan. Its principal products include CCLs made with flame-retardant glass epoxy, CCLs made with composite epoxy material, and prepregs for multilayer boards. These products are mainly used by downstream manufacturers for making single-sided, double-sided and multilayer PCBs essential for the production of advanced electronic products.
Today, Shengyi's products are well recognised by multinational enterprises such as Siemens, Motorola, Sony, Nokia, Samsung and Huawei. In addition to selling domestically on the mainland, its products are exported to different countries and regions of the world including the US, EU, Malaysia and Singapore. Production volume of CCLs has increased significantly from 600,000 m2 in its early stage of production to the current 25 million m2 a year. Without a doubt, Shengyi's products have maintained a leading edge in the international market both in terms of quality and sales.
Increasing costs not an issue
The business of Shengyi largely hinges on its manufacturing base at Dongguan. Future growth strategy of the company evolves around the investment and development of its production facility in Songshan Lake of Dongguan, in addition to strengthening the operations of its subsidiaries in Suzhou, Shaanxi and Lianyungang. Despite rising production costs on the mainland, Shengyi continues to pursue technological research and development and maintains its profit margins by offering to the market high value-added products. ERP (Enterprise Resource Planning) is deployed in the management of material supplies to promptly respond to market needs and at the same time, reduce resource consumption to save costs. Shengyi believes that human resources and technical expertise are keys to the success of the company. Therefore, instead of following a rigid wage scale when the company recruits new staff, it offers reasonable packages and career prospects to attract technical talents.
Mainland China
Mainland China