https://hkmb.hktdc.com/en/1X09SGK4
Latest development trend on production costs on the Chinese Mainland
Tight labour supply amid rising labour costs
Immediately after the Chinese New Year, which fell in February this year, manufacturers generally felt the pressure of labour shortages, in particular for those operating in Guangdong. According to the estimation of Human Resources and Social-security Department of Guangdong, there will be around 1.2 million shortage of workers this year after the Chinese New Year. The city of Dongguan, a major production base in Guangdong, was reportedly having a labour shortage of 150,000 after the Chinese New Year.
According to a survey conducted by HKTDC among Hong Kong manufacturers in the first quarter of 2013, 50% of respondents indicated that they experienced the problem of labour shortage after the Chinese New Year. Among those having labour shortage problem 21% considered the situation to be much more serious than a year ago, while 38% considered the situation to be a bit worse than a year ago.
This development has persistently pushed up the general wage level. In 2012, 25 provinces or regions in China raised the minimum wage levels by an average of 20.2%. In Guangdong, the minimum wage level will be raised again effective from 1 May 2013 by an average of 19.1%. The city of Shenzhen continues to have the highest level of minimum wage in China.
Changes in minimum wages in Guangdong
1 Mar
2011
(RMB/month)
1 May
2013
(RMB/month)
% change since
last increase
Guangzhou
1,300
1,550
19.2
Zhuhai, Foshan, Dongguan, Zhongshan
1,100
1,310
19.1
Shantou, Huizhou, Jiangmen
950
1,130
18.9
Shaoguan, Heyuan, Meizhou, Shanwei, Yangjiang, Zhanjiang, Maoming, Zhaoqing, Qingyuan, Chaozhou, Jieyang, Yunfu
850
1,010
18.8
Shenzhen
1,5001
1,6002
6.7
1 Effective 1 Feb 2012 2 Effective 1 March 2013
Source: Human Resources and Social Security Office of Guangdong and Shenzhen
Companies need to employ different levels of staff for different jobs. According to official figures, in the first three quarters of 2012, the average wages of staff and workers in China on average increased by 12%, while in Guangdong province they increased by 11.5%. Some inland provinces recorded faster growth in the average wages of staff and workers, such as Hunan at 14.4%, Sichuan at 13% and Jiangxi at 14.8%.
According to HKTDC surveys in the first quarter of 2013, 78% of the responding Hong Kong companies experienced a rise in labour costs on the mainland compared to the previous quarter. For those respondents who experienced higher labour costs on the Mainland, 33.3% said the increase was more than 10% and 51.3% said the increase was between 5% to 10%. Compared to the first quarter of 2012, the rates of increase appear to be moderating but the general wage level is still moving upwards.
Distribution of labour cost increases on the Mainland among Hong Kong companies
| | | |
| --- | --- | --- |
| Increase* | 1Q/2012 | 1Q/2013 |
| Over 10% | 54.6% | 33.3% |
| 5 - 10% | 34.9% | 51.3% |
| Less than 5% | 10.5% | 15.4% |

* rate of increase compared to three months ago
Source: HKTDC survey

China's food prices surged in February 2013
China's inflation reached a recent low in October 2012 with the Consumer Price Index (CPI) increasing by 1.7% and food prices increasing by 1.8%, but has begun to accelerate again since then. The CPI recorded a 3.2% increase in February 2013 while food prices grew at 6%.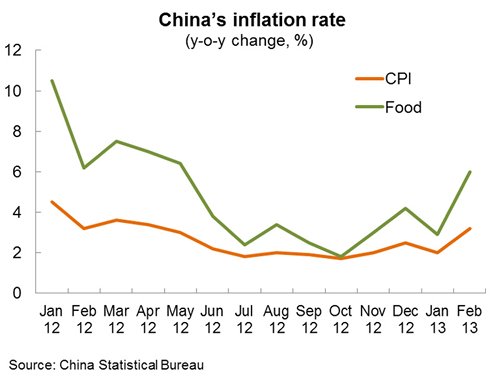 Gasoline and diesel prices adjusted upward in February 2013
Following the rise in oil prices, China followed suit and also raised the retail price of gasoline and diesel in February 2013. The retail price of gasoline in Guangdong is now 10.6% higher than the level in July 2012. The increases in gasoline and diesel prices will push up transportation costs.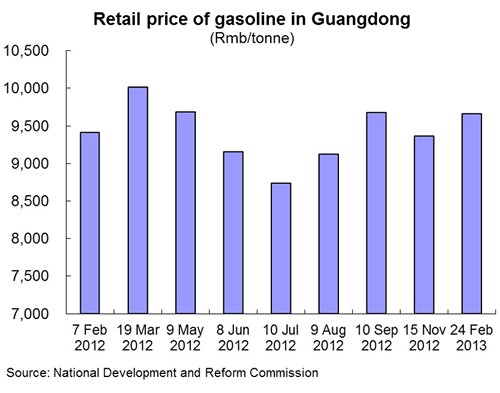 Metal prices moderated on entering February 2013
Over the last 12 months, the general price level of metals has been volatile. Metal prices had been edging up since November 2012, but moderated on entering February 2013. According to the Economist Metal Price Index, in early March 2013 the general price level of metals declined by about 7% within a month. However, the level in early March was still 7.5% higher than the recent trough in mid-August 2012. Over the last six months, the prices of aluminium alloy have been fluctuating within the range of US$1,800 to US$2,000 per tonne while the prices of copper have been moving in the range of US$7,600 to US$8,400 per tonne.
Oil prices started to edge down after reaching a recent peak around mid-February 2013. However, prices in mid-March 2013 were still about 21% higher compared to the ebb in June 2012. Prices of downstream products, such as plastics, have also declined since mid-February 2013. The price of polypropylene (PP) in mid-March 2013, for example, had dropped by about 5% from a month earlier. However, the price level of PP in mid-March 2013 was still about 11% higher than the level in mid-June 2012.
The price of cotton has started to edge up again since November 2012. The average price of cotton in February 2013 was about 11% higher than the level recorded in November 2012. The average price of pulp has also started to rise since September 2012. The average price of pulp in February 2013 was up by 7.5% compared to the level in September 2012.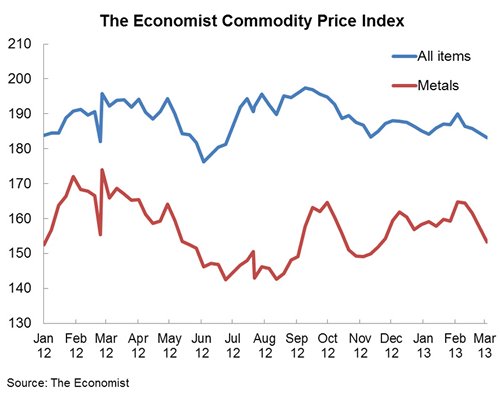 Source: London Metal Exchange, China Plastic Information Web (中塑資訊網), Pacific Exchange Rate Services of the University of British Columbia
Source: IMF, Royal Bank of Canada
The Rmb continued to appreciate
Rmb appreciation has been a major challenge for Hong Kong manufacturers operating in China. Since June 2010, China has continued with its reform of the exchange rate mechanism of the Rmb by allowing more flexible movement in its exchange rate. Since the end of July 2012, the exchange rate of the Rmb against the US dollar has generally engaged in an upward trend. By mid-March 2013, the Rmb had appreciated by about 2.4% compared to the end of July 2012.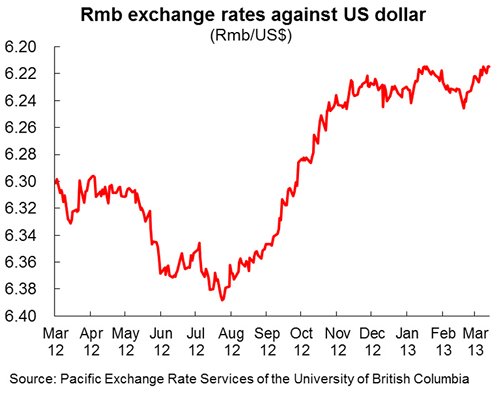 China's export prices stopped declining
The growth of China's export price index continued to slow down in 2012 and recorded declines from September to November 2012, but the price index has moved back to positive growth since December 2012. On the other hand, import price index of the US with China as origin remained in decline in the first two months of 2013.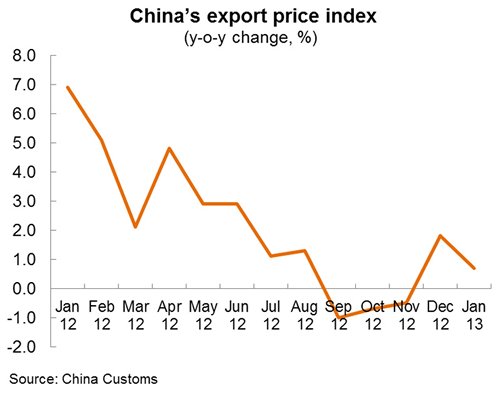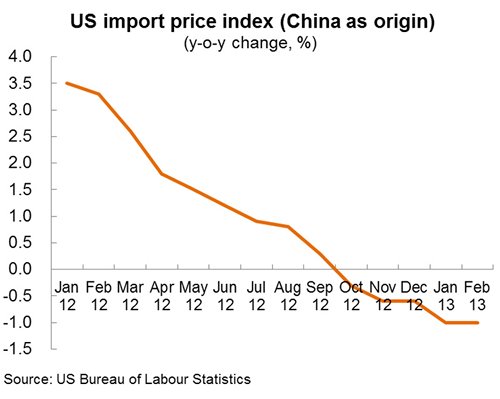 Mainland China
Mainland China