https://hkmb.hktdc.com/en/1X006NFO
Express Cargo Industry in Hong Kong
Overview
Hong Kong is the world's busiest airport in terms of handling international cargo. In 2014, Hong Kong's air cargo throughput reached 4.38 million tonnes, up 6% from 2013. This was followed by a year-on-year (YOY) gain of 0.4% to 3.58 million tonnes in the first ten months of 2015.
Hong Kong's total exports by air reached HK$1,339 billion in 2014, accounting for 36.5% of Hong Kong's total exports. Total exports by air increased by 1.2% YOY to HK$1,113 billion in the first ten months of 2015 (37.3% share of total exports during the same period).
Based on the latest available figures for 2014, revenue generated from international courier services increased 9.4% from 2013, accounting for 96% of the total receipts of the courier services industry (US$ 4,075 million).
Industry Data

Range of Services
Typical express services involve transport logistics of door-to-door deliveries with guaranteed time and traceable location. Thanks to Hong Kong's superior air connectivity, industry players are able to deliver the goods to major Asian cities within the same day, and to Europe and America within the next day.
Competition, together with information technology advancement, has encouraged the industry to integrate specialised and customised logistic solutions into its typical service model. Major industry players can now offer many value-added services including: packaging, insurance, dangerous and bulky goods handling, customs clearance, and shipment-tracing.
Service Providers
In line with many international cities, Hong Kong's express industry is dominated by a few multinational players, which have wide-ranging global air and ground networks. The smaller operators tend to focus on niche areas and leverage on their understanding of particular markets to develop their business.
In addition to the private service providers, the government-owned Hongkong Post is also a major player in the industry. Its Speedpost service has one of the largest delivery networks in the world, serving more than 210 country destinations and over 1,900 cities on the mainland. In 2015, Hongkong Post was awarded the "2015 Best SME's Partner Award" by the Hong Kong General Chamber of Small and Medium Business. Hong Kong Post's Speedpost also won "The Best SME Partners 2015-International Courier Service" organised by Economic Digest.
The very size of the big express operators and their commitment to hub strategies and filling up their planes, however, mean that smaller operators can provide a faster and more flexible service in certain areas. They often focus on a niche market and rely on a stable customer base which provides regular income flows. To reduce their overhead costs, they tend to subcontract wholesale operators such as on board couriers, who have established routes and act as consolidators for other smaller operators.
Exports
The express industry facilitates international business flows. Its services thus tend to mirror trade routes. While North America and Europe remain the major markets, trading activity is also expanding within Asia. Because of geographical proximity and close economic ties, the Chinese mainland features prominently in Hong Kong's express cargo industry.
The size of the mainland market provides good business opportunities for Hong Kong's express sector. The larger operators have already established a presence in major mainland cities via joint-venture arrangements. The smaller companies tend to build their customer base through referrals from existing customers and visits to the cities to identify potential clients.

Recent Development and Market Outlook
International trends
The trend of globalisation of sourcing, manufacturing, assembling, and distribution has boosted demand for transportation services, including express services. While the Chinese mainland remains Asia's main manufacturing powerhouse, other production bases in Southeast Asia are playing an increasingly important role in manufacturing. As Asia's overall manufacturing capability improves, production of high-value goods continues to shift to this part of the world. These goods, such as telecom equipment and other electronic product and parts, are usually transported by air, as product life cycles shorten. This, along with the China's paradigm shift to encourage domestic spending, in particular consumer spending, and the surge in e-commerce, has created a favourable environment for the express industry in China and the rest of the world.
Hong Kong's position as a hub
Hong Kong has been the busiest airport for international cargo for a number of years. Hong Kong International Airport (HKIA) has more than 100 airlines with about 1,100 flights daily, linking Hong Kong to about 190 destinations around the world, including 50 cities on the Chinese mainland, including many chartered cargo planes, offering a favourable operating environment for the express industry.
In DHL's Global Connectedness Index (GCI) released in 2014, Hong Kong ranked the world's top in terms of the depth of global connectedness in 2013. GCI measures cross-border flows of trade, capital, information and people, relative to the size of the domestic economy.
Hong Kong has a pool of international and highly experienced logistics companies that enables smooth logistic flows. Many of them are represented in the Hong Kong Association of Freight Forwarding and Logistics (HAFFA), with members including DHL, UPS, Expeditors, Panalpina, Kerry Logistics and Schenker.
Time is critical to the competitiveness of the express industry. Besides extensive air connectivity, HKIA also has an excellent logistics infrastructure in place. HKIA has been awarded the Air Cargo Award of Excellence for eight consecutive years (2006-2013) and more recently, the "Asian Diamond Award" in the one million-tonnes-or-more category of the Air Cargo Excellence Awards 2015, organized by an authoritative industry publication Air Cargo World.
Efficient customs clearance is also an important element in the express industry. HKIA speeds up this process by providing integrated Electronic Data Interchange (EDI) with eight major air cargo operators and the Customs & Excise Department, which allows pre-arrival customs clearance for all types of cargo. In the World Bank's 2014 Logistics Performance Index, Hong Kong ranked 17th among 160 regions and third in Asia in terms of customs efficiency.
Hong Kong's express industry is intimately tied with the success of the city's air transport infrastructure. Multiple expansion and improvement projects are undertaken by HKIA to maintain and improve its air transport services.
In March 2015, the Executive Council approved the third runway expansion plan, which will allow HKIA to handle 8.9 million tonnes of cargo and 607,000 aircraft movements per year by 2030. AAHK is exploring ways to facilitate the early implementation of the project, with the aim of starting construction in 2016 for completion in 2023.
TNT Express opened a new regional hub in Hong Kong in 2012. This new facility of 7,380 sqm, with a dedicated customs clearance facility and advanced sorting systems, can handle 600 tonnes of cargo a day.
In 2012, FedEx expanded its HKIA facility to enable greater cargo handling capability by 37% to 4,695 sqm. Together with the addition of new equipment and staff, the facility is able to process three freighter loads of cargo under 45 minutes.
Commissioned by DHL Express (HK) and compiled by the Hong Kong Productivity Council, the 'DHL Hong Kong Air Trade Leading Index' (DLI) was launched in the second quarter of 2014. The quarterly index is compiled based on a survey of 600 Hong Kong companies focusing on international air trading. It is the first indicator in Hong Kong providing a forward looking perspective on the overall air trade sector.
For the fourth quarter of 2015, air traders were more conservative about the sector outlook, with DLI overall index dropped to 40.8 from 49.0 in the previous quarter. An index above 50 indicates a positive outlook while a reading below 50 represents a negative outlook for the surveyed quarter against the same period last year.
Express industry in China
Since January 2006, China has allowed 100% foreign-owned express service providers to enter the country's express service market in observance of its WTO commitments.
China's express industry is dominated by about 20 large express service companies. Nevertheless, competition is keen, as there are about 8,000 express companies operating in China. Prominent players include international companies such as DHL, TNT, FedEx, and UPS, as well as domestic players like EMS (a subsidiary of China Post), Sinotrans, SF Express, ZJS Express, YTO Express etc.
The industry has been enjoying dramatic growth over the past two decades. In 1990, the express industry handled a mere 3.4 million pieces of cargo, and the number of express cargo handled skyrocketed to 9.19 billion pieces in 2013, surging by 62% from 5.69 billion pieces in 2012. In 2013, the express industry's revenues amounted to RMB 144.2 billion, up 37% from 2012.
The bulk of the Chinese express and air cargo market activities is concentrated in the coastal and southern provinces, as illustrated by the following table which shows the pieces of cargo handled by the express industry in 2013: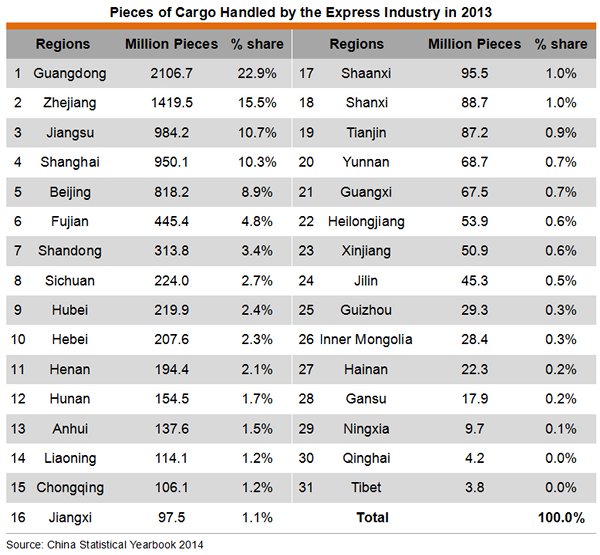 The Chinese express market continued to show strong growth. According to China's State Post Bureau, total express delivery volume reached 13.96 billion items in 2014, a 51.9% increase over 2013. In the first eleven months of 2015, its revenue increased by 34.9% YOY to RMB245.6 billion. The number of express cargo handled surged by 48.1% YOY to 18.3 billion pieces.
In the first eleven months of 2015, international express service (including Hong Kong, Macau and Taiwan) took a 2.1% share of total number of pieces handled, yet it accounted for 13.4% of total revenue of the industry. In addition, 71.7% of the total pieces belonged to the cross-city category, yielding 54.7% of the total revenue, whereas the same-city courier service accounted for 26.2% of total pieces, representing 14.5% of total industry revenue.
The new "Postal Law" was announced and implemented in 2009, under which foreign investors were not allowed to provide express delivery service which, from accepting mail through delivering mail, all occurs within the territory the Chinese mainland. On September 2014, the China's State Council decided to further open up the domestic express delivery market. As of 2015, the State Post Bureau had granted five foreign logistics companies the license to provide domestic express delivery services on the mainland.
In May 2014, UPS opened a new distribution facility at a site 19km from the Beijing Capital International Airport. With 6,500 sqm of non-bonded warehouse space, the new facility supports order fulfilment, inventory management, packaging and other value-added services. It allows the company to fulfil contract logistics orders with four-hour delivery in the metropolitan Beijing area and next-business-day delivery for other major Chinese cities.
In July 2012, DHL's Qianhaiwan Integrated Logistics Centre (QHWILC) was officially opened. The logistics centre, with an area of 71,000 sqm, is the first pilot cooperation project between DHL and China Merchants Group, operating as a regional shipping hub and distribution centre in Southern China.
FedEx's new operation station in Shanghai has been launched since 2011. Occupying an area of 5,140 sqm, the station is the company's largest express operation station in China. It handles the pick-up and delivery of international express shipments with the capacity of sorting 3,500 shipments per hour.
In July 2015, FedEx announced improvements to its international express outbound services in seven cities in China, reducing the shipment transit time from these cities to America, Europe and other parts of the world by one to two working days. The service enhancement is expected to benefit small and medium enterprises (SMEs) in particular, many of which are engaged in the production of arts and crafts, electronic chips, and manufacturing spare parts.
In September 2015, TNT China announced a €2 million investment upgrade of its gateway facility in Shanghai. The upgrade will allow TNT to process 50% more packages per hour and cut at least one hour off pick-up times for express and economy shipments.
On the basis of the Guangdong Agreement, the Chinese mainland and Hong Kong signed the Agreement on Trade in Services (the Agreement) in November 2015, enabling realisation of basic liberalisation of trade in services between both sides. Based on the Agreement, which will be implemented from June 2016, HKSS are granted national treatment to provide courier services, except for express delivery of letters within the mainland and delivery of official documents of state organs.