https://hkmb.hktdc.com/en/1X0040EM
Textiles Industry in Hong Kong
Overview
Mainland China and Hong Kong agreed in October 2005 to further liberalise the mainland market for Hong Kong companies under the third phase of CEPA. Under CEPA III, mainland China agreed to give all products of Hong Kong origin, including textiles, tariff-free treatment starting from 1 January 2006.
Hong Kong's textiles industry serves not only the local clothing manufacturers but also those in mainland China and other offshore production bases. Capitalising on the long experience in the manufacture of textiles, many Hong Kong companies also engage in textiles trading. Hong Kong's textiles industry is reputed as a supplier of quality dyed and printed fabrics. It is also strong in cotton spinning, denim weaving, knit-to-shape panel knitting and fine-gauge cotton knit manufacturing.
Following a 2% decline in 2018, Hong Kong's textile exports slid further in the first half of 2019 by 10% year-on-year. Re-exports, accounting for almost 99% of total exports, fell 11% for the same period, while domestic exports were little changed. Among those re-exported, more than 77% were originated from mainland China.
Asia was the leading market for textiles exported from Hong Kong, accounting for 92% of the total textile exports in January-June 2019. Of the top 10 destinations for textiles exported from Hong Kong, nine of them were in Asia, with mainland China being the predominant export market.
Industry Features [1]

The textiles industry – comprising spinning, weaving, knitting and finishing of fabrics – had a total of 382 manufacturing establishments in March 2019, employing 2,088 workers or 2.4% of the local manufacturing workforce. The textiles industry is one of Hong Kong's major export earners, accounting for 1.4% of the total exports in 2018.
In recent years, traditional markets, such as the US, the EU and Japan, have rendered textiles exporters from developing countries, including ASEAN and Bangladesh, more preferential market access, which has in turn impaired the competitiveness of Hong Kong manufacturers. Along with rising labour costs and more rigorous environmental regulations in mainland China, an increasing number of Hong Kong textiles manufacturers have relocated their production of lower-end and mass products to Southeast Asian countries like Bangladesh, Cambodia and Vietnam. Their manufacturing operations in Hong Kong are focused on sophisticated and high value-added items, including quality ring-spun, open-end yarn, fine gauge knitted fabrics as well as complicated dyed and printed fabrics. To enhance competitiveness in the global market, some Hong Kong textiles companies have formed a strategic partnership with indigenous Chinese companies. For instance, some of them have joined forces with mainland cotton suppliers in producing cotton textiles.
Hong Kong's textiles industry is a major supplier to the local clothing industry. Producing textiles locally, Hong Kong textile manufacturers have an advantage in accommodating orders from local garment manufacturers in short notice. Meanwhile, a significant portion of textile exports is destined for use in Hong Kong companies' offshore production of garments, especially on the mainland.
Performance of Hong Kong's Exports of Textiles [2]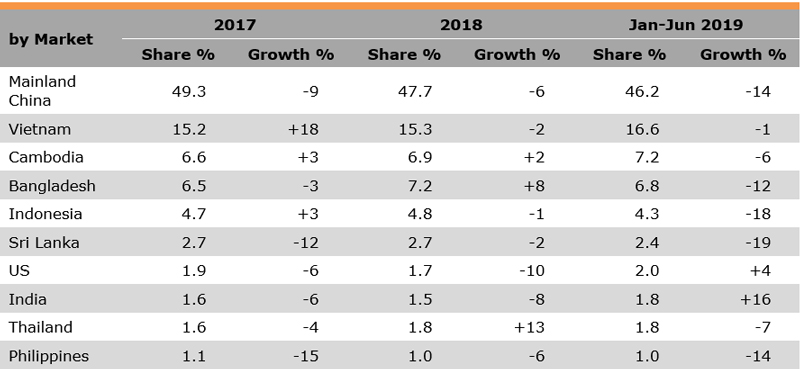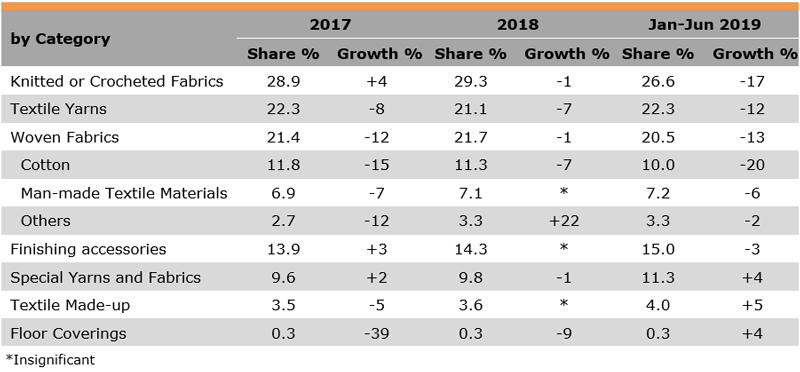 Source: Hong Kong Trade Statistics, Census and Statistics Department
Following a 2% decline in 2018, Hong Kong's textile exports slid further in the first half of 2019 by 10% year-on-year. Re-exports, accounting for almost 99% of total exports, fell 11% for the same period, while domestic exports were little changed. Accounting for 77% of the textile re-exports, Hong Kong's re-exports of textiles of mainland China-origin fell 10% in January-June 2019.
Asia was the leading market for textiles exported from Hong Kong, accounting for 92% of Hong Kong's textile exports in the first half of 2019. Of the top 10 export destinations, nine of them were in Asia. Mainland China remained to be the city's predominant export market, accounting for 46% of Hong Kong's textile exports in January-June 2019.
Other major export markets of Hong Kong textiles include Vietnam, Bangladesh, Cambodia, Indonesia, Sri Lanka, Thailand, the US, India and the Philippines. In particular, because of Vietnam's cheap labour compared to neighbouring countries and WTO membership, many foreign investors, including those from Hong Kong, have set up garment factories there. This gives rise to sustained demand for textile imports, making Vietnam the second largest market for Hong Kong's textile exports, after mainland China.
Product-wise, Hong Kong's exports of knitted or crocheted fabrics, textile yarns, woven fabrics and finishing accessories showed declines of 3-17% in the first half of 2019, while special yarns and fabrics, textile made-up and floor coverings registered 4-5% year-on-year growth.
Sales Channels
Hong Kong is both a leading production centre and a global hub for clothing sourcing. As such, Hong Kong's textiles industry is well positioned to serve both local and overseas clothing manufacturers and merchandisers. While many Hong Kong textile manufacturers and traders supply their products to the clothing manufacturers in Asia, particularly in mainland China, international textile companies are using Hong Kong as a gateway to promote their products to other Asian economies. For instance, an increasing number of fashion brands and designers from Latin America and Central and Eastern Europe are attempting to leverage Hong Kong's trade platform to promote their textiles and apparel in mainland China.
The industry is capable of producing either a wide range of quality products in bulk or specialised items within a short lead-time for varied applications. Its competitive edge lies in the superb quality and swift response to fashion trends and market demand. The industry has also earned a worldwide reputation for unique quality, expertise, workmanship and flexibility.
Hong Kong is an ideal one-stop shopping centre for buyers looking for new and trendy fabric materials. Organised by the HKTDC, the Hong Kong International Home Textiles and Furnishings Fair offers a wide range of high-quality products such as bathroom textile, bedroom textile, kitchen textile, carpet, etc. It is a specialist platform, giving exhibitors and buyers of home textiles immediate access to markets in Asia and beyond.
Industry Trends
In line with the global manufacturing landscape and fierce competition across the board, Hong Kong's textiles industry has been moving up the value chain to cater to the demand for upmarket textile products with original designs or brands. Today, the operation of the textiles industry in Hong Kong is focused mainly, if not all, on higher value-added activities such as sales and marketing, quality control, designs and development, while offshore plants are specialised in production operations. This, in turn, results in a high proportion of re-exports (almost 99%) in Hong Kong's textiles exports portfolio.
With rising labour costs, volatile raw material prices and stringent environmental regulations on the mainland, many Hong Kong's textiles manufacturers have relocated their production facilities to other South-east Asian countries, like Vietnam, Cambodia, Myanmar and Bangladesh. A few companies have even set up offshore production in Latin America (e.g. Mexico) and Africa (e.g. Nigeria) to take advantage of preferential treatments allowed by regional trade agreements such as North American Free Trade Agreement (NAFTA) and the EU's GSP scheme.
To stay tuned to the advancements of manufacturing technology and product requirements, the textiles industry, as a capital-intensive business, has invested heavily in keeping up with the latest technological trends. Advanced production technologies are sourced mostly from vendors from Germany, Italy, Spain, Switzerland, Japan and South Korea. Modern technologies like automatic web spreading, nano bio-functional materials finishing and Texparts® Zero Underwinding are no strangers to local manufacturers.
In the meantime, the Hong Kong Research Institute of Textiles and Apparel (HKRITA), which was established in 2006, also helps enhance the competitiveness of the industry by developing and transferring fashion and textile technologies. It has been closely collaborating with industry practitioners to foster research, development and technology transfer in the textile and clothing industry. As at March 2018, the research centre has 41 ongoing projects involving industry participation. Many projects not only won local and international awards and prizes, but also commercialised. For example, a ground-breaking solution to recycle blend textiles into new fabrics and yarns through a hydrothermal process won the 2017 Hong Kong Green Innovations Awards – Silver Award in the Hong Kong Awards for Environmental Excellence and a gold medal at the 46th International Exhibition of Inventions of Geneva 2018. The joint effort of HKRITA, Novetex Textiles Limited and H&M Foundation brought the award-winning textile recycling technologies into practice in the Novetex Upcycling factory, Hong Kong's first-ever textile recycling mill opened in September 2018.
To comply with the global trend of green manufacturing, more textile corporations have adopted the bluesign® standard – one of the industry's major voluntary standards for environmental sustainability. To be qualified, a corporation must reveal its chemical processes, dye compositions and relevant green workplace initiatives for scrutiny. Apart from the bluesign® standard, Global Organic Textile Standard (GOTS), the Oeko-Tex® Standard 100, Oeko-Tex® Standard 1000, Global Green Tag® and NSF Sustainability are other popular product labels that textile manufacturers used to show their environmental awareness.
In line with the 13th Five-Year Plan, China's Ministry of Industry and Information Technology (MIIT) has released a development plan for the textile industry, envisioning a stable increase in global market with a more quality-oriented growth mode. Other than setting a 1% research and development (R&D) expenditure target for large- and medium-sized textile companies, the plan also sets forth requirements of quality improvement, brand formation and patent authorisation. It also stresses on five key sectors, including enhancing innovation of chemical fiber sector, expanding application of industrial textiles, improving natural fiber utilisation, accelerating clothing and home textiles innovation, as well as uplifting quality of high-end textile machinery.
CEPA Provisions
On 18 October 2005, mainland China and Hong Kong agreed to further liberalise the mainland market for Hong Kong companies under the third phase of the Mainland and Hong Kong Closer Economic Partnership Arrangement (CEPA III). Under CEPA III, the mainland agreed to give all products of Hong Kong origin, including textiles, tariff-free treatment starting from 1 January 2006. This allows tariff savings up to 15% (in-quota) or 40% (out-quota) as applicable to entries with Most-Favored Nation (MFN) status. According to the stipulated procedures, products which have no existing CEPA rules of origin will enjoy tariff-free treatment upon applications by local manufacturers and upon the CEPA rules of origin being agreed and met.
Details of CEPA tariff preference, including origin criteria, are available from the following hyperlink here.
General Trade Measures Affecting Exports of Textiles
Despite the elimination of textile quotas among WTO members in 2005, the US and EU had subsequently imposed safeguard measures against imports from the mainland. Starting 1 January 2009, however, textile and clothing products originating in mainland China no longer require any import licence or surveillance document before entering the EU. Meanwhile, almost all textile and clothing shipments (except cotton not carded/combed and cotton card strips) to the US made on or after 1 January 2009 are no longer subject to any quotas.
Product Trends
Among various kinds of fibres, cotton remains the most preferred material for consumers in the apparel market. For instance, in the EU, cotton is the most popular fibre, accounting for around 43% of all fibre used in clothing purchased new in the market in 2015 in terms of volume. Cotton-rich apparel continues to attract European consumers, while consumers in China, India and Japan agree that cotton and cotton blend are the most comfortable, authentic and sustainable, compared to other man-made fibres.
From the perspective of product innovation, microfibres are drawing greater attention from textiles manufacturers. The major benefits of textile products made of microfibres are its light in weight and superior performance in keeping warm. Uniqlo, the leading clothing retailer in Japan, also makes use of microfibres for its 'AIRism' collection. Aside from microfibres, many innovative new fibres and fabrics have brought demand in many different areas. To answer the needs, more and more breathable, flexible, anti-bacterial, anti-ultraviolet, wrinkle-free, water-resistant and environmentally-friendly materials are invented and marketed. For instance, TENCEL® invented by Lenzing Group is a kind of lyocell fibre that possesses several functional advantages over cotton, while Salvatore Ferragamo has pioneered the use of sustainable fabrics made from citrus fruit.
Technology and innovation will continue to be the buzzwords in the coming seasons. Fancy weaves and prints will give more flexibility in the choice of manufacturing processes, while digital prints, as well as artisanal decoration, will make textiles more malleable. Meanwhile, hand-crafted excellence, original visuals and exceptional handles will continue to be sought after, given consumers' ever-growing appetite for uniqueness and distinctiveness. Solar-powered handbag made of a textile photovoltaic surface that powers a battery inside to charge a mobile phone and "climate costumes" that sense changes in carbon emission with light patterns using conductive thread and LEDs are just some examples of how technical textiles are shaping the future textiles industry. As wearable technologies are becoming more accessible, technical textiles are widely applied over a wide range of industries such as automobile, aerospace, architecture, healthcare and sports. Luminescent and heated garments, smart knee bandages, insect-repellent apparel and tuneable noise-reducing carpets are cases in point.
Consumers, particularly in developed markets such as West Europe, the US and Japan, are enthusiastic about the environmentally-friendly properties of biodegradable natural fibres like organic cotton, soy fibre and ahimsa silk. To keep up with this trend, manufacturers have also expanded their production of green textiles by utilising more bio-degradable materials and environmentally-friendly manufacturing processes, including high-efficiency management practices, process control, special processes, and recycling of wastewater. Fashion brands like Stella McCartney, H&M, Zara, Ralph Lauren, ASOS and Quiksilver have already pledged to end sourcing fibres from endangered forests.
Sustainable textiles are foci for many governments in the developed markets such as the EU. Since Sep 2015, the EU has been funding the European Clothing Action Plan (ECAP) to bring environmental and economic benefit to the clothing sector by prioritising the sourcing of more sustainable fibres. Apparel brands, retailers, manufacturers and other stakeholders, such as ALDI in Germany (supermarket chains), ASOS in UK (online fashion retailer) and Blycolin in the Netherlands (linen service provider), are participants. Among other textiles, cotton is at the centre of sustainability discussion. With leading international brands and retailers such as Marks and Spencer (M&S) and Target, USDA Cotton Standards, existing industry initiatives and other stakeholders as members, a guide, CottonUP Guide, promoting the sourcing of sustainable cotton was released one year after the inception of Cotton 2040 in 2018. Thanks to the rising awareness, the worldwide production of sustainable cotton increased to 19% in 2016-17 from just 6% in 2012-13, according to Textile Exchange's Preferred Fiber & Materials Market Report 2018.
Apart from rising green consciousness, product safety remains a major concern for consumers, not confining to developed markets, but emerging markets. For instance, a number of disqualified apparel fibres consisting of unsatisfactory levels of pH value, formaldehyde content and banned azo dyes have been reported in mainland China in recent years. In fact, Chinese consumers are increasingly in favour of foreign apparel brands, which usually guarantee product safety. Meanwhile, in traditional markets, for example, the EU's Rapid Alert System for Non-Food Products (RAPEX) revealed that textiles, clothing and fashion items were the third most common product category notified (behind only toys and motor vehicles), representing 10% of the total number of notifications of dangerous products in 2018.
---
[1] Industry statistics refer to production in Hong Kong only.
[2] Since offshore trade has not been captured by ordinary trade figures, these numbers do not necessarily reflect the export business managed by Hong Kong companies.
Garments, Textiles & Accessories