https://hkmb.hktdc.com/en/1X001DHG
Watches & Clocks Industry in Hong Kong
Overview
The mainland granted all Hong Kong products tariff-free treatment under the Mainland and Hong Kong Closer Economic Partnership Arrangement (CEPA). In terms of the CEPA Rules of Origin, watches made in Hong Kong with a Hong Kong brand are no longer required to fulfill the 30% value-added content requirement in order to enjoy the tariff-free treatment.
According to the latest available statistics, in terms of value, Hong Kong was the world's largest importer of complete watches and second largest exporter of complete watches and complete clocks in 2016.
In Jan-Jun 2018, Hong Kong's total exports of watches and clocks exports grew by 3%. The Chinese mainland and the US were the largest markets, together accounted for nearly one-third of the total exports.
Industry Features [1]


Hong Kong is a leading exporter of watches and clocks in the world. The largest export item is battery-powered wrist watches, accounting for 42% of the total exports in the first half of 2018. Wrist watches exports range from analogue to digital watches, metal to plastic watches, fashion to classic watches, standard to jewellery watches, and novelty to sport watches. Hong Kong also exports a variety of parts and components of watches and clocks, such as assembled movements, cases, watch straps, dials and parts for watch cases and bands. In Jan-Jun 2018, major sources of imports include Switzerland (40% of total imports), the Chinese mainland (29%) and Japan (9%).
Hong Kong has established strong ancillary and supporting industries for its watches and clocks manufacturing. Local watch assemblers are well served with a variety of high quality watch cases, dials, watch straps, hands, button cell batteries, crowns, electronic parts and other accessories. However, the industry relies heavily on imported watch and clock movements, and core components such as quartz, crystals and integrated circuits.
Nowadays, Hong Kong's watches and clocks companies largely rely on OEM and ODM business. Because order quantity for each model is usually small, making it difficult for scale economy through automation. Production of complete watches and clocks remains fairly labour-intensive in Hong Kong.
Most manufacturers had relocated the labour-intensive processes to the Chinese mainland to reduce costs, but a number of manufacturers still maintain their production bases for higher value products in Hong Kong. In fact, with rising production costs on the mainland, the need for product upgrade becomes more compelling. Meanwhile, as buyers are increasingly quality conscious, more and more watches manufacturers have acquired the ISO 9000 certification to strengthen their quality management systems.
The Hong Kong Watch Manufacturers Associations Ltd. has also strengthened the industry's intellectual property protection by running a 'Watch & Clock Design Depository Centre', where members can store their product designs there and the centre will provide a third-party certification services for the duration-in-record of a copyright. In addition, Hong Kong Watch & Clock Technology Centre was established with the ITF funding of the Hong Kong SAR Government. It is jointly managed by the Hong Kong Productivity Council (HKPC) and the Hong Kong Watch Manufacturers' Association Limited. The Centre acts as a central body to transfer relevant technologies to support Hong Kong manufacturers. It also provides independent testing services in quality assurance, and particularly in areas where tests are unavailable commercially. The Professional Validation Council of Hong Kong Industries (PVCHK) held the first Learning Enterprise Award in 2015, which aims to encourage and promote the learning culture of enterprises and recognising companies with outstanding achievements. The award is bestowed every two years and the next one will be due by September 2019.
To help the local watch and clock industry grasp market and technology development opportunities, the HKPC has recently conducted a study on the sustainable development of the industry, proposing to position Hong Kong as 'Asia's Geneva' and develop the mid-to-high-range market. The study has identified four strategies – quality enhancement, brand building, product innovation and talent development, while making six recommendations, namely an impartial central laboratory benchmarking against Swiss certification bodies; a Design Recognition Scheme to promote made-by-Hong Kong watches in the mid-to-high-range market; promotion of 'Industry 4.0' strategy to realise mass customisation; a Hong Kong Smart Wearables Consortium for cross-industry collaboration; a Hong Kong Horology R&D Centre for diversified product development; and a Hong Kong Watch and Clock Academy for systematic talent development to boost industry competitiveness.
Performance of Hong Kong's Exports of Watches and Clocks [2]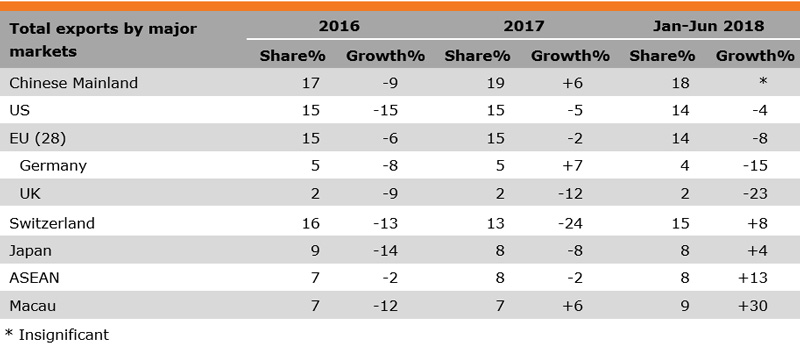 Source: Hong Kong Trade Statistics, Census and Statistics Department
Sales Channels
Major Hong Kong's watches and clocks OEM customers include importers and distributors in the US, the EU and Japan. A small number of manufacturers have OEM arrangements directly with chain stores and fashion labels, which require unique designs to complement with their brand image.
With respect to ODM products that Hong Kong companies own the designs, though the sales channels are similar, they are especially preferred by smaller distributors, who are constrained by their financial strength in investment in design and tooling. Some low-priced products may also be sold to large companies directly as premium items for promotional campaigns. Market-wise, sales to the Chinese mainland, Southeast Asian countries and other emerging economies are usually on ODM arrangement.
There are a number of Hong Kong companies selling watches with their own brands, for instance, MEMORIGIN, NSQUARE and Jazma. There are also some few examples that Hong Kong companies have acquired Swiss brand names or their Swiss counterparts as a means to extend marketing and distribution network, and/or to gain access to better technology and designs. In addition, some Hong Kong companies have begun business in major cities in the Chinese mainland via co-operation arrangements with department stores and shopping malls, aiming at promoting their own-brand products there.
In April 2013, Hong Kong Watch Manufacturers Association signed the Strategic Agreement of Development and Promotion of Hong Kong's Clock and Watch Brands with Chongqing Municipal Government. In accordance with the agreement, Chongqing Municipal Government shall assist Hong Kong's clock and watch brands in setting up the sales base in Chongqing and to expand their businesses throughout the country. In April 2014, 'Western China (Chongqing) Watches Timing and Precision Processing Industrial Park' was formally founded in Dianjiang county of Chongqing. In this way, the Association, with the help of Chongqing Municipal Government, can provide convenience and assistance for Hong Kong's clock and watch brands intending to enter the mainland markets. On the R&D front, the collaboration between Hong Kong Precision Technology Co. Ltd. and Chongqing City Watch Co. Ltd. saw a breakthrough in September 2015 when they debuted the first high-end, homegrown mechanical watch movement PT5000. The movement boasts a 38-hour power reserve and is very much on par with Swiss-made movements.
The Basel Watch, Clock and Jewellery Fair held in Switzerland is an important event for Hong Kong companies to promote their business. The Hong Kong Watch & Clock Fair, organised by the Hong Kong Trade Development Council (HKTDC), is another major event for companies to exhibit their products to overseas buyers. The China Watch & Clock Fair (CWCF) is the largest timepiece and jewellery exhibition in Chinese mainland which is a best platform for Hong Kong watches brands enter Chinese market. Business missions organised by the HKTDC to the Chinese mainland, Indonesia, Middle East, Russia, etc., also provide opportunities for Hong Kong companies to establish connections with buyers in emerging markets.
Industry Trends
Hong Kong's watch and clock enterprises are keen to move up market and are interested in developing locally designed and produced mechanical movement, and even mass production of chronometers. Many enterprises will send products manufactured in-house or distributed as dealers to independent testing laboratory prior to assembly for assuring their quality. For example, chronometer test for mechanical movements (with reference to ISO 3159); Water Resistance Testing (based on ISO 2281 or 6425 standards); 2D measurements of geometric dimensions for positions, linear dimensions and diameter, etc.
In addition, manufacturers have paid more attention to the design patent issues in order to protect their intellectual property rights. Technologies such as computer-aided design (CAD) have been applied to improve the design of complete watches and clocks, dial faces, watch cases and related components, while reducing time and costs involved. Applications such as the use of 3-dimension computer aided industrial design (CAID) and rapid prototyping also facilitate Hong Kong companies to enhance their design capabilities. Some companies have also invested in the research and development of movements to reduce their reliance on imports and overcome the constraints of standard movements to product design.
Besides, Hong Kong's watches and clocks manufacturers have increased investment in modern production technology to enhance quality and productivity. They have continued to develop better technologies in die-casting, mould making, plastic manufacturing, metal stamping, surface finishing and plating, etc. For example, metal injection moulding (MIM), which is especially suitable for production of stainless steel cases, bands and buckles of complex shapes, has been applied to enhance production capability for sophisticated designs.
Internet has become a viable option for sales and marketing of watches and clocks. A growing number of timepiece retailers and dealers have set up web pages not only for promotion and cataloguing, but also for e-tailing. For example, some Hong Kong watches and clocks manufacturers opined that they got email orders from some Eastern Europe countries buyers who visited their website.
Overseas buyers continue to demand more and more from their suppliers in terms of quick response and delivery. Hong Kong exporters, as a result, are required to handle more orders of smaller quantities, along with shorter delivery lead times.
CEPA Provisions
Since the implementation of the third phase of the Mainland and Hong Kong Closer Economic Partnership Arrangement (CEPA III) in January 2006, all products of Hong Kong origin can be imported into the mainland at zero tariffs. According to the stipulated procedures, products which have no existing CEPA rules of origin will enjoy tariff-free treatment upon applications by local manufacturers and upon the CEPA rule of origins being agreed and met. For more information about country of origin, please refer to the Trade and Industry Department's CEPA's web page.
Considering the actual situation of the manufacturing of watches in Hong Kong, the General Administration of Customs has revised the CEPA Rules of Origin for Watches by adopting the principles of 'manufacturing procedures + value-added content requirement' and 'manufacturing procedures + own brand'. The new rules were intended to encourage Hong Kong manufacturers to export ODM watch products to the mainland under zero tariffs.
General Trade Measures Affecting Exports of Watches and Clocks
The Chinese mainland removed its quota restrictions on watch imports in 2003 under its WTO accession commitment. According to the National Technical Committee on Watches and Clocks of the Standardisation Administration of China, the working group responsible for drafting the Specifications for the Limitation of Harmful Substances Found in Watch Components Having Direct Contact with People's Skin has already completed and submitted the draft. The standard is now pending for review and accreditation. Since the harmful substances named in these specifications concern people's health, these rules will likely become the mandatory standards for watch-making to protect the interests of consumers.
The US Customs requires that watches must be marked with the country of origin. The movement's country of origin should appear conspicuously and legibly on the dial face or on the outside of the back. In addition, watchbands should be marked with the country of manufacture of the band, unless the watchband is attached in the country where the watch was produced.
In the EU, there is a Directive on the control of the use of nickel in objects intended to be in contact with the skin, including watches. In addition, another Directive prohibiting the trading of textile products, including textile watch straps, containing prohibited azo-dyes. There are also Directives for environmental protection in relation to sales of watches and clocks in the market, including restrictions on batteries and accumulators that contain mercury, as well as the Directive on Waste Electrical and Electronic Equipment (WEEE) implemented since August 2005, and the Directive on Restriction of Hazardous Substances (RoHS) that came into effect in July 2006.
On 4 June 2015, the EU's Official Journal published the Commission Delegated Directive 2015/863 amends the framework RoHS Directive (Directive 2011/65/EU on the restriction of six hazardous substances in electrical and electronic equipment (EEE)) by banning four more substances from EEE destined for the EU market. Member States have to adopt and publish, by 31 December 2016, their transposition of new Directive 2015/863. They must apply the new provisions from 22 July 2019.
On 21 June 2013, the Swiss Parliament adopted the so-called "Swissness bills", which amends, in particular the Swiss Federal Law on the Protection of Trademarks and Indication of Source. To be marked Swiss made, a watch will have to meet the requirement of minimum 60% of Swiss value. Existing requirements, such as the incorporation of a Swiss movement, casing-up and final inspection in Switzerland, remain in place. However, the definition of the Swiss movement adopts a minimum rate of Swiss value of 60% (as opposed to 50% before). New criteria will be added to the calculation of Swiss value, such as research and development and certification costs.
The entire 'Swissness' package came into force on 1 January 2017. However, there is a two-year transitional period for exhausting stocks ending 31 December 2018.
Product Trends
Spurred by the growing popularity of wearable technology, Smart watch is likely to become the new growth pole for timepieces. Apart from functions such as linking up with a smartphone, tracking a person's movements and measuring vital signs, smart watch now also provide identification and security features.
According to HKTDC Watch & Clock Fair on-site survey (September 2017), in terms of the category seen as having the greatest growth potential in 2018, 46% of all respondents singled out leisure watches, while also indicating that they expected such items to retail for around HK$478 on average. Overall, only 7% of respondents believed that luxury/jewellery watches had the greatest growth potential in 2018, a sign, perhaps, of continuing economic uncertainties.
In terms of optimal product development strategies, 47% buyers and exhibitors backed 'going smart – having the facility to interact with smart devices' as the most significant route for product development over the coming year. Among buyers, the next most important strategies were 'celebrity-endorsed watch collections' (32%) and 'collections that align with the current season's fashion trends' (28%). Many of the exhibitors, however, had a somewhat different view. Overall, 'collections that align with the current season's fashion trends' (40%) took the second slot, followed by 'mix and match watches (timepieces that can be customised to match clothing)' (33%).
Material of wrist watch such as ceramic, titanium, alloys, carbon fibre, magnesium and palladium are getting more popular. Jumbo-case watch dial is common among young generation. However, girly design with vivid colours, such as pink and white are sort of a rage among female consumers. Besides jewellery watches, bracelet and bangle styled watches are classy for formal occasions. For male consumers, wrist watch with chronograph functionality feature with a bezel is getting popular.
---
[1] Industry statistics cover activities in Hong Kong only.
[2] Since offshore trade has not been recorded by ordinary trade figures, these numbers do not necessarily reflect the export business managed by Hong Kong companies.