https://hkmb.hktdc.com/en/1X001DFI
Jewellery Industry in Hong Kong
Hong Kong's jewellery industry is dominated by the precious jewellery sector. Its development has been facilitated by the expansion of the local market, including sales to tourists.
Jewellery production in Hong Kong encompasses a wide range of medium- to high-priced products. Hong Kong manufacturers are good at producing small stones fashion jewellery. Hong Kong is leading in the production of pure gold items, and has long been recognised as a major centre for the production of jade jewellery. It is also a leading trading and distribution centre for pearls.
Although high value-added processes are still retained in Hong Kong, manufacturing processes are increasingly shifted to Mainland China, mainly to Shenzhen and Panyu, by means of building factories or outsourcing. Meanwhile, more manufacturers have made use of computer-aided design to shorten the time cycle for product development.
In the first half of 2019, Hong Kong's exports of precious jewellery grew by 14% year-on-year, while total exports of imitation jewellery also registered a 4% increase. However, Hong Kong's exports of pearls, gem-stones and rough diamonds fell by 6% for the same period, following an 18% decline last year.
Under CEPA, the mainland has given all products of Hong Kong origin, including jewellery, tariff-free treatment starting from 1 January 2006.
Industry Features [1]

Source: Quarterly Report of Employment and Vacancies Statistics
Hong Kong's jewellery industry can be broadly classified into two sectors: jewellery made of precious metal and imitation jewellery. In terms of value, 92% of Hong Kong's total exports of jewellery were made of precious material in the first half of 2019.
Hong Kong's jewellery industry is known for its flexibility in accommodating customer needs. Production of fine jewellery encompasses a wide range of medium to high-priced products. The most popular product category is gem-set jewellery, particularly diamonds set in 14K or 18K and yellow/white gold. Hong Kong manufacturers are good at producing small stones jewellery with elements of contemporary fashion. Their gem-setting skills and design capability are competitive compared with world-class European manufacturers.
Hong Kong has a highly skilled and productive labour force capable of handling small orders and making elaborate designs at reasonable prices. The overall technology level of the precious jewellery industry is perceived by manufacturers to be above competitors like Thailand but below the world leaders such as Italy and Japan. Most notably, Hong Kong is leading in the production of gold items. Although high value-added processes are still retained in Hong Kong, manufacturing processes have shifted to mainland China, mainly to Shenzhen and Panyu.
Hong Kong has long been recognised as a leading centre for the production of jade jewellery. Major items are bangles, rings and pendants. Hong Kong is a leading trading and distribution centre for pearls, with majority of which imported from Japan, India, Australia and Mainland China.
Performance of Hong Kong's Jewellery Exports [2]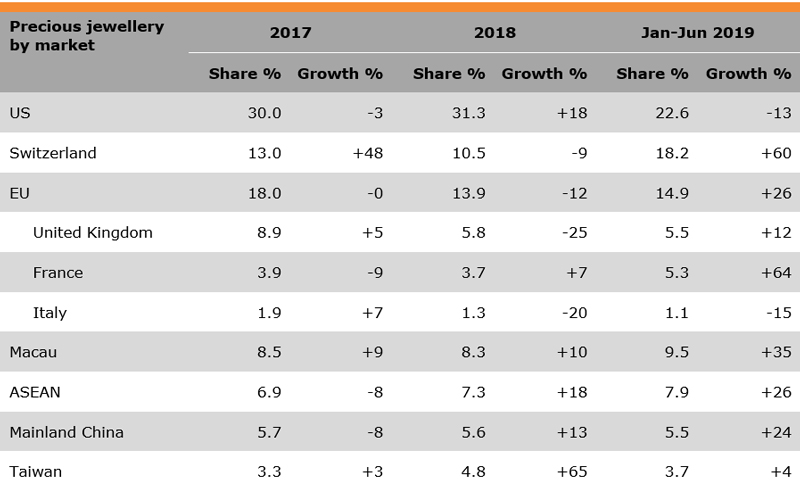 Source: Hong Kong Trade Statistics, Census and Statistics Department
In the first half of 2019, Hong Kong's exports of precious jewellery gained further pace and saw another 14% year-on-year growth, with the US, Switzerland and the EU being the biggest markets which in sum accounted for nearly 56% of the total. During this period, sales to the US fell 13% year-on-year, whereas those to Switzerland and the EU rose by 60% and 26%, respectively.
In January-June 2019, total exports of imitation jewellery amounted to HK$2.9 billion, up 4% year-on-year. Unlike fine jewellery, imitation jewellery is rarely domestic-made but re-exported from other origins. Mainland China, accounted for roughly 87% of all imitation jewellery exports from Hong Kong in the first half of 2019, is the largest source of such re-exports.
On the other hand, Hong Kong's exports of pearls, gem-stones and rough diamonds fell by 6% in the first six months of 2019, after a 18% decline last year. Diamond, accounting for 85% of such exports, fell on par in January–June 2019.
According to a recent survey conducted by HKTDC during the Hong Kong International Jewellery Show 2019 and the Hong Kong International Diamond, Gem and Pearl Show 2019, jewellery traders are taking a more cautious outlook on the market in the next 12 months. Buyers and exhibitors expect to see lower upside potential in this year's sales, in view of less likely price increments, whether in retail or "free on board" (FOB) prices. As far as the Sino-US trade dispute is concerned, most anticipate jewellery exports to remain unaffected in the near term, while some expect either a slightly/very negative impact. In terms of confidence in different markets, Eastern Europe (excluding Russia) and the Middle East continue to show strong momentum, but India sees the biggest improvement.
Sales Channels
The jewellery industry of Hong Kong is by and large export-oriented. The trade is characterised by a subcontracting system under which small- and medium-sized factories provide subcontracting services, such as mould making, precision casting, gem-setting, polishing and electroplating, to larger manufacturers or local jewellery retailers. Mass production of jewellery products is normally restricted to established manufacturers which are equipped with more sophisticated and automated production machines. The jewellery items made for exports usually bear buyers' brand names or logos. Some jewellery makers have set up overseas offices and outlets to promote sales.
Some Hong Kong manufacturers are making inroads into retail and distribution in Hong Kong, supported by the influx of tourists in recent years. According to Hong Kong Tourism Board's survey, in 2018, visitors increased their spending on jewellery by 9% to HK$20 billion, accounting for 12% of their total shopping spending.
A few Hong Kong jewellers, such as TSL, Chow Sang Sang and Chow Tai Fook, have expanded their retail network to Mainland China through franchising and co-operative arrangement. They have successfully earned a recognised brand image there. A recent survey conducted by the HKTDC showed that, in the eyes of most Chinese consumers, Hong Kong products are made under stringent quality control, demonstrating trendy, unique and innovative designs, as well as excellent goodwill.
Promotion via participation in trade fairs is an effective way for Hong Kong companies to explore export opportunities (below is a list of selected trade fairs in the industry). Besides, HKTDC from time to time organises study missions for Hong Kong manufacturers to visit specific markets for establishing new business relations.

Industry Trends
Articles of jewellery are getting more fashion oriented. Innovative designs are important for moving up-market. For instance, silhouette design, renaissance-inspired jewellery and futuristic design are the upcoming jewellery trends. In doing so, it is necessary for manufacturers to have more metallurgical knowledge and latest technologies, such as 3D printing, laser cuttings, digital printing, engravings and photography. New technology also allows the development of new or innovative designs. Jewellery, which used to target the high-end market, is also following more closely with the fashion trend and targeting at the younger, middle income level market segment, some in the form of brand jewellery.
Recent technological development allows massive production of jewellery products with good quality and competitive prices. While Hong Kong's jewellery industry remains basically a handicraft industry, a number of larger establishments have made use of sophisticated and automated production equipment. These manufacturers integrate advanced production techniques, such as electroforming, with handicraft skills to enhance their efficiency. They install computer-aided design and manufacturing (CAD/CAM) systems, computer numerically controlled (CNC) machine tools and even 3D printers in their product design and manufacturing processes. Such new technologies enable Hong Kong manufacturers to develop new materials for fashionable jewellery items other than fixing defects and to increase the accuracy of the designed output. On the other hand, software used in online apps allows buyers to customise their own jewellery, changing the colour, shape, stone and metal used as they desire. Meanwhile, new social media platforms have further enabled the melding of social interactions and around-the-clock promotions to target market segments.
Like other industries, the trend of consolidation also happens in the jewellery industry, especially in the US. Albeit at a slower pace than 2017 and 2018, 135 jewelry companies (including 110 retailers, 14 wholesalers, and 11 manufacturers) are reportedly to have discontinued operations in North America in the first quarter of 2019. While the brick-and-mortar stores of mass merchants such as Walmart and Target remain important distribution channels for jewellery, some are putting more efforts to develop their online sales. For example, Walmart, the 2nd-largest jewellery retailer in North America in 2018 is reportedly planning to scale down the fine jewellery section in some of its store, while maintaining the sales via the online channel.
On marketing and distribution, some Hong Kong jewellers have built up their own branded jewellery or licensing agreements. While this is an effective strategy to enhance long-term competitiveness, it may also require local jewellery manufacturers to move into distribution. Apart from establishing direct retail outlets, e-tailing is becoming an ever more prevalent option for jewellery retail, especially in the US and Mainland China. According to Euromonitor International, roughly one-fifth of jewellery sales in the US were made online in 2018. In Mainland China, the internet has become an increasingly important jewellery sales channel where 6% of total jewellery sales were made in 2018, up from 1.5% in 2013. In response to the rapid e-commerce development, global jewellers are growing their online presence fast. According to a recent survey conducted by HKTDC at Hong Kong International Jewellery Show, 42% of those surveyed are selling their products directly to consumers via online trading platforms, with that figure rising for a fourth consecutive year. Among others, Hong Kong jewelley retailers, such as Chow Sang Sang and Chow Tai Fook, are actively developing their online sales channels. It is expected that the application of e-commerce in the jewellery sector will continue to proliferate. Over the longer term, the development of internet shopping represents a new direct sales method for Hong Kong jewellers in promoting their products.
CEPA Provisions
Under the Mainland and Hong Kong Closer Economic Partnership Arrangement (CEPA), the mainland has given all products of Hong Kong origin , including jewellery, tariff-free treatment starting from 1 January 2006. This allows tariff savings up to 21% as applicable to entries with Most-Favored Nation (MFN) status. According to the stipulated procedures, products which have no existing CEPA rules of origin can enjoy tariff-free access upon applications by local manufacturers and upon the CEPA rule of origins being agreed and met.
The promulgated rules of origin for jewellery to benefit from CEPA's tariff preference are basically similar to the existing rules governing Hong Kong's exports of these products. Generally speaking, for jewellery articles of precious metal, moulding, identified as the principal process for the purpose of delineating their origin, is required to be carried out in Hong Kong. If assembling is required, it must also be done in Hong Kong. For jewellery articles of pearls, precious or semi-precious stones, both moulding and setting have to be done in Hong Kong. Detailed information is available here.
General Trade Measures Affecting Jewellery Exports
The Shanghai Gold Exchange began operation on 30 October 2002, with its launch seen as a sign that China's gold sector is moving towards complete marketisation. For details of its business code of conduct and other relevant laws and regulations, please refer to this website.
In May 2003, the mainland abolished the licensing system for businesses trading in gold or silver products. As a result, the production, processing, wholesale and retail of jewellery are all now fully deregulated, meaning that any individual can now register to operate a business in the jewellery production, processing and wholesaling sectors.
Hong Kong companies exporting to Mainland China are subject to three types of tariffs, namely Value-Added Tax (VAT), customs tariff and consumption tax. From 1 April 2019, most of the goods (including precious jewellery, pearls, gem-stones and rough diamonds and imitation jewellery) are subject to a reduced VAT of 13% (down from 16%). Also, export VAT rebate rates are up to 6% for precious jewellery and gem-stones and rough diamonds and 10% for imitation jewellery, starting August 2019. Customs tariffs for such imports range from 0%-21%, depending on the type of products. Export VAT rebate rate and customs tariff for a particular product can be checked here and here, respectively. For all jewellery sold in Mainland China, a consumption tax of 5-10% is also levied.
Diamond (including rough diamond and unset polished diamond) imports and exports under general trade, as well as for the domestic sale of rough diamonds transferred-out in the course of the processing trade are required to go through the declaration formalities with the customs located inside the Shanghai Diamond Exchange (SDE). Diamonds directly entering SDE from overseas are exempted from import duty, value-added tax and consumption tax. All diamonds traded in SDE are exempted from value-added tax. Diamonds entering SDE from domestic sources can enjoy tax refund, and the tax collected at the processing stage shall be fully refunded when diamonds are exported, while those flowing from SDE to overseas cannot enjoy tax refund. For diamonds channeled from SDE to the domestic market, no import duty is required but the value-added tax (4% for polished diamonds but none for rough diamonds) shall be duly paid. The consumption tax is not collected until the stage of retailing, at a rate of 5%. For details of its import and export policies, customs supervision policies, tax policies and foreign exchange management policies, please refer to this website.
In response to the concern that diamonds from a few African sources might have been sold through illegal channels to finance civil wars and conflicts among neighbouring countries, the World Diamond Council (WDC), with some participating countries, have come up with a certification scheme to keep track of the rough diamonds exported from the African conflict areas (the so-called Kimberley Process). Both Hong Kong and Mainland China, as signatories to the Kimberley Process, have introduced this certification scheme since 2003. Accordingly, all parties in Hong Kong carrying on a business of importing, exporting, carrying (including carrying rough diamonds in transit and transhipment), buying or selling rough diamonds must now be registered with the Trade and Industry Department (TID). They are also required to obtain Kimberley Process (KP) Certificates issued by TID before the import and export of rough diamonds.
In the EU, environmental and health concerns continue to be major issues. The EU has banned the imports of jewellery containing nickel, which can cause allergic reactions when in contact with skin. While this measure provides Hong Kong jewellery products made of other materials a niche in exporting to the EU, other suppliers have started to catch up as they adjust to the requirement. In addition, imitation jewellery containing lead is also under strict regulations under the US Consumer Product Safety Commission.
Other than the above official regulations, various organisations are issuing qualifications to various jewellery materials. They include the World Gold Council, the Natural Colour Diamond Association (NCDIA), and the Diamond Trading Company (DTC). For example, Tanzanite Foundation has developed a grading system for tanzanite. Gaining their qualification is an increasing trend, and their measures are expected to be a standard in the future.
Product Trends
According to a recent HKTDC survey, diamonds are likely to continue to be in great demand this year, with the most popular specifications being round-cut, high purity (flawless-VVS2), white, and one carat. Other than diamonds, jade and aquamarine are also anticipated to keep doing well in 2019. For jade and pearl, while natural jadeite is expected to remain as the most popular type of jade in 2019, the popularity of more affordable "B" is on the rise. Pearl traders take a similar view and in fact expect more affordable Akoya pearls to replace South Sea pearls as customers' top choice. In terms of metals, karat gold will remain the most popular precious metal in 2019, with white gold making a comeback, followed by rose gold.
On the other hand, the number of younger consumers has increased over the past few years. They are fashion-conscious and putting a great stress on the design element. In many cases, they are influenced by the trends in clothing fashion, mainly through magazines, TVs or movies. In Asia, for example, the biggest jewellery buyers are the rising numbers of women entering the workforce, according to De Beers.
In terms of product trends, jewellery designs have been increasingly influenced by clothing fashion. Consumers, especially women, are opting for more accessories like jewellery to express their sense of style. While feminine, romantic pieces are expected to be sought-after in the luxury market, wearability is getting important in the young girl market, and this reflects in the increasing trend to wear jewellery with jeans in a mix-and-match fashion.
Demand for male jewellery is on a rise, as men are becoming more fashion-conscious. The concept that "jewellery is feminine" is fading. Men have realised that jewellery can be masculine. They begin to understand that fine jewellery is essential to a complete look, and jewellery is becoming an integrated part of men's dressing. They may buy bracelets, rings and pendant necklaces to suit their looks. They may also wear jewellery such as cufflinks and tiepins to build up a smart look. Yet, articles of men jewellery are still quite limited, and thus the market may be of huge potential.
Costume jewellery is making a return. Increasingly, more garment boutiques offer jewellery as accessories complementing their new lines of fashion. Such development would contribute to an increased demand for elegant and romantic diamonds, which are expected to top the list of jewellery buyers, while semi-precious stones and coloured crystals targeting at the medium to lower-end segment are likely to sell well.
---
[1] Industry statistics refer to jewellery industry (excluding imitation jewellery) in Hong Kong only.
[2] Since offshore trade has not been captured by ordinary trade figures, these numbers do not necessarily reflect the export business managed by Hong Kong companies.