Hong Kong earlier this month hosted its second Asia Summit on Global Health (ASGH), as the city continues to garner international attention after further loosening COVID-19 restrictions. This year's theme – "Charting a New Course in Healthcare through Collaboration" resonated strongly with Dr Zsuzsanna Jakab (main picture), Deputy Director-General of the World Health Organization. In her video speech at the event's opening session, Dr Jakab said the pandemic had infected more than 600 million people globally and claimed 6.5 million lives, so there was an "opportunity and, indeed, an obligation to learn from this pandemic" and accelerate progress on universal healthcare through concerted efforts in science, research, innovation, data and digital technologies.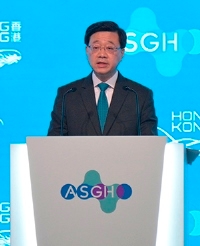 Strong interest in healthcare and life sciences brought together 30,000 online and physical participants, including healthcare professionals, start-ups, investors and business and political leaders. The two-day summit was co-organised by the Hong Kong Trade Development Council (HKTDC), Government of the Hong Kong Special Administrative Region and ran concurrently with the HKTDC Hong Kong International Healthcare Fair.
John Lee, Hong Kong SAR Chief Executive , had no doubt the city is well-equipped to stay at the forefront of quality healthcare solutions and drive biotech innovation in the post-COVID era. With innovation and technology (I&T) firmly at the heart of Hong Kong's policy priorities, Mr Lee is keen to create collaborative programmes and initiatives to tackle healthcare challenges, especially with support from Mainland China. That support was affirmed by Cao Xuetao, Vice-Minister at Mainland China's National Health Commission, who delivered special remarks at the conference, reiterating Hong Kong's unique position to develop and promote health services in the region.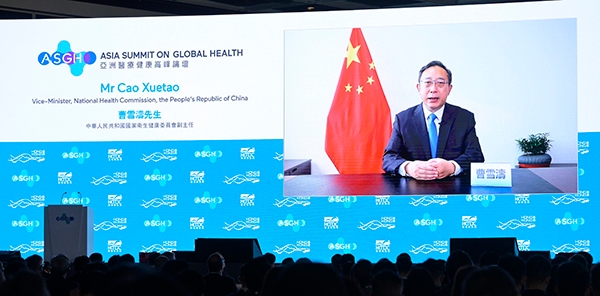 Future healthcare
The mainland has made no secret of its desire to cement the Guangdong-Hong Kong-Macao Greater Bay Area (GBA), a cluster of 11 cities, as an economic and technological powerhouse. In the session on "How Innovation in the Guangdong-Hong Kong-Macao Greater Bay Area Reshapes Global Healthcare", Prof Ronald Li, Chief Executive Officer and Founder of Medera Biopharmaceutical, urged his audience to look beyond the "macro reasons" of watching the GBA market. Instead of paying attention to obvious healthcare opportunities in addressing an aging population, Prof Li called for innovators to "trail blaze" new ground, such as next-generation therapeutics and gene therapies to combat previously incurable diseases. The scientist himself pioneered the "human heart-in-a-jar" technology, where mini beating human hearts are created from a patient's stem cells to test different drugs and replace animal testing. This technology is already being utilised to reduce side effects from COVID-19 treatments.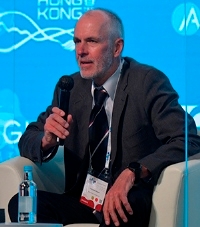 Over the years, Prof Thomas Herget, Head of Merck China Innovation Hub, has worked closely with start-ups, science parks and academic institutions to seek innovation projects in North America and Mainland China. The pharmaceutical expert noted "a very rich start-up eco-system" in Hong Kong where support from banks and governments was already in place. For example, the Hong Kong Government is investing US$1.3 billion to promote life and health technology, with further funds to support university research to identify potential start-ups in a new project next year. That was on top of establishing the InnoLife Healthtech Hub in the Hong Kong-Shenzhen Innovation and Technology Park to deepen collaboration with other GBA cities and enhance efforts in areas, such as disease prevention, diagnosis, pathology tracking and surgical micro-robots.
Hong Kong already boasts two medical schools that are ranked among the top 40 in the world. Both now provide medical services in Hong Kong's mainland neighbour Shenzhen. For Dr Kenneth Tsang, Chief Executive Officer of Gleneagles Hospital Hong Kong, increased research and teaching provide more opportunities to acquire high-end treatments in the GBA, which can then be used to benefit people from outside the region. He is particularly impressed by "the number and capacity of healthcare service providers here, who are forward-looking to embrace new technologies and new kinds of services".
Biotech funding hub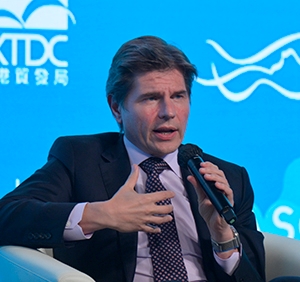 Speaking to industry experts and business leaders on GBA opportunities, Nicolas Aguzin, Chief Executive Officer of Hong Kong Exchanges and Clearing Limited (HKEX), was optimistic on healthcare sector growth given the mainland's expanding middle-class and relatively low health expenditure. In a session titled "Hong Kong as a Fundraising Hub for Global Biotechnology and Healthcare", the HKEX Chief Executive described Hong Kong as "having a combination of Silicon Valley and Wall Street all in one", because of how the city has positioned itself to entice new-economy companies. He referred to reforms that took place in 2018, where a new chapter was added in the stock market operator's rules and guidance aimed at attracting biotech companies, including pre-revenue ones. Since then, more than 100 healthcare companies have been listed on the Hong Kong Stock Exchange, raising over HK$100 billion. In just four years, Hong Kong turned into Asia's top and the world's second-largest fundraising hub for biotech companies.
Mr Aguzin thinks the Stock Connect scheme – a cross-border trading programme between Hong Kong, Shenzhen and Shanghai – gives Hong Kong a competitive advantage but he wants the HKEX to incorporate more international firms. To expand internationally, the Chief Executive confirmed that HKEX will be opening an office in New York and more in Europe. That is in addition to existing offices in Beijing, Shanghai and Singapore.
Billy Cho, Chief Financial Officer of Zai Lab, spoke extensively of their initial public offering journeys and how the Nasdaq-listed firm became the first healthcare company to do a secondary listing in Hong Kong in 2020. Earlier this year, Zai Lab decided to make HKEX the primary listing, bringing their shares into the Shanghai-Hong Kong Stock Connect and Shenzhen-Hong Kong Stock Connect programmes. Mr Cho compared the dual-primary listings as "two engines" that will allow them to actively engage with investors. He concluded that "we were able to take advantage of the new innovations that came out… I would clearly see the mainland money to the Stock Connect building. It's just clear and we can see where it's headed over the next few years, so there'll be other innovations coming and we'll be able to leverage on that as well".
New growth
As the new Hong Kong-Shenzhen Innovation and Technology Park moves forward, healthcare professionals, academics and innovators are eyeing opportunities at the site, which is four times the scale of Hong Kong Science Park.
For Dr Anne Lee, Deputy Hospital Chief Executive and Chief of Service in Clinical Oncology Centre at The University of Hong Kong-Shenzhen Hospital, the park on the Hong Kong-Shenzhen boundary will soon be home to its translational lab. She sees it as "truly an exciting development", where talents from Mainland China can enter readily and collaborate with others in life and health sciences. With the convergence of talent and capital, Dr Lee has high hopes that it will drive translational research and clinical research development. The system, which is still based on Hong Kong's legal system, offers full protection of intellectual property rights, she said. "We are trying to explore whether we can use these opportunities to overcome some of the difficulties, some of the barriers of cross-border transfer of data as well as biospecimens".
During that same panel discussion on "Biomedical Tech Partnership for New Business Growth", concerns were raised regarding Hong Kong's lack of talent in international innovations. Christine Yip, Founder and Chief Executive Officer of AusMed Global Limited, refuted those claims and spoke highly of her research team compromising graduates from at least six local universities. The Hong Kong native found success with KetoMetrics, a non-invasive handheld breath ketone analyser for diabetics, to monitor their ketone levels as a build-up of this chemical can poison the body. The device has been approved by Hong Kong's Hospital Authority and used on non-alcoholic fatty liver patients.
The Asia Summit on Global Health took place on November 10 and 11. It ran alongside the HKTDC Hong Kong International Medical and Healthcare Fair that places a heavier focus on medical products.
Related link
ASGH