Biotechnology and sustainability are key factors in the development of the Belt and Road Initiative. These technology-heavy fields received extensive attention at last month's Belt and Road Summit, organised by the Government of the Hong Kong Special Administrative Region (HKSAR) and the Hong Kong Trade Development Council (HKTDC).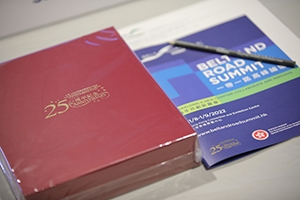 Innovation and technology are the engines reshaping the future. The Belt and Road Initiative aims to build a sustainable future through technological innovation.
The seventh Belt and Road Summit encouraged investors and operators from around the globe to collaborate and explore newfound business opportunities through this year's theme – "Building a New Chapter: Collaborate and Innovate". Exhibition zones, such as the Hong Kong Zone, Global Investment Opportunity Zone and the Greater Bay Area Technology Zone, allowed entities from various regions to showcase investment opportunities to foster international collaboration and exchange.
Early detection
This year's Greater Bay Area Technology Zone featured 16 exhibitors showcasing cutting-edge innovations in areas ranging from artificial intelligence to digital solutions. One exhibitor was the Hong Kong Biorhythm Research Institute, a biotechnology company mainly specialising in breast cancer research. Working closely with the Shanghai Cancer Hospital for eight years, the institute's team has developed self-monitoring technology that gives users the convenience of monitoring their breast health via their smartphones.
There are four key elements to their product, including smart sensors for collecting signals from the body, generating data which is transmitted to and stored in the mobile application. Using this data, the software will be able to calculate the user's breast health. The Biorhythm Research Institute hopes this technology can successfully provide early warning and prevention services for breast cancer patients, serving as a crucial tool for women's health management.
Li Pingyang, the institute's Chief Marketing Officer, said the Belt and Road Summit has granted numerous opportunities to the three-year-old company, giving them access to a wider market. "We noticed there were trade committees from several countries participating in this year's summit. By displaying our products in the exhibition, we were given a great platform to meet and converse with potential partners from other countries. Many of these high-calibre partners and guests were introduced to us by national chambers of commerce," Ms Li said.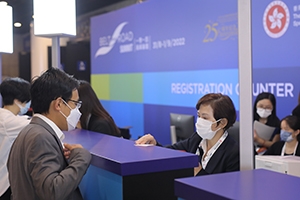 She believes Hong Kong is uniquely situated to become an international innovation and development hub, benefiting from a vibrant business environment and robust legal framework. To this end, "manufactured in Hong Kong" and "designed in Hong Kong" have both become sought-after brand values.
The Hong Kong Biorhythm Research Institute aims to market its products to foreign governments and healthcare institutions. Many foreign companies – including enterprises in Indonesia, Italy and Austria – have already expressed a keen interest in their products and established partnerships with them.
Professional services
Hong Kong's professional services industry is an essential part of the Belt and Road Initiative. Lion Consulting Limited (Lion CPA) was one of 16 firms present at the Hong Kong Zone of the summit exhibition where a range of services was on offer.
Based in Hong Kong, Lion CPA provides legal, accounting and taxation consultancy services for clients, helping enterprises expand into Indonesia, other members of the Association of Southeast Asian Nations (ASEAN) and various global regions. The company has offices in a number of Mainland China cities, including Shenzhen, Shanghai, and Guangzhou, while cross-border professional services are provided through its offices in Indonesia, Singapore and London.
Lion CPA specialises in helping companies from the mainland that are interested in doing business in the Indonesian market. Founder Benson Chang said that as a developing country, Indonesia has a very large demand for motorcycles.
"Despite this, it has a robust awareness of environmental protection. Additionally, many alternative-energy tech enterprises in the mainland have little experience in international expansion. Our aim is to help these companies' expansion into Indonesia," he said. "We are like a guidebook helping clients navigate through whatever areas that they may not understand such as local laws and regulations."
Mr Chang said enterprises looking for new business opportunities in foreign markets would help to create local employment opportunities, making it a win-win situation for both countries.
Many Belt and Road countries have a common goal of reaching net zero carbon emissions in their economic development model within the next 30 years. Since 2016, many companies have been striving to achieve this United Nations Sustainable Development Goal (SDG) by 2030. Mr Chang said that Lion CPA works with clients to implement environmental protection-related infrastructure that can meet relevant international industry standards.
Climate-related investment needs in Asia are estimated to reach a value of US$66 trillion over the next 30 years, which will require urgent changes to current economic and investment practices. In this regard, the Belt and Road Initiative will play a crucial role in promoting sustainable development in the region.
Mr Chang said Lion CPA has a good understanding of the domestic economic climate and was also familiar with Western business regulations, professional ethics and governance. As such, the firm can effectively bridge the gap between pioneering a "green economy" and the continuous development of its clients.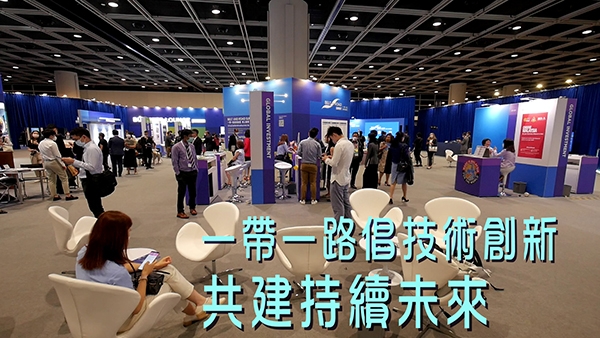 Related links
Belt and Road Summit
Hong Kong Biorhythm Research Institute
Lion CPA