Business links between Hong Kong and Southeast Asia are growing faster than a rain-forest bamboo grove, prompting the Hong Kong Trade Development Council (HKTDC) to organise a mission to Singapore, the business hub of the Association of Southeast Asian Nations, Indonesia, the biggest ASEAN member, and nimble technology developer Malaysia.
Chief Executive of the Hong Kong Special Administrative Region (HKSAR) Mr John Lee is leading the delegation, accompanied by Principal Officials. The group has made stops in Jakarta and Singapore and is now currently in Malaysia and Singapore this week.
During the two days in Indonesia, the delegation met representatives of key enterprises, such as the Lippo Group and CT Corporation, and visited the Jakarta-Bandung High-Speed Railway (main picture), an example of collaboration between Indonesia and Mainland China.
Reaching out
The 30-strong delegation of business leaders is seeking to strengthen ties, expand networks and discuss collaboration riding on new policies in Hong Kong to attract investment and talent as well as the Guangdong-Hong Kong-Macao Greater Bay Area (GBA), the Belt and Road Initiative and new cooperation agreements, such as RCEP (Regional Comprehensive Economic Partnership).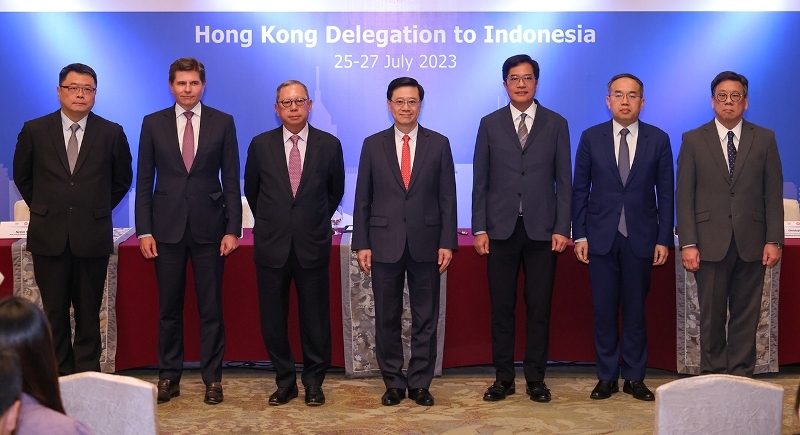 At a press conference in Jakarta, Mr Lee said: "ASEAN is Hong Kong's second-largest trading partner globally. Among ASEAN states, Indonesia is the largest nation. We are here to consolidate our friendship with Indonesia and other ASEAN states. We wish to strengthen our long-standing cooperation for mutual growth. More importantly, we wish to tell our friends here the good and latest stories of Hong Kong."
Mr Lee was accompanied by Deputy Financial Secretary Mr Michael Wong, Secretary for Financial Services and the Treasury Mr Christopher Hui and Secretary for Commerce and Economic and Development Mr Algernon Yau.
HKTDC Chairman Dr Peter K N Lam, HKEX Chief Executive Mr Nicholas Aguzin and Federation of Hong Kong Industries Chairman Mr Sunny Chai, representing various sectors in Hong Kong, shared their insights on business development of Hong Kong and Indonesia at the press conference.
The Deputy Minister of Trade of the Republic of Indonesia Jerry Sambuaga expressed gratitude for the visit. He believed the exchange would benefit both parties: "Hong Kong is an important trading partner for Indonesia, and I am optimistic that the Indonesia-Hong Kong relationship will grow stronger and be mutually beneficial."
Seven MoUs were signed in Singapore and 15 in Indonesia, covering finance, trade, technology and cultural exchange. The HKTDC signed an MoU with the Singapore Business Federation, and four with Indonesia's Ministry of Trade, Ministry of Industry and Ministry of Tourism as well as Creative Economy and business services group KADIN, respectively. MoUs signed in Singapore included those between InvestHK and the Blockchain Association of Singapore, and the Hong Kong Science and Technology Group and Global Entrepreneurship Network.
Exchanges exchange
HKEX on Wednesday announced it had signed an MoU with Indonesia Stock Exchange (IDX). Under the MoU, HKEX and IDX will collaborate on opportunities relating to cross-border listings in the Hong Kong and Indonesian markets, joint product development and ESG initiatives, such as the promotion of sustainable finance in Asia.
Mr Aguzin said: "HKEX is the home of Asia's most vibrant international marketplace, offering exclusive connectivity to Mainland China's onshore markets, while IDX sits at the heart of one of the region's most innovative economies, known for its talent, creativity and new economy pioneers. Working together, we look forward to opening up new possibilities for deeper collaboration between our markets, as we connect capital with opportunities."
ASEAN is Hong Kong's second-largest trading partner globally and the SAR's Free Trade Agreement with the group has been in effect for two years. Among ASEAN member states, Singapore is Hong Kong's fourth-largest trading partner, with bilateral merchandise trade amounting to over HK$480 billion (US$61 billion) last year. The mainland is Indonesia's key trading partner, accounting for 22.6% of exports and 28.5% of imports last year.
The delegation ends the one-week mission across ASEAN tonight.
Related links
ASEAN Market Profile
GoGBA
Belt and Road Summit