Co-organised by the Guangdong-Hong Kong-Macao Greater Bay Area (GBA) Development Office of the Constitutional and Mainland Affairs Bureau of the Hong Kong Special Administrative Region and the Hong Kong Trade Development Council GoGBA Business Support scheme, the GoGBA Greater Bay Area Development Day this month helped Hong Kong people grasp development opportunities in the GBA.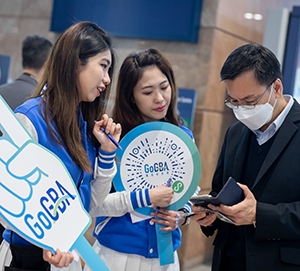 The parallel physical-online event was a one-stop introduction to the GBA, especially the Qianhai district in Shenzhen, for Hong Kong small and medium-sized enterprises (SMEs), young entrepreneurs, start-ups, and Hong Kong youth and students who are interested in developing in the GBA. The event also focused on business and trade information in Nansha, Guangzhou, and provided free consultation and business contacts to help Hong Kong companies explore the huge GBA market.
Counselling sessions
The half-day event gathered public organisations, business consultants, experts and business representatives. Seminars, group discussions, free consultations and exchange receptions updated participants on planning and business opportunities, settlement and business development practices and support services in Qianhai and Nansha. The activity attracted more than 450 people to attend, including 175 local enterprise representatives in person and 286 online participants. The event included 47 group business consulting sessions and free one-on-one consulting sessions at the same venue.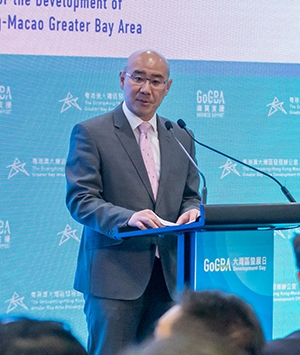 Mr Benjamin Mok, Acting Commissioner for the Development of the Guangdong-Hong Kong-Macao Greater Bay Area, said in his speech: "In the 'Outline Development Plan for the GBA' announced by the central government in February 2019, an important area is to jointly build a platform for cooperation and development between Guangdong, Hong Kong and Macao. It is necessary to speed up the development and construction of major platforms including Qianhai in Shenzhen and Nansha in Guangzhou. With central-government support, Qianhai's modern service industry is booming and it is a leading demonstration zone for financial and technological service reform and innovation."
HKTDC Deputy Executive Director Dr Patrick Lau said: "A year ago, we called on Hong Kong companies to enter the GBA to seize business opportunities without waiting border reopening. Now we are happy to see many successful examples. Now border crossing has resumed, and more measures are expected. Hong Kong companies are expanding the GBA market. Many foreign companies are also eager to expand into the market. The GoGBA One-Stop Platform of the HKTDC provides support for everyone, allowing businesses to easily obtain GBA information. For more than a year and a half, the online platform has received over 700,000 visits, including overseas visitors. We encourage all businesses to take the initiative to explore opportunities in the Greater Bay Area."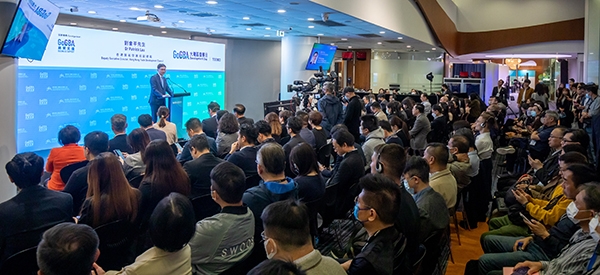 Cooperation platforms
Xie Xiaohui, Vice Chairman of the Political Consultative Conference and Director of the Bureau of Commerce of Nansha District, Guangzhou City, said: "Nansha is positioned as a strategic development platform in Mainland China and a demonstration zone for GBA cooperation. It aims to serve the entire Bay Area and national enterprises and help them develop outward. Nansha is unique, located in the city centre of the GBA, with convenient sea, land and air transport, and the logistics industry is booming. Nansha simultaneously continues to promote innovation in multiple industries such as finance, institutional and energy vehicles, food technology, aerospace, satellite communications and biomedicine, becoming an innovative focal point.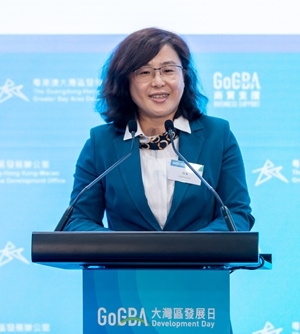 Xiang Jun, Director of the Commercial Division of Shenzhen Qianhai Administration Bureau, said: "The GBA Plan proposes to accelerate construction of major open platforms such as Shenzhen Qianhai, expand the development space of Hong Kong and Macao, and lead the comprehensive cooperation between Guangdong, Hong Kong and Macao."
HKTDC helps businesses enter GBA
The mainland market continues to evolve and Hong Kong companies will encounter fresh opportunities in the GBA. Since Hong Kong-mainland border restrictions have lifted, the HKTDC will actively grasp GBA opportunities for Hong Kong SMEs, and launch a series of related large-scale promotional activities, including Chic HK in Shenzhen and SmartHK in Guangzhou to promote Hong Kong branded products and professional services. In addition to organizing more GBA and overseas delegations to participate in the exhibitions, the HKTDC's GoGBA Programme will also organise business visits and training activities to help Hong Kong companies explore the GBA and go further into the huge mainland market.
The HKTDC has established the GBA Service Center in Shenzhen and has five GoGBA Hong Kong Business Service Stations in Qianhai, Nansha, Zhuhai Hengqin, Dongguan and Zhongshan to provide consulting, industry information and business-matching services. The GBA Service Centre and GoGBA Hong Kong Merchants Service Stations have held more than 80 activities so far, serving over 4,000 Hong Kong merchants. The HKTDC plans to open centres in other GBA cities.
The HKTDC's T-box Transformation Programme, Digital Academy and E-Tailing Academy also continue to provide SMEs with diverse business support and training, helping Hong Kong businesses transform and upgrade to expand opportunities in the GBA.

Related link
GoGBA