As fintech transforms traditional banking, with all financial institutions becoming fintechs and the metaverse becoming a venue for a parallel banking system, the industry's talent transformation will need to go beyond swapping pinstripe suits for denim.

Accelerated transformation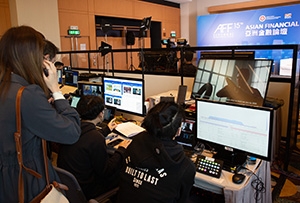 The financial industry's digital transformation accelerated rapidly worldwide amid the COVID-19 pandemic. Empowered by developments in new technologies such as artificial intelligence and big data, and disrupted by several new trends, most notably cryptocurrencies, fintech is set to have a long-term impact on the banking sector. At the Asian Financial Forum earlier this month, Brett King, a futurist, visionary and founder and Executive Chairman of financial services company Moven, reflected on the opportunities and challenges new fintech poses to the banking and financial industries in a discussion with Duncan Chiu, Legislative Council Member (Technology and Innovation) of the Hong Kong Special Administrative Region.
Mr King said the rush for talent suited to this radically new financial industry environment will become a key issue in the coming years. He suggested that authorities create entrepreneur tech visas and sees immigration becoming a competitive field. Many big economies face shrinking populations, so drawing in smart talent will be a competitive arena. He said that Mainland China was good at cultivating and drawing science, technology, engineering and maths (STEM) talent, pointing out that for every STEM graduate in the United States, the mainland produces three.
Training was a critical issue for banks. In-demand skillsets will include data scientists, machine-learning specialists and cryptocurrency experts. Incumbent banks should look at the mainland's Ant Group as a model in plotting their way forward. A key to Ant's success was that its board team were all deep technology experts, not financiers, Mr King said.
Regulatory catch-up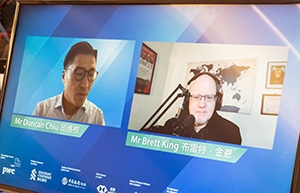 Mr Chiu pointed out that technology advances are outpacing regulators' ability to adapt to changes.
Mr King quoted internet pioneer Marc Andreessen, co-founder of Netscape, as saying that every company is becoming a fintech and the technology will be increasingly built into organisations' frameworks. Regulations were not robust in dealing with this reality, Mr King said. The mainland had let fintechs grow unimpeded initially and put regulations in place as the environment developed, he said. The United States has been more conservative, with no fintech charter.
Mr King said there was a large gap between the mainland and US in terms of mobile wallets, and fintech in general, with the US seven to 10 years behind the mainland. Ant was facing more regulation but remained the world's biggest fintech, he said.
Capital and customers were flooding into the fintech sector, having a major impact on the global economy.
Mainland-based WeBank, created by Tencent's founders, is the largest digital bank in the world, he said, with 200 million customers and a US$70 billion market cap. Challenger banks – smaller, new-to-market institutions – are well placed to take part in the fintech reshaping. In Latin America Nubank launched a US$750 million initial public offering in June last year, when it had 40 million customers. Six months later, its customer count had climbed to 48 million. Acquisition costs were just US$5 per customer while WeBank's were just US$0.75. The largest conventional bank in Brazil is Itau, which has 55 million customers but is not growing rapidly.
Global shift
Similar changes were happening around the world, Mr King said, with fintechs taking greater market share. Usage patterns in banking were also changing. Transaction volumes in mainland mobile wallets were US$52 trillion last year, almost three times the economy's gross domestic product. In contrast, the global plastic credit card industry had transactions of just US$55 trillion, with the US accounting for US$7 trillion.
Mobile wallets are very secure; Alipay recorded the lowest fraud rates in the industry, Mr King said. The US had a credit-card fraud rate of 11.2%, thousands of times higher than for mobile wallets in the mainland. Security is built into mobile wallets and there is growing pressure to shift to this means of transaction. He predicted mobile wallets will dominate day-to-day banking by 2025.
Developments in cryptocurrencies and central bank digital currencies (CBDCs) would boost the shift to digital wallets, he predicted. The Winter Olympics in Beijing would probably be the first "wild" test for CBDCs, he said. The emergence of CBDCs marked the first major money evolution since the move from coins to bank notes. "An incredible point of change for humanity," he said.
The leading financial firms would be those that scaled digitally. The fastest growing financial firms are all fintechs. Underlining how market share was changing, he revealed that 38% of salaries in the United Kingdom were now paid through digital challenger banks. By end of the decade, just as nine of the world's top 10 firms today are technology counters, most of the top banks will be fintechs, he forecast.
Asia in focus
Mr Chiu quizzed Mr King on his planned move to Thailand.
Mr King said he and his wife were both futurists – in fact his wife is known as Miss Metaverse! They had looked at several new homes and Thailand ticked all the boxes including weather and affordability. He saw many advantages in Asia. He had lived in Hong Kong until 2007 and now wanted to return to the region.
Mr Chiu asked if the metaverse, proposed by Facebook founder Mark Zuckerberg, would have banks?
Mr King said the metaverse will have a shadow banking system. Some people will literally work in the metaverse space, with new jobs and careers letting people earn money in the virtual world and an exchange mechanism to take this cash into the physical world.