The massive development projects in Hong Kong – Northern Metropolis (main picture) and Lantau Tomorrow Vision – will create a perfect prototyping environment for green con tech and prop tech, offering businesses ranging from start-ups to construction giants a chance to develop and deploy cutting-edge sustainable solutions for buildings and infrastructure.
And much of this development work will take place at the University of Hong Kong (HKU), which is as much a hub as its home city. Underlining the university's hub status, it hosted the Annual President's Meeting of the Association of Pacific Rim Universities (APRU) last month.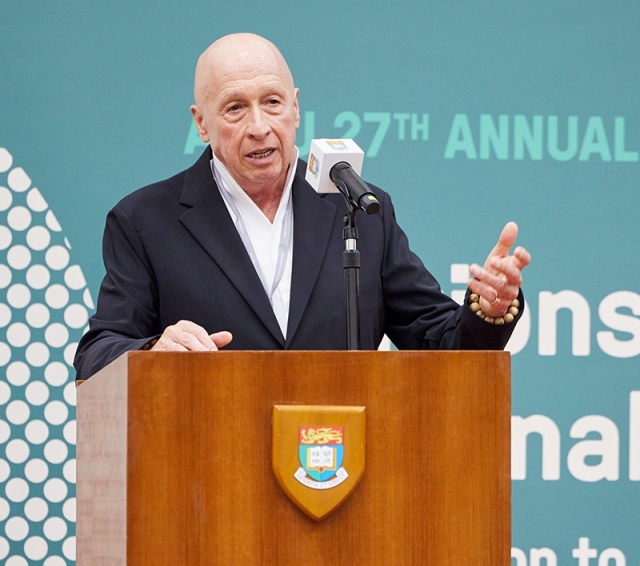 Green issues were high on the agenda at the meeting, themed Sustainable Future Solutions, and Hong Kong entrepreneur Dr Allan Zeman, Chairman of property group Lan Kwai Fong Holdings, told the gathering that the city is ideally suited to take green con tech and prop tech forward. Delegates saw Hong Kong and the Guangdong-Hong Kong-Macao Greater Bay Area as key innovation sites for green tech.
Sunny prospects
HKU is also carrying out research at the start of the energy value chain – generating carbon-neutral fuels from sunlight. A team is investigating using microstructures to effectively mimic natural photosynthesis, using sunlight to create carbon-neutral fuels out of water and carbon dioxide.
Dr Zeman also mentioned that a group of professors at Hong Kong's PolyU had investigated the installation capacity, energy generation capacity and environmental benefits of investing in photovoltaic energy in sunny Hong Kong.
Out of the 309,000 buildings in HK, 233,000 were suitable for PV panels with a total area of 39 square kilometres. The potential annual solar energy output could reach 4,674 gigawatt hours or 10.7% of Hong Kong's energy consumption, potentially cutting greenhouse gas emissions by three million tonnes.
He pointed out that Hong Kong, home to the world's largest collection of skyscrapers, had a world-class construction industry, from materials creation to design, building and finishing.
The city had also become Asia's leading green finance hub and sustainable manufacturer of construction materials have made use of waste materials in their production processes to reduce embodied carbon emissions.
Private-sector real-estate developers in Hong Kong have also pioneered new construction approaches such as digitalisation and prefabrication.
Generators
Possibilities extend to power generation infrastructure.
Dr Zeman said: "Actually, Hong Kong can consider using a hybrid ocean energy system to form a virtual power plant (VPP) for participating in electricity markets in order to promote the renewable ocean energy utilisation and accommodation. A Research paper had been published by PolyU in 2021 re 'Optimal offering strategy of virtual power plant with hybrid renewable ocean energy portfolio'. I do believe such a proposal can be considered and applied in Lantau Tomorrow Project as well as Kau Yui Chau Artificial Island project."
He said Hong Kong should focus on environmental, social and governance (ESG) issues to enhance its competitiveness and efficiency.
"Many SMEs in Hong Kong understand the need to adopt ESG to enhance their competitiveness because their Gen Z customers-staff have more values more on corporation's ESG adaptation and involvement."
Related links
Northern Metropolis