In the 20th century, the "roaring 20s" became famous for the birth of the jazz age and the arrival of "talkie" movies. In the 2020s, the defining feature so far appears to be uncertainty – which to optimists also means opportunity.
Regardless of whether you are an optimist or pessimist, the best way to deal with uncertainty is to keep your options open. The 21st-century way for a sophisticated and talent-rich, but resource-poor, economy such as Hong Kong to keep its options open is to let a host of entrepreneurs throw their hats into the ring in the form of start-ups.
Delivering Hong Kong's 2022-23 Budget, Paul Chan, Financial Secretary of the Hong Kong Special Administrative Region, acknowledged that the innovation and technology (I&T) ecosystem in the city has become increasingly vibrant. "The number of start‑ups surged from around 1,000 in 2014 to around 4,000 last year; and the amount of venture capital investment surged from HK$1.24 billion (US$159 million) to about HK$41.7 billion in the same period. Currently, Hong Kong is Asia's largest and the world's second-largest fundraising hub for biotechnology," he said.
Mr Chan said that promoting innotech development was an important strategy to foster a more vibrant and diversified economy in Hong Kong. Indeed, China's 14th Five‑Year Plan supports Hong Kong's development into an international innotech hub.
"Apart from fostering economic growth and job creation, innotech development can also promote re‑industrialisation and enhance the competitiveness of our manufacturing sector as well as enable digital transformation across various trades. The current‑term Government has invested over HK$130 billion in innotech development, which has seen results trending up gradually in recent years. I will allocate additional resources in the Budget to keep reinforcing the entire value chain and the innotech ecosystem," Mr Chan said.
The Government and local universities had allocated considerable resources to nurture start‑ups and assist research teams comprising students and professors in commercialising their research and development (R&D) results. The Hong Kong Science and Technology Parks Corporation (HKSTPC) and Cyberport, Hong Kong's two innotech flagships, provided one‑stop support services for start‑ups. So far, Hong Kong had witnessed the birth and development of over 10 unicorns – non-listed start-up companies with a valuation of more than US$1 billion.
The Hong Kong Trade Development Council (HKTDC) runs several programmes for start-ups, including Start-up Express.
Mr Chan also turned his attention to firms further along the development chain.
"I announced in my Budget two years ago the setting up of an investment portfolio named the Hong Kong Growth Portfolio using part of the Future Fund for investment in projects with a 'Hong Kong nexus'," Mr Chan said. "The aim is to consolidate Hong Kong's status as a financial, commercial and innotech centre as well as to raise our productivity and competitiveness in the long run. Last year, the Government appointed eight fund managers as general partners to make strategic investment.
"To nurture enterprises that are relatively more mature and have good potential for contribution to our economy, I will further increase the funding allocated to the Hong Kong Growth Portfolio under the Future Fund by HK$10 billion, of which HK$5 billion will be used to set up a new investment fund, namely the Strategic Tech Fund. I will invite the HKSTPC and Cyberport to identify technology enterprises which are of strategic value to Hong Kong as well as investment opportunities conducive to enriching the I&T ecosystem."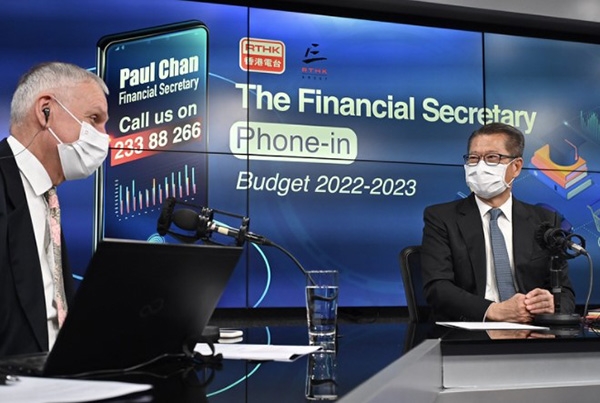 Health focus
Mr Chan said the impact of the COVID‑19 pandemic over the past two years has roused global interest in R&D in the life and health disciplines. "In fact, the National 14th Five‑Year Plan has also called for focusing on issues like human health as well as the enhancement of technological strengths in specialist fields such as life and health," he explained.
"Hong Kong has strong research capabilities in life and health sciences. There are a number of renowned scholars in local universities whose R&D teams display great originality and have the ability to create breakthroughs out of the blue, generating fruitful outcomes in scientific research. With clinical trial centres recognised by the National Medical Products Administration, Hong Kong enjoys clear advantages in promoting research and fostering development of industries in the life and health disciplines.
"In 2018, I allocated HK$10 billion to launch the flagship project of InnoHK Research Clusters, under which 28 laboratories have so far been established by local universities in collaboration with over 30 top‑notch universities and research institutions around the world. Among these laboratories, 16 are related to life and health sciences. On the back of our robust strength in scientific research, we can deliver more revolutionary R&D outcomes."
Turning to cooperation with Mainland China, he said: "We will set up the InnoLife Healthtech Hub in the Hong Kong‑Shenzhen Innovation and Technology Park. With the above 16 laboratories and the eight relevant State Key Laboratories as the basis, we can pool together top‑notch research teams from all over the world and focus our efforts on R&D work as well as global research collaboration in the field of life and health sciences. This includes biomedicine, big data and artificial intelligence, which can be applied in various areas, such as prevention, diagnosis, drug discovery, advanced treatment and rehabilitation.
"The Hospital Authority will assist more institutions in exploring how to make better use of their hospitals for conducting research and clinical trials as well as the valuable clinical data they have accumulated for R&D purposes. Our aim is to promote multi‑faceted collaboration in scientific research and development of industries; develop Hong Kong into a major R&D hub in life and health disciplines; and link up related industrial clusters."
Green transformation
Mr Chan also allocated funds to environmental investment. "The development of green and sustainable finance in Hong Kong offers promising prospects. By leveraging our advantages as an international financial centre, we can facilitate matching between international capital and quality green projects, contribute proactively to helping our country achieve its '3060 Target' in relation to carbon emission peak and carbon neutrality, as well as propelling Hong Kong towards our carbon neutrality target by 2050 and promoting the green transformation of our economy.
"Since the launch of the Government Green Bond Programme in 2018, a total of more than US$7 billion equivalent of green bonds targeting global institutional investors has been successfully issued. Several important milestones have been achieved, including the issuance of a 30‑year US dollar‑denominated green bond and a 20‑year euro‑denominated green bond, both of which are the first issuance among Asian governments and have established an important reference benchmark for the thriving development of the bond market in Hong Kong.
"The successful issuance of renminbi green bonds by the Shenzhen Municipal Government in Hong Kong has set a leading example for Greater Bay Area cities to make good use of the Hong Kong market for green financing. It has also further strengthened Hong Kong's functions as an offshore renminbi hub and a green financial centre. This year, we will continue to issue green bonds totalling about US$4.5 billion or equivalent."
Related link
Budget speech