The Hong Kong Trade Development Council (HKTDC) this month opened its GoGBA Business Support Centre in the Guangdong-Hong Kong-Macao Greater Bay Area city of Jiangmen.
The centre was co-organised by the HKTDC and Jiangmen Association of Enterprises with Foreign Investment to jointly create new opportunities for Hong Kong businesses and boost the city's foreign business services while further enhancing the HKTDC's support for small and medium-sized enterprises (SMEs) seeking GBA opportunities.
Service network
The HKTDC has established the GBA Support Centre in Shenzhen, along with seven GoGBA Business Support Centres – in Shenzhen Qianhai, Guangzhou Nansha, Zhuhai Hengqin, Dongguan, Zhongshan, Foshan and now Jiangmen. The Jiangmen centre will give Hong Kong companies exclusive policy consultation, market resource matching services and professional comprehensive corporate services. Exchange activities such as seminars, special training sessions, Hong Kong enterprise tea talks and experience sharing will help Hong Kong companies seize opportunities and accelerate the pace of developing Jiangmen and the GBA market.
At the Jiangmen centre opening ceremony, the HKTDC and Jiangmen Municipal Bureau of Commerce signed a memorandum of understanding on on jointly promoting economic and trade in the GBA. Investment promotion activities in the GBA actively encourage development of business opportunities in the markets of countries along the Belt and Road and Regional Comprehensive Economic Partnership member economies, and focus on promoting the Jiangmen RCEP Economic, Trade, Science, Technology and Cultural Cooperation and Exchange Centre to strengthen technological innovation and youth entrepreneurship in the two places.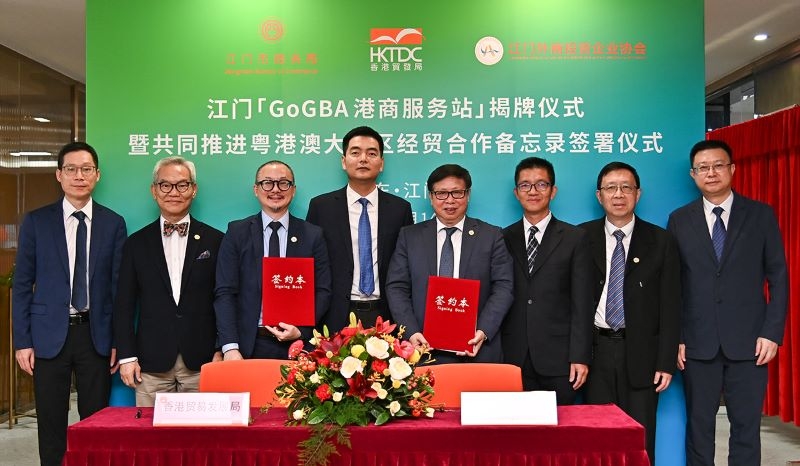 Zheng Xiaoyi, Vice Mayor of Jiangmen city, said: "Hong Kong has always been the most important source of foreign investment in our city. I hope that in the future, Jiangmen and Hong Kong will further leverage the advantages of complementary industries to promote efficient and convenient exchange of goods, services, talents, capital, technology and innovation between the two places, cultivate a world-class business environment and trade platform, work together to expand import and export channels, actively explore international markets, and promote high-quality coordinated development together."
Solid foundation
Feng Yining, Director of the Jiangmen Municipal Bureau of Commerce, told the opening ceremony: "Jiangmen city and Hong Kong share a solid foundation of industrial cooperation, as the two cities gets closer in terms of economic and trade exchanges. Our city is fully implementing the Outline Development Plan for the GBA to further promote industrial revitalisation."
HKTDC Regional Director, Southern China, Peter Wong attended the opening and said: "Jiangmen is a key node city in the GBA. Since then, we have maintained close economic and trade collaborations, and yielded in a number of achievements. I look forward to deeper cooperation between the HKTDC and the Jiangmen Association of Enterprises with Foreign Investment, as well as foreign-funded enterprises in Hong Kong, to provide personalised policy and market consulting services."
Hong Kong enterprise tally reaches 7,760
Jiangmen and Hong Kong have close and well established economic and trade relations. Commercial links between the two cities go back many years and they have achieved fruitful results. Standing at a strategic geographic location, Jiangmen enjoys a vast territory and convenient transport links. As of May, Jiangmen had approved the set up of 7,760 Hong Kong-funded enterprises, accounting for 70% of the offshore-funded enterprises in the city. Jiangmen has absorbed US$12.7 billion in Hong Kong capital, accounting for 58% of the city's foreign direct investment.
The HKTDC offers a one-stop international business platform and holds more than 30 international trade exhibitions and industry conferences every year. The HKTDC also serves as an important partner of Jiangmen to promote development of foreign trade. The establishment of the GoGBA service centre in Jiangmen will provide Hong Kong businesses and overseas companies interested in exploring GBA opportunities more extensive services. The two cities will work together to strengthen construction of platforms such as the Daguang Bay Economic Zone in Jiangmen, and deepen cooperation in industry, technology, culture and tourism, and health care, so as to better serve the overall development of the country.
The GBA support centres across the region have held more than 90 activities including online and offline sharing sessions, consulting sessions and business missions, serving more than 5,000 Hong Kong companies. The service centre fleet will expand gradually to include branches in Huizhou and Zhaoqing, covering all the mainland GBA cities.
In addition to the on-site business support services, the GoGBA digital platforms – including WeChat mini-programme, WeChat public account, websites and email newsletters – have been providing diversified business services in the nine mainland GBA cities. Online information services including business policies, subsidies and practical information have drawn nearly 1.3 million views so far.
Related links
GoGBA Business Support