The fifth China International Import Expo (CIIE), hosted by the Ministry of Commerce and the Shanghai Municipal People's Government, ran at the Shanghai National Convention and Exhibition Center from 5 to 10 November, with a significant Hong Kong presence.
The Hong Kong Trade Development Council (HKTDC) led 47 Hong Kong enterprises to join the Hong Kong Products Pavilion and Hong Kong Service Industry Pavilion, bringing the city's high-quality foods and services to Mainland China. The event underscored the important role Hong Kong is playing in the country's domestic and international dual-circulation economy.
Jacky Chung, HKTDC Mainland China Director, said: "We were delighted to see a favourable response to the HKTDC's Hong Kong Products Pavilion and Hong Kong Service Industry Pavilion, with healthy and innovative cuisines and the city's professional services proving especially popular. The orders came in one after another. The CIIE is a high-quality negotiation platform. Exhibitors not only won orders for the mainland as well orders for export, but also successfully promoted new products and technologies to more customers as well as getting to know potential investment institutions."
Mr Chung said the HKTDC organised nearly 500 business matchmaking meetings between more than 200 buyers and Hong Kong exhibitors at this year's CIIE, creating many cooperation opportunities to help companies take the important step of expanding into the mainland market.
Diverse offerings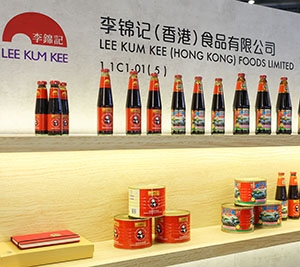 The product pavilion featured a range of well-known Hong Kong brands, such as leading canned food producer Sunyik Foods (under the brand Sky Dragon canned food) and condiments maker Lee Kum Kee. The zone also presented innovative and healthy products that have become more sought-after in recent years. These included the green salad drinks pioneered by Allklear, a successful start-up in this year's HKTDC Start-up Express, and vegetarian meat products made by another Start-up Express success story, Good Food Technology, which had developed imitation animal fat technology.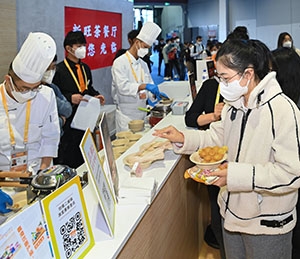 The pavilion's stage saw more than 40 cooking demonstrations and product-tasting activities. For example, chefs from Hong Kong-style tea restaurants cooked authentic Hong Kong snacks such as egg waffles and vermicelli rolls, as well as speciality coffee brewing. Demonstrations such as seafood freezing techniques demonstrated some of the unique aspects of Hong Kong cuisine.
First-time exhibitor You Origin Co Ltd brought the latest scientific research and healthy products to the exhibition and received a strong response, which reinforced the team's belief that domestic demand for health food is strong. The company's Business Development Director, Kenneth Lee said they had met a lot of people with an interest in the products, including online and offline distributors and promotional media.
World-renowned brands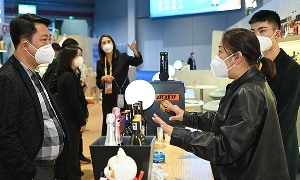 The Hong Kong Service Industry Pavilion ran with the theme of Hong Kong as a channel connecting the world, promoting the city's role as a link to international markets and global business opportunities. Many of the exhibitors succeeded in making useful business connections, including Asiapac Consultants, which has participated at CIIE since 2019. The company provides professional accounting and business services and has offices in many mainland cities.
Asiapac Partner Alax Chik said: "This year's performance is better than last year. Not only does [the CIIE] enable us to connect with more potential customers, but through face-to-face communication, the company has a better understanding of the needs of mainland enterprises. We look forward to continuing to participate next year."
Following the metaverse market trend, many companies showcased innovative technology services, such as PONS.ai, which specialises in the Web 3.0 art technology market. The development potential for digital art collections is currently hard to ignore.
To help Hong Kong enterprises expand business opportunities in the mainland import market, the HKTDC created a special business-matching platform for CIIE. By inviting key buyers and cooperating with local trading groups, the platform arranged for buyers to come to the CIIE for on-site meetings with Hong Kong companies, or to conduct online one-to-one business-matching meetings.
Related link
CIIE