Hong Kong brand The Wee Bean has made a name for itself with products for babies and kids made from bamboo and organic cotton. The items sell well in the United States, Canada, Singapore and other places. The firm plans to expand into Mainland China and seize opportunities brought about by the three-child policy.
During the COVID-19 pandemic, The Wee Bean joined the E-Commerce Incubation and Acceleration Programme co-organised by the Hong Kong Trade Development Council's HKTDC Design Gallery and Facebook owner Meta. An excellent promotion plan won the firm US$2,000 in Meta advertising credits, which will be used to promote its Facebook and Instagram accounts.
Green responsibility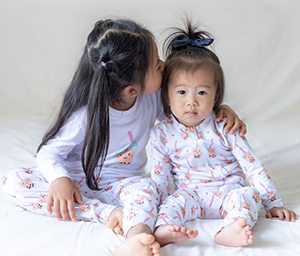 The Wee Bean Co-founder Amy Tang's baby daughter suffered severe eczema. During treatment, Ms Tang found that Hong Kong lacked organic newborn baby products with interesting designs, so started her own business to design and produce items such as organic apparel, swaddle blankets, bibs and towels, tailor made for a baby's delicate skin.

"After repeated research and testing, we found that the ratio of 70% bamboo fibre and 30% organic cotton was ideal. The products are soft, smooth, breathable and wear-resistant and will not deform after repeated washing."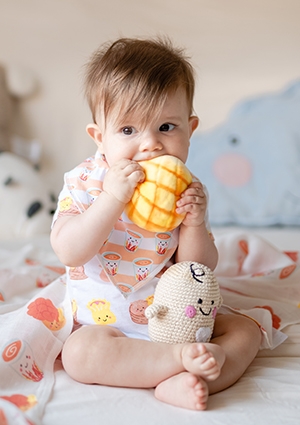 Aiming to benefit babies and our Earth, The Wee Bean opts for eco-friendly packaging and they were awarded the Hong Kong Smart Design Awards – Green Award for being sustainable in design and production. The brand supports fair-trade organisations and supports local charities including Refugee Union and J Life Foundation.
"These are charitable organisations that I have come into contact with during my previous work. They are committed to helping the disadvantaged. They coincide with our ideas and hope to contribute to the society."
Hong Kong product design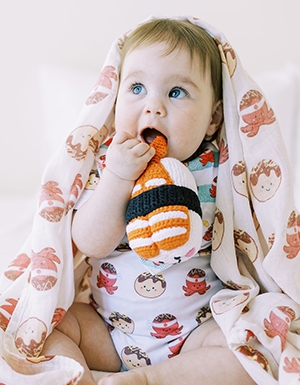 Ms Tang said she and co-founder Adrian Ma conceived the product line and it is 100% designed in Hong Kong. "We all love food, so it is natural to incorporate Hong Kong's authentic snacks such as egg tarts, pineapple buns, egg waffles, siu mai; while the Japanese series includes sushi and takoyaki. Compared with other organic baby products on the market, our designs are cheerful and unique, made from high-quality materials and chemical-free dyes to ensure we meet product safety standards for children's products."
She sells internationally through her own website and their Sheung Wan shop, via online shopping platforms such as Amazon and Zalora, and as well as physical stores such as HKTDC Design Gallery.
"Our key overseas markets include the United States, Canada and Singapore. We also occasionally receive orders from Switzerland, France and Thailand, which proves that Asian culture is widely welcomed by consumers everywhere."
Protect goodwill
The Wee Bean bore the logistics price spike during the pandemic to protect goodwill and to avoid freight delays to their customers. The Wee Bean also launched a valet handwritten greeting card service with gifts so that customers could send sincere wishes remotely even if they could not meet relatives and friends.
Brand building on social media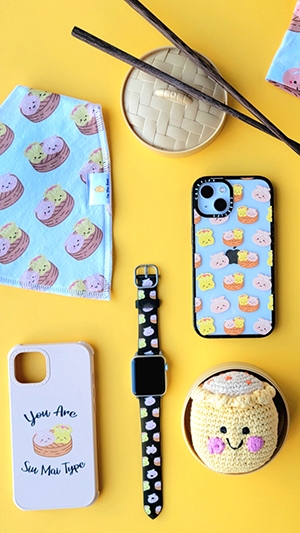 Ms Tang said The Wee Bean will use their US$2,000 Meta advertising credits to promote new products on Facebook and Instagram accounts.
"We cherish these resources and hope to use them to reach more target consumers, let them know the benefits of The Wee Bean's products, gradually build brand awareness, convert traffic into sales, attract new customers and build word of mouth," Ms Tang said.
Exports to new markets
The Wee Bean is actively diversifying. "We are expanding our brand from baby products to matching gear for parents and bigger sizes for toddlers and kids. We recently launched our new Mommy & Me series with good response and we plan to continue expanding in this direction. Additionally, we really enjoy collaborating with other brands to create new products, such as our collection of mobile phone cases and other tech accessories withCASETiFY."
She aims to continue collaborating with influencers and industry players to promote on social media and expand their market in various places including Mainland China, as part of their business development plan.


About E-Commerce Incubation and Acceleration Programme
The HKTDC Design Gallery partnered with Meta to introduce the E-Commerce Incubation and Acceleration Programme which offers online courses, including training seminars and consulting sessions, to strengthen the ability of SMEs to deploy Meta. The knowledge and marketing skills on the advertising account attracted 34 Hong Kong brands, and five won Meta advertising credits worth US$2,000 for their excellent promotion plans, and they made free promotions on their social media accounts including Facebook and Instagram. The five brands are fashion sports brand AmSTRONG, sports mask cover brand MasknGo, baby brand Bombol, The Wee Bean and environmental protection brand Eco Concepts.
Related links
The Wee Bean
HKTDC Design Gallery