As the global trading environment continues to reshape following the COVID-19 pandemic, Hong Kong exporters across a wide range of industries, including watches and jewellery, are looking towards the Middle East.
Hong Kong Chief Executive John Lee leading a delegation to Saudi Arabia and the United Arab Emirates and signing cooperation agreements made Mr Ethan Cheung, Founder and Managing Director of Inspire Workshop (Hong Kong), more confident to expand markets and prepare to launch a hybrid watch strap for outdoor use that mixes rubber and leather.
Mr Cheung joined the Hong Kong Trade Development Council (HKTDC) delegation that explored business opportunities on a visit to Dubai in the United Arab Emirates in March (main picture shows a business-matching session in the city). "The HKTDC's itinerary was well arranged, and it also arranged for us to meet potential buyers and enhance cooperation opportunities through one-on-one meetings. Although the weather in the Middle East is hot, steel watch straps are more popular but we also received leather watches during this trip. With the trial order, we have the opportunity to strengthen cooperation with local buyers."
As environmental protection becomes a way of life, a watch-strap maker noted that apples and maize can be used for more than food – they can be transformed into sustainable leather for making such items as plant-based leather shoes, handbags and watch straps, which are becoming more and more popular among consumers.
Inspire Workshop participated in the Hong Kong Watch & Clock Fair organised by the HKTDC last year, displaying environmentally friendly watch straps. The items sold well on the days the fair was open to the public. The company plans to launch new products to capture business opportunities after the epidemic.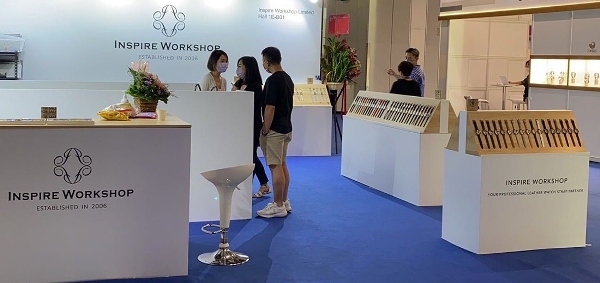 Sustainability a universal value
Sustainable leather does not contain animal ingredients and uses the solid leftovers from apple or maize crushing for upcycling. Hong Kong companies took the lead in introducing these environmentally friendly materials and making them into colourful watch straps.
Mr Cheung pointed out that in recent years some overseas buyers turned to buy such sustainable leather watch straps, or those woven from recycled materials.
"As sustainable development has become a universal value recognised by governments and enterprises in various countries, there are certain fans of environmentally friendly products. Judging from this watch fair, Hong Kong consumers also accept these new watch strap materials."
Novel materials create business opportunities
Mr Cheung founded Inspire Workshop in 2006 and set up his own factory in Dongguan, specialising in high-quality watch strap production.
"European and American buyers are our main customers and have strict requirements. We thoroughly check sources and pay special attention to raw-material procurement, production process and quality control. We also have designers who can make special styles for customers to match their brand designs."
The COVID-19 pandemic affected all industries and watches were no exception. Mr Cheung said the main reason to start sustainable development was to give buyers more choices.
"Sustainable leather watch straps are still in their infancy and represent only a small portion of the company's production. Leather straps are still the mainstream, with cowhide being the most popular. However, compared to real leather, sustainable leather or watch straps woven from recycled plastic are more fashionable and have great potential for development."
Middle Eastern market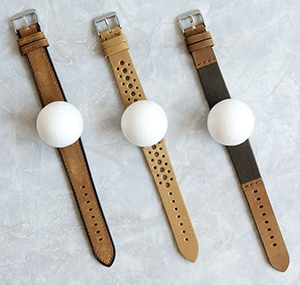 In addition to the Middle East, Mr Cheung planned take the initiative this year, participating in a number of exhibitions and visit potential markets - especially emerging countries such as those in Southeast Asia - to strive for business opportunities following the epidemic.
"I hope to contact more small brands in Singapore and Malaysia and supply them with diversified watch straps."
Exhibition + breaks new ground
The Exhibition+ online-offline integration mode extends the face-to-face interaction and negotiation in the physical exhibition to the online smart matching platform, helping you take the initiative to contact business partners. The new Hong Kong Watch & Clock Fair and Salon de Te will be held at the Hong Kong Convention and Exhibition Centre from 5 to 9 September.
Related link
Inspire Workshop