Israeli start-ups and VCs are usually based around Tel Aviv area, but if you turn your look to the South you might be surprised to find a Maritime Hub in Ashdod.
Given the ancient history and massive scale of the global maritime industry, many would think that merchant marine industry would not be an area that would attract innovation-driven start-ups. That's certainly not the case at Ashdod, which has become a thriving centre for maritime start-ups and is now taking its development model to key harbours across the world, including Hong Kong.
Innovation haven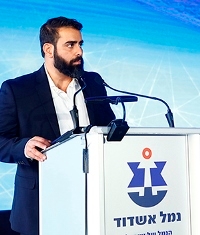 Roy Avrahami, Chief Innovation Officer at Ashdod Port Company, has overseen the growth of more than 60 start-ups to the proof-of-concept stage at the port and is now cooperating with other major ports around the world, including Barcelona and Newark. He joined the Hong Kong Trade Development Council's recent Asian Logistics, Maritime and Aviation Conference (ALMAC) remotely with an eye on extending the programme to the Hong Kong port hub.
He explained that Ashdod launched the "Blue Ocean for Start-ups' programme with the aim of helping start-ups with proofs of concept (PoC) and ensuring their products are both required by and fit into the maritime world.
"We have opened innovation embassies in different locations in order to export and import innovation," Mr Avrahami said.
"This not only helps the start-ups with reaching out to new destinations, but also helps us ensure the global knowledge is shared in the maritime world. One of our goals is sharing the challenges and opportunities we have with other ports."
He explained that Hong Kong, as a significant maritime hub, is relevant, "and for this reason, we decided to join ALMAC this year and support our start-ups with more connections in the region.
"For instance, Less Carbon, a start-up that has finished a PoC at the port, joined the panels regarding air pollution and emissions. Their technology is critical for these issues and could be relevant to Hong Kong and the region."
He said that Ashdod port, which opened in 1965, had developed greatly over the past half century and offered a full range of shipping services, creating many opportunities for start-ups.
"As part of our work at the 'Blue Ocean for Start-ups' we have a leading community of port staff who serve as innovation agents and help start-ups identify their PoC needs and [path to] success. Engaging these staff is critical for our work and we can see that every year more are joining us and are looking forward to assisting the start-ups with their daily work at the port."
The start-up community at Ashdod has been growing rapidly, Mr Avrahami said. "Two years ago we started with 10 start-ups and today we have more than 60 start-ups that successfully held PoCs at the port.
"Last year we held a 500 Global accelerator for start-ups in early stages. We are proud to be the third port accelerator in the world, and plan to launch a similar 500 Global programme again at the beginning of next year.
"Thanks to the innovation embassies we are opening around the world, we can help start-ups proceed with PoCs in other ports around the world."
AI visualisation
Gideon Rosen, Marketing Manager at Magna, an artificial intelligence (AI)-focused provider of machine motion control and infrastructure security solutions, said that during their PoC they used deep-learning video analytics which helped with automated loading and unloading as well as security.
The systems it has developed can be applied to transport infrastructure such as airports, harbours and highways as well as utility installations such as power stations.
Describing the rapid venture development, Mr Rosen said that Magna won a tender in January 2020 to develop an innovative pilot at Ashdod port, installing visualisation software on cranes. The mature system could be deployed at any port, including Hong Kong's.Shoham Gabizon is the CEO of Less Carbon, the biofuel start-up for port operations that Mr Avrahami referred to.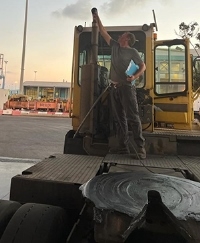 Mr Gabizon explained that Dr Stella Gangrenovich, a leading scientist stands behind Nuel, an ecological, plant-based fuel additive that significantly improves fuel efficiencyand significantly reduces Carbon pollution.
"The result is a significant reduction in emissions of pollutants from operational and private vehicles. The product is intended for all types of fuels available on the global market," he said.
Nuel molecules latch on to fuel molecules, improving combustion efficiency. The result is a clear, non-toxic liquid that is added to the fuel, with 1 millilitre of Nuel added to every 10 litres of fuel.
Less Carbon's PoC using Nuel was carried out at Ashdod, with a trial on stacking vehicles.
"The results showed a dramatic decrease in pollutant emissions and up to 20% savings of fuel," Mr Gabizon said.
"While offering considerable savings in fuel costs, importantly, the results demonstrate cleaner air around the port, benefiting workers and nearby communities. The PoC brings to life the transformative impact Nuel could have for industries at a time of continued high fuel prices and a growing focus on carbon emissions reduction."
Mr Gabizon said that over the next year the firm planned to launch Nuel for all vehicles in Israel, the United Kingdom and across the rest of Europe, and was also preparing launches in Asia and the United States with the assistance of new investors.