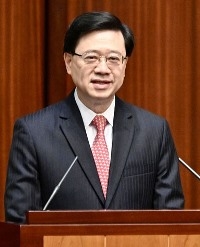 Innovation was front and centre in the maiden Policy Address of Hong Kong Special Administrative Region Chief Executive John Lee on Wednesday. The innovation and technology (I&T) concept ran through many of the moves Mr Lee plans for the city, ranging from expanding Hong Kong's role as a renminbi trading centre and fintech hub to becoming a magnet for technological talent. Fintech plans include laying the groundwork for a digital Hong Kong dollar.
Mr Lee also highlighted Hong Kong's role in the convention and exhibition business, pledging to further support the sector which has been heavily impacted by COVID-19 travel restrictions.
The Hong Kong Trade Development Council (HKTDC) welcomed the Policy Address, believing the proposed ground-breaking and wide-ranging policies can help drive Hong Kong's long-term development while resolving some of its pressing issues.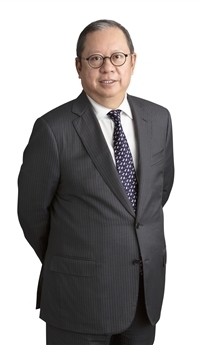 Dr Peter K N Lam, Chairman of the HKTDC, said: "The Policy Address clearly sets forth strategic priorities to ensure Hong Kong's growth by defining the city's role in supporting and leveraging the development of Mainland China, especially the Guangdong-Hong Kong-Macao Greater Bay Area (GBA), while contributing to global initiatives in innovation and technology, healthcare and environmental protection. The new structures and resources in coordinating infrastructure, economic, social and youth development as well as sector synergy will also create sustained momentum for Hong Kong. At the same time, policies to support small and medium-sized enterprises (SMEs), attract talent, encourage investment and tackle social issues will help resolve some of the immediate problems we are facing.
"I am particularly pleased that the Chief Executive has taken into account suggestions from the business community on supporting SMEs and revitalising Hong Kong's position as an international trade fair and convention capital." Dr Lam added.
These include the expansion of exhibition space and the extension of the Convention and Exhibition Industry Subsidy Scheme to the end of June 2023. Hong Kong companies will also benefit from the higher level of government funding support in the Dedicated Fund on Branding, Upgrading and Domestic Sales (BUD Fund) and the SME Export Marketing Fund, the latter also includes an extension of special measures covering virtual fairs and local consumer fairs and expansion of eligibility to cover non-SMEs. Dr Lam also welcomed the new support scheme to attract other exhibitions to be staged in Hong Kong over a three year period.
Policies to boost the growth of specific sectors such as technology and innovation, art and culture and intellectual property (IP) to help diversify Hong Kong's economy while opening up opportunities, especially in the GBA and mainland market and Belt and Road countries, were also welcomed.
"Our full range of fairs, conferences and programmes are ready to support Hong Kong's economic sectors, from finance, aviation and logistics and legal services to technology and innovation, art and culture and IP, for which our Business of Intellectual Property Asia Forum (BIP Asia) and Asia IP Exchange portal will support Hong Kong's development into a regional IP trading and commercialisation hub," Dr Lam said.
"In addition, we will work with the Hong Kong SAR Government and Hong Kong family of organisations to promote Hong Kong's strengths overseas. Through our global network of 50 offices, support programmes such as GoGBA, and major international promotional events such as Think Business, Think Hong Kong, we will promote Hong Kong to the world and create opportunities for the local, mainland and global business community."
Pivotal role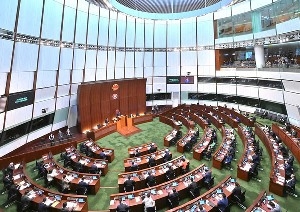 Delivering the Policy Address, Mr Lee said: "We strive to support the convention and exhibition (C&E) industry in order to help small and medium-sized enterprises (SMEs) obtain more overseas orders." He said he would extend the Convention and Exhibition Industry Subsidy Scheme to 30 June next year, after which a new HK$1.4 billion (US$178 million) scheme will be launched to subsidise more than 200 exhibitions over three years.
"To consolidate Hong Kong's status as a premier venue for large-scale international C&E activities, we will take forward the AsiaWorld-Expo Phase 2 project, together with the Wan Chai North redevelopment project near the Hong Kong Convention and Exhibition Centre, to substantially increase large-scale C&E spaces."

Northern Metropolis
The innovation theme ran through Mr Lee's words on one of Hong Kong's traditional staple industries – property – as he expanded on plans for the Northern Metropolis in the northwest New Territories.
"Upon completion, the Northern Metropolis will emerge as a 'new international I&T city', integrating quality life, new economies, and culture and leisure. Innovative urban design will help promote home-job balance, green living and the co-existence of development and conservation. We will fully leverage the advantages of the Northern Metropolis's proximity to the hinterland to promote the comprehensive development of control point areas.
"On its west, the Hung Shui Kiu/Ha Tsuen New Development Area (NDA) will be the focus. With its geographical proximity to [Shenzhen hi-tech zone] Qianhai, it will become a central business district with a catchment reaching Shenzhen and even the Guangdong-Hong Kong-Macao Greater Bay Area.
"The central part, with the San Tin Technopole as its core, will pool I&T enterprises and create synergy with Shenzhen's I&T cluster just across the river, becoming a diversified test bed for innovation. Modern industries in the New Territories North New Town can also benefit from collaboration with Shenzhen. Endowed with rich natural and tourism resources, the east side is best placed for recreation and tourism development for Hong Kong and Shenzhen."
Innovation also extends to the government itself. "We aim to turn all government services online in two years and provide one-stop digital services by fully adopting 'iAM Smart' within three years so as to realise a 'single portal for online government services'. In addition, 100 digital government projects will be launched with the application of technology for the convenience of the public."


Data flow
Mr Lee said the planned Hong Kong Shenzhen Innovation and Technology Park (HSITP) was the bridgehead for I&T cooperation between Hong Kong and Shenzhen.
"We will proactively attract mainland and overseas I&T enterprises to the HSITP, providing key impetus for the development of an international I&T centre in the GBA. Recently, our country has announced for the first time the recruitment of payload specialists in Hong Kong to participate in the national manned space programme [main picture], fully reflecting the great importance our country attaches to Hong Kong's technology sector.
"We are actively supporting and facilitating the recruitment exercise to recommend suitable candidates for our country. I look forward to our country's continuing support of Hong Kong's participation in more national pioneering technology missions."
I&T centre
Mr Lee said I&T provided the key impetus for Hong Kong's high-quality economic development. "To chart Hong Kong in moving full steam towards our vision of an international I&T centre, the Government will promulgate the Hong Kong I&T Development Blueprint within this year to set out major policies under four broad development directions."
To achieve re-industrialisation, he said Hong Kong would promote the commercialisation of research and development (R&D) outcomes, with Hong Kong having strong capabilities in scientific research.
"We will earmark HK$10 billion to launch the 'Research, Academic and Industry Sectors One-plus Scheme' [RAISe+ Scheme] next year. It will fund, on a matching basis, at least 100 research teams in universities which have good potential to become start-ups."
Hong Kong now has more than 600 fintech companies and the Government will strive to enhance competitiveness in this field.
"We will vigorously promote fintech by encouraging more fintech services and products to undergo proof-of-concept trials, taking forward cross-boundary fintech projects and nurturing fintech talents. The Commercial Data Interchange will be launched within this year to provide a one-stop platform for enterprises to share operational data, enabling banks to make accurate assessments on the operating condition of enterprises and providing SMEs with a better chance of securing loans.
"On virtual assets, the Government has introduced a bill to propose establishing a statutory licensing regime for virtual asset service providers. The Hong Kong Monetary Authority (HKMA) is examining market feedback on the regulation of stablecoins and will ensure that the regulatory regime is in line with both the international regulatory recommendations and the local context. The HKMA has also begun the preparatory work for issuing 'e-HKD' and is collaborating with mainland institutions to expand the testing of 'e-CNY' as a cross-boundary payment facility in Hong Kong."
I&T blueprint
Mr Lee said the Government will release the Hong Kong I&T Development Blueprint within this year to set out major policies in four broad directions.
The Government will encourage re-industrialisation by promoting the commercialisation of R&D outcomes and promoting the development of I&T in Hong Kong both to the mainland and overseas. The Government will also create the post of Commissioner for Industry who will coordinate and steer the strategy on re-industrialisation, and move forward with supporting infrastructure development, including the HSITP.
The Government will also enlarge the I&T talent pool to create strong impetus for growth, with additional measures focusing on attracting leading I&T talents from around the globe. In collaboration with the newly established Office for Attracting Strategic Enterprises (OASES), the Government will offer special facilitation measures and one-stop services to draw in talent. The existing Technology Talent Admission Scheme will also be enhanced, extending the quota validity period to two years and expanding the coverage to more emerging technology areas.
To further attract talent, the Government will enhance accommodation support, building more accommodation facilities for I&T talents, including the possible development of a new InnoCell near the Science Park and accommodation facilities for talents at the HSITP. The Government will also expand the STEM Internship Scheme, offering local I&T internship opportunities to university students studying STEM (science, technology, engineering and mathematics) programmes overseas or at GBA campuses established by designated local universities.
Related link
Policy Address