Hydroponic cultivation calls to mind galleries with thousands of plants growing on shelves under but Hong Kong start-up Farmacy HK is rolling out Farming as a Service (Faas), supplying vending-machine sized Smart Mobile Farms to bring herb and vegetable cultivation right to consumers.
The Hong Kong Trade Development Council's (HKTDC) Sydney office helped Farmacy reach a cooperation agreement with Australia's Lycasia Real Estate Group to provide the intelligent, mobile hydroponic planting machines for its residential building in the Melbourne suburb of Huntingdale, adding value to the project. The two parties plan to cooperate for a long time to apply this system in more local industrial and commercial projects.
Hydroponics adoption
With a small land area and large population, much agricultural land in the New Territories of Hong Kong has been developed into commercial and residential buildings; most vegetables are imported. Fresh-food transport boosts carbon emissions and affects the colour, aroma and nutrition of ingredients. Farmacy focuses on this pain point and develops a controlled-environment intelligent mobile hydroponic planting system. Through the Internet of Things (IoT) and big data, the firm provides the best growth environment for crops, which is "time-saving, labour-saving, water-saving and energy-saving compared with traditional farming" the firm said. The products bring consumers environmentally friendly, healthy, sweet, crisp and tender food.
Raymond Mak, Co-Founder and CEO of Farmacy, said the system was developed to popularise the concept of green hydroponics, so city dwellers could be early adopters.
"When I worked for PricewaterhouseCoopers 10 years ago, I went to remote townships in Mainland China to do voluntary work. The villagers entertained us and cut and cooked all kinds of vegetables from their farmland. It was an unforgettable experience. I had never tasted this food before. Delicacies that can't be bought. There used to be a classic advertising slogan saying 'Cows Raised on the 15th Floor'. I wondered if there could also be 'Vegetables Grown on the 15th Floor', so every household can easily grow high-quality vegetables without being affected by the weather. Good, tasty crops."
Indoor hydroponics refers to growing plants without soil and sunlight. "We referred to different studies to set the optimal temperature, humidity and light bands for growing various vegetables, and use the IoT to let the system adjust the brightness, water pH, etc automatically," Mr Mak said. "The system is connected to a smart platform, and uses big data to deep-learn, continuously improving the growing environment to accelerate vegetable growth. The intelligent system can be planted all year round, greatly increasing the harvest."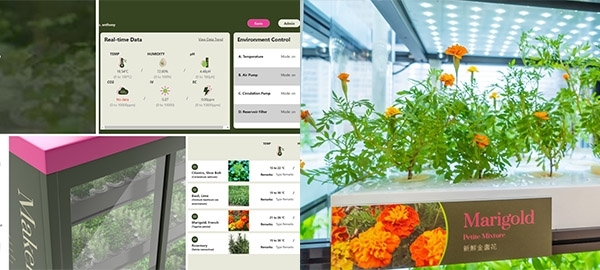 Saving time, effort, water and space
Saving time, effort, water and land was the biggest selling point of the controlled environment intelligent mobile farming system, which was very simple and easy to use. The operation centre would even guide users step by step through planting. "Each mobile farm occupies about 2 square meters and resembles a soda vending machine with plants arranged on shelves. The machine can produce about 7,000 complete plants a year, which is equivalent to 200 square metres of farmland. Compared with traditional cultivation, hydroponic planting does not require pesticides, uses 90% less water, reduces carbon dioxide emissions 70%, and increases the nutritional value of vegetables by 50%."
To promote hydroponic farming to the public, the team cooperates with City Super, YATA and other supermarkets. In addition to selling crops, they set up planting machines in the store. "In the past, hydroponic enterprises would set up a central planting site in an industrial building then pack the harvest and transport it to the retail point; we have adopted a decentralised arrangement and set up planting machines at the retail point, hoping to reduce carbon dioxide emissions to the lowest."
Farmacy also cooperates with five-star hotels such as Le Meridien and primary and secondary schools. "We set up a wall-mounted fully environment-controlled smart farm in the hotel to provide a farm-to-table experience. The machine is also very popular in schools, especially with science, technology, engineering and math (STEM) courses. Teachers can use our system to conduct experiments so students can personally understand the growth characteristics of different plants and vegetables. The needs of different customers are very different. For example, chefs pay attention to the taste and stability of finished products, while teachers hope to diversify. The more novel and interesting, the better."


Enterprise, consumer needs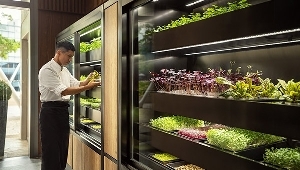 Mr Mak said the machine could grow about 50 types of vegetable, herb and edible flower. "At the retail level, the best-selling herbs include basil leaves, thyme, rosemary and other herbs, as well as kale, spinach sprouts, radish sprouts, rocket vegetables and romaine lettuce." These used to be airfreighted, leading to prices 30% higher than those of Farmacy products, giving a competitive advantage. During the pandemic, more people paid attention to health and had leisure time to grow plants at home.
Farmacy also provides farming as a service (FaaS) for enterprise customers, supplying appropriate machines and technical support.
"We have different cooperation models. The smart mobilefarms can be rented or bought, or paid for monthly at a 'package price'. We can also provide additional services, such as holding workshops, experience classes and writing environment, social and governance (ESG) reports. After the cooperation is confirmed, the machine can go into production within as little as two months."
Australian cooperation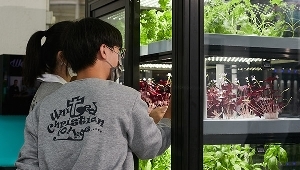 The urban agriculture technology has brought Farmacy many awards, including the Information Technology Start-up Award and Social Contribution Gold Award at the Hong Kong ICT Startup Grand Award and ICT Startup Gold Award (Social Impact). The firm has also won the favour of overseas customers.
"We entered the Thai market in 2020, and the response has been good, but the epidemic has hindered business trips, and we had to put aside our expansion plans. With the global customs clearance, we will make a comeback this year and set up in the shopping malls of Thailand's largest conglomerate.
"Thailand is a big farming country with profound agricultural knowledge. I believe this cooperation will also help us enrich big data and further optimize the planting system," Mr Mak said.
In addition, the HKTDC's Sydney office gave practical business information and arranged for Farmacy to meet with Lycasia, a leading Australian real-estate group. "It is expected the scale of cooperation will be expanded in the future, and it will be applied in different industrial and commercial projects," Mr Mak said.
Further improvements
Farmacy plans to raise funds this year, seeking millions of dollars to expand its business and develop a new generation of smart mobile farms. "We will use environmentally friendly materials and use renewable energy, hoping to improve energy-saving effect. We will continue to expand product categories, such introducing broccoli seedlings and butterhead lettuce.
"We hope that with the assistance of the HKTDC, we will explore more overseas markets through its exhibition promotion activities and matching services, Singapore and the United Arab Emirates are our targets for this year, and the UAE consulate in Hong Kong has approached us; we also look forward to cooperating with different industries to explore new business opportunities."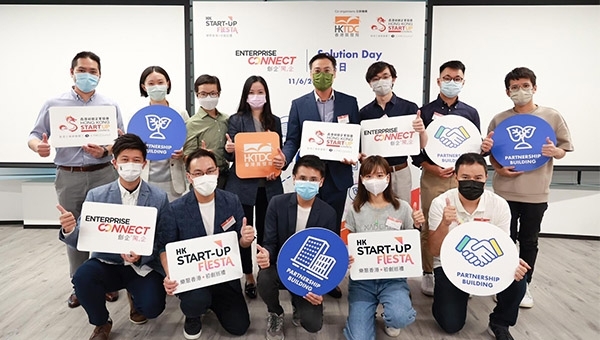 Related link
Farmacy