With projects such as the Zero-carbon Building in Kowloon Bay (main picture), Hong Kong is rapidly taking a more sustainable route – and Mainland China provides much of the hardware for the renewable energy revolution.
It is no surprise, then, that green finance is also growing at a rapid pace, with the China Green Bond Market Report 2021 noting that the mainland economy had the second-largest green bond market behind the United States, growing to US$68.2 billion last year, up 186% from 2020.
And in Hong Kong – according to the July 2022 Climate Bond Initiative Hong Kong Green and Sustainable Debt Market Briefings 2021, launched in partnership with HSBC – GSS+ (green, social, sustainability, transition bonds, and sustainability-linked debt instruments) debt originating from Hong Kong quadrupled last year to reach US$57 billion.
Green finance hub
Thomas Elliott, Managing Director and Head of Client Coverage, Commercial Banking at HSBC in Hong Kong, said the leading international bank is ploughing substantial resources into the development of green industries in the mainland, especially in the Guangdong-Hong Kong-Macao Greater Bay Area (GBA), as part of its environmental, social and governance (ESG) efforts.
Different cities in the GBA have all made efforts to promote green finance, with each city having unique characteristics and complementing each other.
Hong Kong, as the world's largest offshore renminbi market, had become an important financing channel for mainland companies, Mr Elliott said. Hong Kong Exchanges and Clearing (HKEx) was the largest listing venue for mainland offshore green bonds, at US$12.7 billion last year. Hong Kong also accounted for one-third of Asia's green and sustainable bonds in 2021.
Having functioned as a link between the mainland and the wider world for many years, Hong Kong and the GBA are both in a good position to deploy green solutions, roll them out and scale them up. Mr Elliott affirmed that the key to net zero transition was to accelerate and scale up progress. Taking innovations created in the GBA to more markets would be an ideal way to do this, with financing and cross-border banking capabilities integral to these endeavours.
SME hurdles
Mr Elliott explained that small and medium-sized enterprises (SMEs) around the world had much the same problems when it came to adopting ESG practices, as shown by Economist Impact research sponsored by HSBC.
SMEs frequently have limited capacity to adopt new practices – the founder, CEO, CFO and operations chief can all be one and the same person, who then has to acquire fresh knowledge and skills, and furthermore determine how to put them into real life application. Another problem is making the business case – the SME management will ask how the firm benefits, and in what way this benefit can be measured. To paraphrase Lord Kelvin, the famous mathematician, "if it cannot be measured, it does not exist".
Adopting ESG practices often calls for a change in a firm's established business model. In many cases the business managers need to consider definitions of the factors they are working on – just what does "net zero" mean, for example, and how do they shoulder more social responsibility. Another question is setting the targets – for instance, how can SMEs measurably reduce the amount of carbon dioxide they create?
Re-industrialisation
Noting the re-industrialisation drive in Hong Kong, Mr Elliott said Industry 4.0 is revolutionising the way companies manufacture, improve and distribute products. Manufacturers are integrating new technologies, including the Internet of Things (IoT), cloud computing and analytics. Artificial intelligence and machine learning are increasingly incorporated into their production facilities and throughout their operations.
"Under re-industrialisation, a lot of technologies are developed with a focus on improving energy efficiency and reducing pollution and waste generated from manufacturing," he said.
"For instance, one of our customers is the pioneer behind a battery energy storage system that powers construction-site machinery. The system replaces hazardous, noisy diesel generators and reduces emissions as well as fire hazards, improving the green development of the construction sector.
"We at HSBC are also committed to supporting the next generation of leading technology companies, helping them expand nationally and internationally. We have launched a US$1.13 billion senior debt fund focused on supporting fast-growing technology companies in the GBA, as well as being available to firms throughout the mainland," Mr Elliott explained.
HSBC's GBA+ Technology Fund focuses on six sub-sectors benefitting from structural shifts in consumption, digitalisation and automation, including Climate Tech. The aim is to support existing or prospective earlier-stage, high-growth clients operating in the technology sector across the GBA, supporting them a full-spectrum of financing needs, from working capital, to capital expenditure, through to more bespoke, event-based needs such as acquisition financing or fund-raising bridges.
Low-carbon transition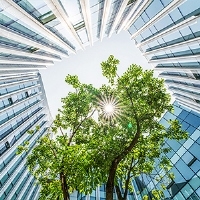 At the same time, HSBC is committed to aligning the financed emissions from its portfolio of customers to net zero by 2050 or sooner, in line with Paris Agreement goals. "To help get there, our target by 2030 is to provide between US$750 billion and US$1 trillion of finance and investment towards the transition," Mr Elliott said.
HSBC has also become a cornerstone member of the Hong Kong Monetary Authority (HKMA) Alliance for Green Commercial Banks, along with four other banks, in 2020. The alliance brings together financial and research institutions and innovative technology providers to develop a green community in emerging markets that can collectively finance the infrastructure and business solutions needed to advance sustainable economic development.
Through the alliance, HSBC works closely with the International Financial Corporation, HKMA and the other banks to advocate client adaptation in green strategies, promote best practices in green products and services, and unlock new business opportunities that will enable the green transition of economies.
Sustainable solutions
Green and sustainable financial products have become increasingly more diverse with innovative designs, going beyond the traditional green bonds and loans typically used by large enterprises and institutions. There were already products in the market designed for different scales and industries.
For example, HSBC has provided Sustainable Performance-Linked Loans for companies meeting ESG targets to enjoy lower interest rates, green deposits for SMEs with lower thresholds (HK$10,000 – US$1,274), Green Trade Loans, Sustainable Supply Chain Financing Scheme and Green Guarantee Letter.


GBA Sustainability Fund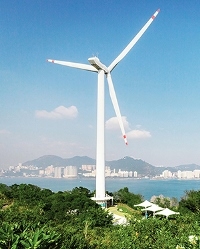 "Especially in the GBA, we are seeing increased demand from businesses for both green loans and sustainability linked loans," Mr Elliott said. "In view of this, HSBC launched the GBA Sustainability Fund in May to provide US$5 billion to help drive sustainable business growth, allowing businesses to capture sustainable opportunities while transitioning to a low-carbon economy."
The funds are available to a wide spectrum of GBA-based companies such as manufacturers and real-estate developers that engage in activities that include lower carbon emissions, sectors covering climate-change adaption, pollution prevention, clean transportation, renewable energy, sustainable water resources and wastewater management.
Successful loan applicants will enjoy benefits in addition to financing, such as a suite of resources including free ESG training sessions and assessment tools to help businesses take practical steps to reduce emissions, deliver efficiencies and boost sustainability credentials.
The scheme has been well received with success stories across different industries. For example, an offshore sustainable club loan was recently arranged for Geely, a mainland China-based global car manufacturer, supporting its R&D and production of new energy vehicles, as well as its roadmap to reach carbon neutrality by 2045.
In terms of its own sustainability performance, HSBC has set itself a target of 2030 to reach net zero for its own operations worldwide. For operations financed by lending to clients, the goal was net zero by 2050, in line with Paris Agreement targets.
Beyond banking
HSBC has also formed a dedicated team of externally accredited commercial banking frontline staff to support customers on sustainable finance-related arrangements.
In addition to financing, successful loan applicants are entitled to sustainable product offerings, as well as a suite of resources, including free ESG training sessions and assessment tools for businesses to take practical steps to reduce their emissions, deliver efficiencies and boost their sustainability credentials.
Customers can enjoy a subsidy to obtain assessment from the Hong Kong Quality Assurance Agency's SME Loan Green e-Assessment Platform for loan applications, as well as a subscription fee offer for Diginex, an online platform that helps businesses track and report on ESG and climate-related issues in a faster and more affordable manner.
Related link
HSBC