Hong Kong brand Bombol has launched a light foldable baby booster seat which has won numerous international awards and received orders from five-star hotels and high-end restaurants.
During the COVID-19 pandemic, its creators joined an e-commerce course co-organised by HKTDC ·Design Gallery and Meta to strengthen the effectiveness of social media promotion, reach the most potential customers with the least resources, and convert traffic into sales.
Bombol will continue to make use the Hong Kong Trade Development Council (HKTDC's) services and exhibitions to expand its business, and plans to participate in the Kind + Jugend Fair in Cologne, Germany in September, hoping to further expand its sales network.
Innovative product design
Born and raised in Hong Kong, Ms Paulina Chu met and married Mr Frédéric Gooris, a Belgian product designer, after which she started her own business in Milan, Italy, and then returned to Hong Kong to establish the brand Bombol®, which specialises in designing and producing baby products.
"At that time, most of the baby products on the market were made of colourful plastic, which was environmentally unfriendly and jarred with home furnishings," Ms Chu said. "We thought of taking an elegant route and integrating baby furniture into home design. There is a lot of room for development. The main reason for returning to Hong Kong for development is to be close to production plants and raw material suppliers. Of course, the domestic market is also very attractive."
After her first child was born, Bombol launched its first product.
"The Bamboo 3D KnitTM baby bouncer is made of aerospace-grade aluminium with a seat made of 3D-Knit with copper-infused yarn. It is like a bamboo branch that is firm but soft," Ms Chu said. Children can continue using the bouncers until they are five years old, extending the product lifetime.


Star restaurants

When planning the Pop-upTM Booster high chair, the couple spent two years in research and development, based the principle that triangular structures bear the greatest weight, to produce a light and seat which is comfortable and durable. The seat can be stored and carried around, and opened in an instant, changing from a flat surface to a three-dimensional one.
"We initially prototyped with paper and after successfully trying out the most supportive structure, we made the finished product with multi-layers of materials, including the inner hard core to provide strong support, along with soft material to form the seat and backrest, and the outermost layer is of a non-toxic covering. With its oil- and stain-resistant coating, even if it the Pop-upTM Booster gets dirty, it's easy to clean."
The Pop-upTM Booster patented in Europe, the United States, Mainland China and Hong Kong, has been very popular since its launch. In addition to winning more than 10 international awards such as Reddot and iF Design Awards, it has also been supplied to many star-rated hotels and restaurants; Bombol Customers include Marriot and Club Med.
"According to word of mouth among experts in the industry, hotels in Korea, the Maldives and other places also use our products. We will demonstrate how to use the products in person and provide simple training for their employees," Ms Chu said. "This is very important for our business development, because parents feel good about using the products in high-end hotel restaurants and would decide to buy our products for their own use."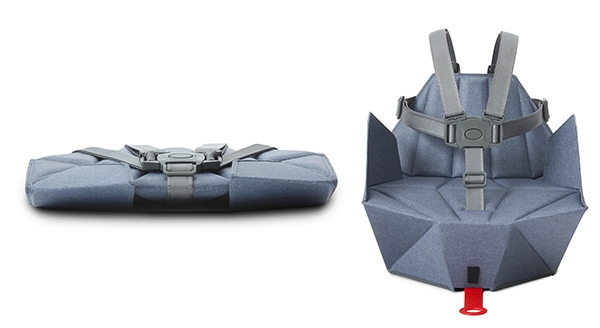 Product launches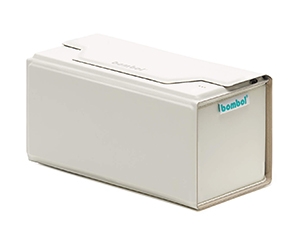 Ms Chu said many Hong Kong shops stocked the products, as did HKTDC Design Gallery, along with its own online store. "In terms of overseas markets, we have distributors in Europe, the United States, Japan and Taiwan. Among them, the US and Canada have the best sales." She said that Bombol's online operations are in their infancy.
Most entrepreneurs' stories are not smooth sailing and Bombol® is no exception. Ms Chu admitted that during the epidemic the product launch plan was delayed and COVID-19 lockdowns reduced physical shopping options, hurting sales.
"We immediately changed our positions and strengthened the promotion that foldable baby products are also suitable for home use, and launched a portable foldable sanitiser (Blast UVTM Disinfector), which is 10,000 times more effective than disinfectant wipes and can kill 99.99999% of pathogens within five minutes."
Social media promotion
Ms Chu also participated in the online training seminar of HKTDC Design Gallery and Meta during the epidemic to gain a better understanding of how to create e-commerce through online marketing platforms, use dynamic advertising and collaborative advertising, use live shopping functions and conversational business to optimise advertising performance. Bombol even won US$2,000 in Meta advertising credits, which will be used to promote its new products on Facebook and Instagram accounts.
Global sales
At present, Bombol's products are sold in about 40 countries around the world. Ms Chu plans to continue using the HKTDC's Hong Kong Baby Products Fair to expand its business, and accelerate its entry into various markets, including the mainland and Southeast Asia.
About T-box
To help Hong Kong enterprises transform their business and open up new opportunities, the HKTDC launched the Transformation Sandbox (T-box) programme which provides business consultations, workshops, government funding, market information and exchange opportunities for Hong Kong businesses, helping them to grasp trends, enhance skills and expand their business networks.
Since its launch, the programme has been well received and helped more than 2,700 Hong Kong enterprises, arranging over 700 free consultations provided by professional organisations, chamber of commerce representatives, business partners and HKTDC overseas offices.
Related links
HKTDC Hong Kong Baby Products Fair
HKTDC Design Gallery
Bombol