The global fisheries and aquaculture industry are evolving rapidly to increase resource efficiency, boost output sustainably improve food security. Aquaculture – farming freshwater fish and crustaceans – is developing more rapidly in emerging markets than mature ones, and is growing strongly in Hong Kong.

Hong Kong Trade Development Council (HKTDC) Research last month held an online seminar The Road to Zero Carbon: Climate-Smart Agricultural Technology to discuss sustainable aquaculture.
HKTDC Economist Edmund Lo said: "According to the definition of the World Bank, food security means that everyone in the world can stably obtain enough food and nutrition to live a healthy life. Studies have shown that 1% food inflation boosts the number of people in extreme poverty by 10 million globally. To achieve food security, four conditions must be met – sufficient supply, reasonable price, balance between supply and demand and effective utilisation."
Food comprised 27% of Hong Kong's Composite Consumer Price Index, second-largest element after housing and the main factor driving inflation, Mr Lo pointed out.
"Affected by the pandemic in the past three years, according to data from the Food and Agriculture Organization of the United Nations (FAO), the international food price index soared from 92.1 at the beginning of the COVID-19 outbreak in 2020 to once 156.3," he said.
The index had since fallen back to 122.4 in March this year, but was still higher than before the pandemic, reflecting that international trade plays an important role in food security. In the past few years, various customs closures and entry restrictions have been implemented around the world to prevent and control the epidemic. and global supply chains, further impacting food security." Costly fertiliser also boosted prices.
Technology boost
Many developing countries were ahead of advanced economies in aquaculture, Mr Lo pointed out. "According to the latest FAO data, aquaculture and marine fishing account for 56% and 44% of global fish production respectively. The aquaculture ratio in the mainland, as high as 83%, ranks first worldwide, followed by 55% in South Asia.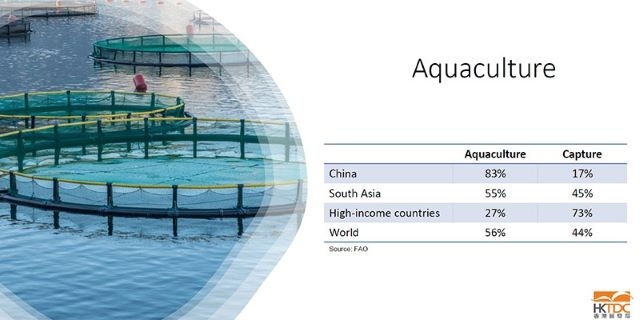 "In high-income countries the aquaculture ratio is however a relatively low 27%. The mainland accounts for 60% of global aquaculture output, improving nutrition and driving rural economic development. Aquaculture also safeguards food security, ecological environment and natural resources."
Smart agriculture
Start-ups are driving the world towards sustainable development. Smart Farming, a Hong Kong start-up company committed to promoting the development of environmentally friendly aquaculture and agriculture, uses new technology to breed high-quality fish and agricultural products, promoting the sustainable development of local fish and agriculture, and Hong Kong's climate-smart agricultural technology to the world.
Gary Wong, Chief Technology Officer of Smart Farming, said: "ICT, IoT, big data analysis, blockchain and other advanced technologies establish a complete climate-smart aquaculture concept and supply chain, for the sustainable practice of fish and agriculture For example, in 2021, we began cultivating the King of River Fish (empurau, main picture) – originally from freshwater rivers in Southeast Asia – in Hong Kong."
Circular production chain
Aiming for environmentally friendly farming, the firm developed its own recycled kitchen waste feed and added microbial preparations to improve fishery health and water quality. Smart Farming recycles water at its operations in Tin Shui Wai and Sha Tau Kok through fish and vegetable symbiosis, drawing on solar energy.
Mr Wong said: "Our entire production chain is based in Hong Kong. We hatch most of our own fry. We use food waste to make organic feed and use agriculture technology or AgriTech to optimise breeding process to achieve self-sufficiency."
In addition to introducing the empurau which can cost as much as HK$1,000 per catty (US$210 per kilogram), Smart Farming raises several other freshwater fish and shrimp species, while promoting sustainable distant-water tuna fishing.
Related links
HKTDC Research
SmartFarming