Ireland was historically a farming country, and agriculture remains an important industry there though financial services, especially fintech, have since come to the fore. Conversely Hong Kong went from trade to manufacturing before becoming a global financial services centre.
In the run up to St Patrick's Day last week, Eamon Ryan, the Minister for both the Department of Environment, Climate and Communications and the Department of Transport visited Hong Kong and discussed how the two financial centres could address environmental concerns. He addressed HKEX Global Leaders Dialogue – Climate Leadership, East and West at the HKEX headquarters where he was joined Ms Diane Wong, Under Secretary for Environment and Ecology, Hong Kong Special Administrative Region Government in striking the gong to close trade on the day.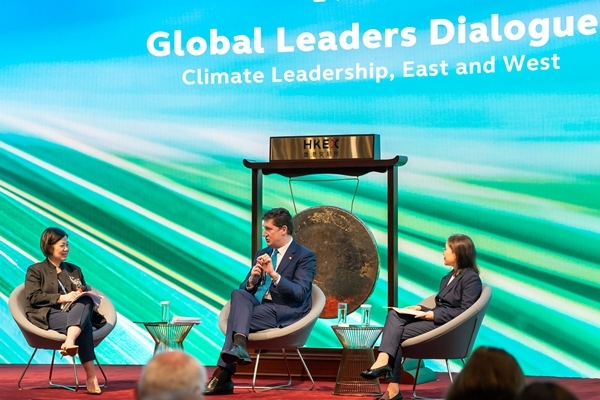 Ms Wong said Hong Kong also had a 2050 zero-carbon target. Electricity generation was the greatest source of CO2 in Hong Kong, accounting for 60% of emissions. When moving towards net zero, Hong Kong would eliminate the use of coal for power generation.
The government also planned to raise the renewable-energy component of power generation to between 7.5% and 10% by 2035. Since buildings are leading users of power, much of the Hong Kong efforts will go towards reducing energy use in buildings through, for example, air conditioning.
Glenda So Co-head of Markets at HKEX, who moderated Mr Ryan and Ms Wong's discussion, said the exchange was a key market in Asia and vital for capital-raising by enterprises in Mainland China. Financing the technologies, infrastructure and capital equipment required would require massive amounts of fund raising, she pointed out, giving the eye-watering total of US$20 trillion needed for the mainland to finance the move to its goal of net zero by 2060.
Persuasion
Mr Ryan said persuasion, rather than coercion, was essential in cutting carbon dioxide emissions. "You can't force change, you need to make everyone willing to change," he said. "We need to make haste slowly and realise that solutions will emerge over time; we need to learn by doing. Need to speak to the head as well as the heart."
Climate justice – ensuring an equitable transition to renewable energy and paying for damages incurred in countries such as Pakistan – had become an essential element. This was established at COP27 in Sharm el Sheikh last year.
He said climate change was already having a direct impact on energy - for example recent droughts in Europe had reduced the amount of hydro-electric power available. Both energy and food supply were at risk. He noted that there was a famine in the Horn of Africa and five-year drought in parts of Kenya.
Mr Ryan had also represented the European Union in the previous COP26 summit in Glasgow in 2021 which could be described as the COP for business, where the business community had come firmly behind green energy and green finance.
Urgent need
He said change had not been fast enough, heading towards 420 parts per million of CO2 in the atmosphere against the pre-industrial 350 which we needed to return to.
Energy production was the bedrock of CO2 generation, Mr Ryan said and he welcomed the rapid rise of photovoltaic solar generation, noting that Mainland China was responsible for 80% of polysilicon production and was also a leading producer of electric vehicles and batteries. "Solar has been growing exponentially, quite literally going exponentially through the roof, and on to the roof."
One of the strong points of Ireland with energy was managing power input from highly variable renewable sources – wind could account for anything from near-zero to 70% of the country's capacity – and this technology was very exportable.
Agriculture was still a key industry in Ireland with many small, family farms. They were seeking ways to bring farmers on board and use nature-based farming. Mr Ryan was particularly interested in cultivating a new generation of young, environmentally aware farmer.
One key way to reduce emissions was the carbon pricing, and Ireland was committed to raising the price €7 (US$7.47) per tonne per year. It was €45 at present and going up to €52.
Secure supply
Mr Ryan pointed out that renewable energy was more secure since the sources – sunshine and wind – were widespread. Conversely oil, natural gas and coal are confined to specific places and needed to be mined and transported. An attack on a fuel pipeline could put a country's energy supply at risk, he said, but this was not so for a wind or solar farm.
Related links
Environment Department, Ireland
HKEX Corporate Social Responsibility