As Hong Kong and Mainland China end travel curbs and internal controls continue to ease, the city is again open to business for the Year of the Rabbit.
This is underscored by robust in-person attendance at the events in January organised by the Hong Kong Trade Development Council (HKTDC), including the Asian Financial Forum (AFF) along with fairs on toys and games, babies and stationery as well as wine and spirits.
HKTDC Chairman Dr Peter K N Lam welcomed the news: "As travel between Hong Kong and Mainland China and the world has resumed, we are delighted to experience the vitality of our events, which welcomed international business leaders from some 100 countries to participate physically and online."
The Hong Kong SAR (HKSAR) Government today launched a Hello Hong Kong revitalisation campaign to promote the city to the world. Additionally, as of 6 February, the Government will lift the vaccine requirement for overseas travellers.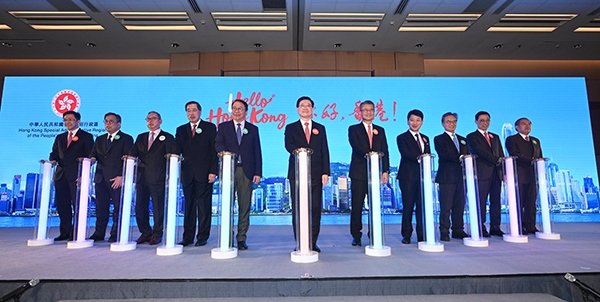 The HKTDC is playing a key role in Hong Kong's revitalisation. Dr Lam outlined focal points for the trade body in 2023-2024. The HKTDC will attract investment and talent to the city by creating opportunities that bring international and Mainland China companies to do business via Hong Kong.
The body will also deploy its network of 50 offices across the world to tell good Hong Kong stories. Existing pillar industries will be reinforced and emerging industries developed by promoting opportunities in innovation, healthcare and sustainability. The HKTDC will also back enterprises – especially SMEs and start-ups – through year-round support programmes.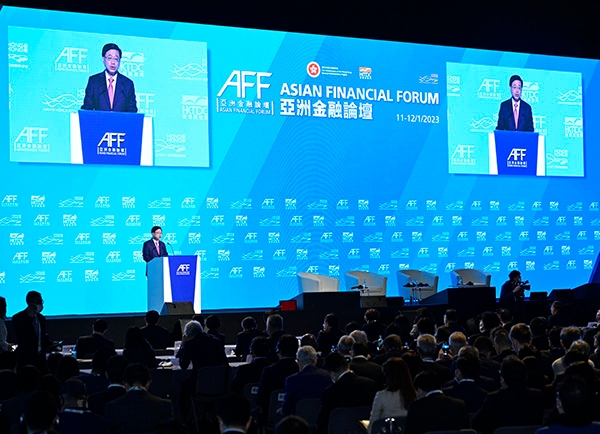 AFF draws interest
The AFF was the first major event in the city this year and returned to physical format after two entirely virtual editions from 11 to 12 January. Giving neat symmetry to the Forum, the January 2020 AFF had been the final physical event before COVID travel restrictions took effect. Deal Flow Matchmaking Session underlined the importance of in-person networking, hosting more than 600 meetings physically and online, allowing investors and project owners to connect and explore collaboration opportunities.
The HKTDC's annual financial event drew delegates from more than 70 countries and regions, with over 100 global leaders and officials invited to share their insights on financial trends, fintech innovations and next generation business ideas.
Themed Accelerating Transformation: Impact ∙ Inclusion ∙ Innovation, the two-day event, co-organised by the HKSAR Government and the HKTDC returned in physical format, in addition to being available online.
The Forum was officiated by HKSAR Chief Executive Mr John Lee, who noted the strong attendance at the event. He confirmed that Hong Kong was opening up quickly, but in an orderly way.
"Thanks to the continuing and wide-ranging support of our motherland, Hong Kong's strengths as an international financial centre linking the mainland and the rest of the world are primed to proliferate."
He added that "we offer companies and investors a business-enabling environment, internationally aligned regulations and a free flow of capital and people as well as plentiful opportunities coming from our deepening integration with national development. That includes the Guangdong-Hong Kong-Macao Greater Bay Area development, fuelled by our unparalleled access to the mainland and our unique advantages under the one country, two systems principle."
A visiting delegate from Frankfurt, Dr Jochen Biedermann, Managing Director of the World Alliance of International Financial Centers, said: "I am very happy and delighted to be back here in person at the AFF. We have experienced the AFF was entirely virtual over the past two years but it is a totally different experience if you are here in person and you can interact with the people and also see that Hong Kong is open for business again now."

The importance of interconnectedness was also shared among delegates, including Hong Kong's role as connector.
During AFF, the HKTDC conducted a series of One Minute With interviews with participants. During his interview, Mr Krating Ruangroj Poonpol, President of Technology at Kasikornbank, said: "I think Hong Kong is one of the capitals of finance of the world, and it's also a hub that connects Southeast Asia and also to the rest of the world."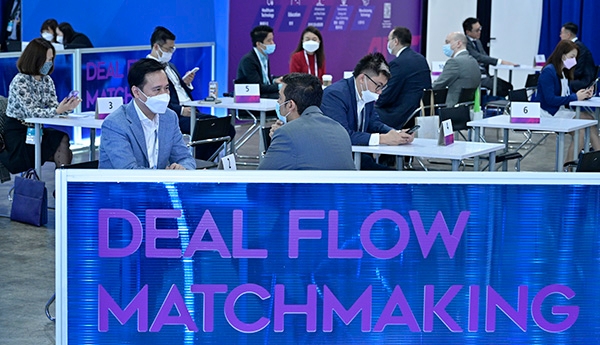 Child-focused fairs
The 49th HKTDC Hong Kong Toys & Games Fair, 14th HKTDC Hong Kong Baby Products Fair and the 21st Hong Kong International Stationery & School Supplies Fair welcomed more than 21,000 buyers from some 100 countries and regions who participated physically and online. More than 12,200 buyers attended the three fairs in-person.
The physical part of the three fairs at the Hong Kong Convention and Exhibition Centre (HKCEC) came to a close on 12 January, though exhibitors and buyers were able to connect online until 19 January.
The first three trade fairs of the year adopted the HKTDC's EXHIBITION+ model, which includes not only the physical shows, but also virtual access facilitated by its smart business matching platform Click2Match, connecting exhibitors and buyers online. As of today, the HKTDC has arranged over 1,000 business meeting sessions.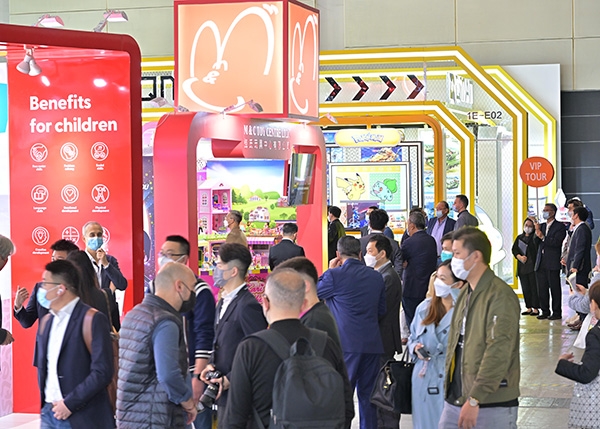 Follow trends
Industry players could physically attend the Hong Kong Toys Industry Conference 2023 on 10 January, where delegates caught up on the latest trends, especially on technology use, as the world returned to normal this year.
Three key toy-industry trends were explored by the conference's first speaker Mr Clifton Chiu, Research Analyst – Toys and Games of Euromonitor International, as he noted that the rise of scientific educational toys, kidult toys and the impact of sustainability will be in the spotlight.
He said scientific educational toys were a perfect product for families looking to mix education and entertainment for their children during COVID-19 lockdowns, which limited outdoor activities and schooling.
Xiamen Baby Pretty Products Co., Ltd has been participating in the Hong Kong Baby Products Fair since 2009, which has helped expand their export business over the years. CEO Mr Sam Yang appreciated the quality of buyers this year and revealed that his company has met with 80 to 90 new buyers from Southeast Asia and Turkey.
Sales manager Mr Scott Wen of Mirage International Industries, a US exhibitor at the Stationery & School Supplies Fair is satisfied with the fair results. "It's clear that industry players are eager to get back to in-person business."

Taste test
Another positive spin-off of the eased COVID-19 controls was the opportunity to sample offerings at this year's wine and spirits fair. The 14th HKTDC Hong Kong International Wine & Spirits Fair (Special Edition) ran on 10 and 11 January at the HKCEC.
The two-day physical fair featured display stalls, while business matching meetings on-site allowed buyers and exhibitors to deepen business relationships and open more prospects in the sector.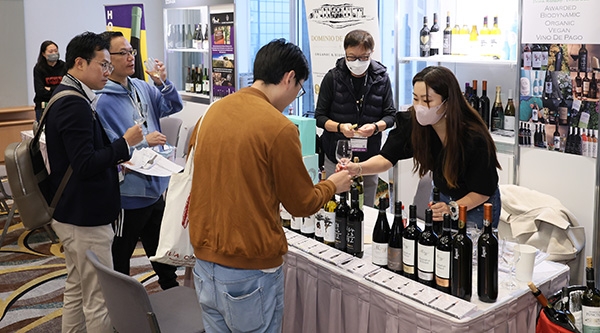 Nax Japan Co. Ltd Director and Executive Managing Officer Mr Hirohito Takei said: "This is a great fair with a vast selection of wines and spirits. I greatly like the arrangement and would definitely go back. This is a platform that allows buyers, like myself, to easily find vendors who can adequately meet our needs. I heartily endorse it."
Related links
AFF
HKTDC Hong Kong Toys & Games Fair
HKTDC Hong Kong International Wine & Spirits Fair