Restrictions on movement and face-to-face interactions during the COVID-19 pandemic have created demand for remote health monitoring, particularly for vulnerable people such as those living in residential care homes. Hong Kong start-up PanopticAI is stepping into this breach, and the enterprise's efforts made it a 2021 winner of Start-up Express, an entrepreneurship development programme run by the Hong Kong Trade Development Council (HKTDC).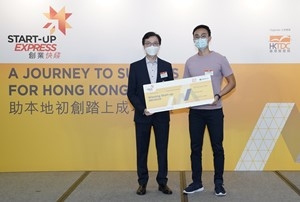 PanopticAI co-founder and CEO Kyle Wong said cameras can detect colour changes on people's faces that are difficult to see with the naked eye. Using artificial intelligence (AI) analysis, the system can calculate body metrics such as pulse, blood pressure, breathing rate, blood oxygen content and stress index to evaluate a patient's overall condition. "For example, front-line medical staff are overworked. This system can help them quickly grasp the basic health data of patients for initial assessment and relieve pressure on staff."
Mr Wong said the system had matured and pulse monitoring can reach an accuracy of 98-99%, and the error rate of blood oxygen monitoring is within a 2 percentage point range. "The system may be affected by factors such as lighting, camera pixel density and the user's skin colour as well as presence or absence of makeup. We are currently collecting more data to let the AI system learn repeatedly to further improve accuracy."
Elderly care
He revealed that he plans to trial the system in some residential care homes and community centres run by the Hong Kong Council of Social Service (HKCSS), starting in the middle of the year, aiming to monitor the health status of senior citizens in a more convenient way.
"For example, if the heart rate changes abnormally, it means that there is a heart problem or other risk of disease. After collecting the data, we can create a personal health file for the elderly, which nursing home staff can easily read on the records. If there is an abnormal situation, the system can send an alert."
Technology adoption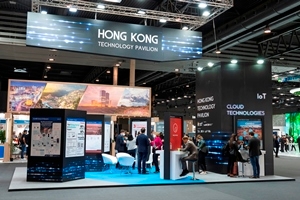 Mr Wong said the COVID-19 pandemic had led government departments and private enterprises to try new technologies, which is helping start-ups. "For example, some insurance companies wanted to introduce our AI monitoring solution into their personal health management platform for the insured," he explained.
In addition, the HKTDC has helped PanopticAI actively participate in international technology events overseas, including the Hong Kong booth at this year's Mobile World Congress, and also helped the start-up negotiate with overseas enterprises in business matching meetings to explore cooperation opportunities.
"We were delighted to meet online with an investor from Iraq who intends to form a strategic partnership to widely apply our AI health detection system to their businesses," Mr Wong said.
Growing outreach
Looking to the future, Mr Wong hopes to first establish a firm foothold in Hong Kong and then bring his health monitoring system to the Mainland China and Association of Southeast Asian Nations (ASEAN) markets, saying that they hope to be listed in Hong Kong within five years. "The [Guangdong-Hong Kong-Macao] Greater Bay Area is also one of our development goals. We hope to set up offices in the mainland in the future and even have the opportunity to cooperate with local insurance companies."
In addition to its participation at Mobile World Congress, the HKTDC has also helped PanopticAI join other large-scale international exhibitions and conferences since its win at Start-up Express 2021, establishing connections with potential partners around the world and increasing the company's exposure and visibility. At the Belt and Road Summit Forum it negotiated with a German medical company to provide reference data for its telemedicine platform, and also participated in the HKTDC's Asia Summit on Global Health as well as the Consumer Electronics Show (CES) in Las Vegas.
PanopticAI also had the opportunity to participate in the AsiaBerlin Summit start-up platform to exchange innovative ideas with other start-ups and investors from all over the world and explore cooperation opportunities.
"These valuable experiences will help the company develop in the future. If a start-up is working alone, it is difficult to get these opportunities to expand into overseas markets," Mr Wong said.
Start-up Express, which launched in 2018, helps entrepreneurs seize opportunities in innovation and technology, and this year's edition is now open for registration. The registration deadline is 4 May – for details, please visit https://rb.gy/r17crc.
Related links
PanopticAI
Startup Express