Meat the Next Founder Edmund Chan introduces his company at the Start-up Express annual competition.
A university-based Hong Kong start-up has rolled out a successful business strategy, bringing alternative proteins and plant-based F&B into the market, and becoming a promoter of superfood and future food.
Meat the Next, a Hong Kong food technology start-up company, focuses on developing food products through enzymatic reactions and fermentation technologies. In addition to becoming one of the 10 Start-up Express winners 2023, the programme audience also voted the company My Favourite Start-up on final selection day.
From lab bench to market
Meat the Next Founder Edmund Chan, who has been in the catering industry for more than 10 years, realised consumers were willing to pursue healthy food, but there were many plant foods in the world. Faced with fierce competition, he and his team visited many universities in Hong Kong to seek cooperation and guidance from professors.
They discovered that tiger nuts could yield food, if processed correctly. Combined with other ingredients, such as soya and oats, and run through enzymatic and fermentation reactions, the team managed to produce a nutritious milk similar in texture and taste to dairy milk. In 2020, they founded the food technology start-up Meat the Next.
Mr Chan said cost-effectiveness was very important. The firm started from source materials with tiger nuts and odour-free soya beans, producing superfoods without having to rely on adding flavouring and sugar.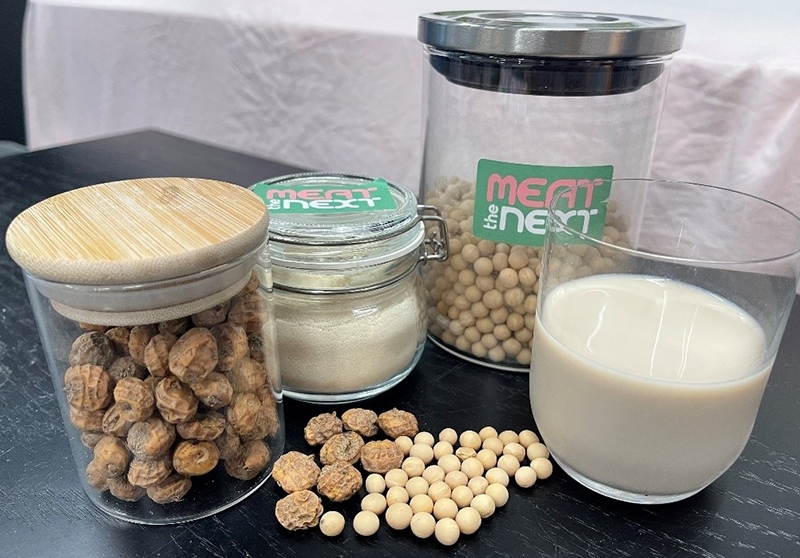 Meat the Next has identified the needs and pain points of the market. Growsome O vegetable milk is popular at large coffee bar chains in Hong Kong. Another flagship product of the brand, Growsome O non-dairy frozen dessert, is offered in more than 60 restaurants, hotels and large supermarkets. Online, consumers can also buy the products through more than 20 online outlets. Corporate customers also order plant milk and plant frozen dessert directly from them.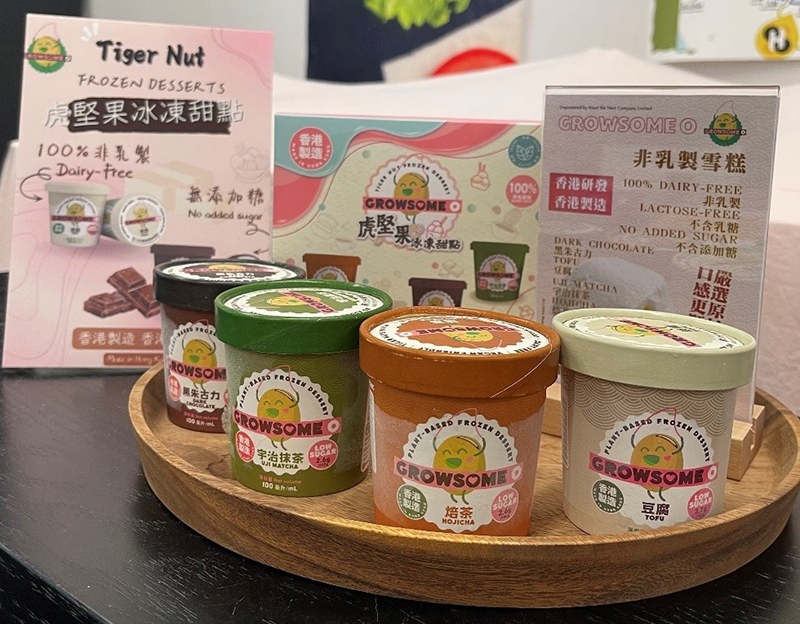 Favourite start-up
To improve public reach, Meat the Next participated in the sixth Start-up Express organised by the Hong Kong Trade Development Council (HKTDC). The firm became one of the top 10 and was voted My Favourite Start-up at the pitching final.
Mr Chan said: "The HKTDC has always been committed to supporting start-ups and small and medium-sized enterprises, helping Hong Kong brands and enterprises enter the world. There have been many well-known financial technology start-ups in Hong Kong in the past, but there are not many successful examples of food technology."
Start-up Express winners participate in exhibitions in the Mainland China and overseas, but also have the opportunity to meet investors in Hong Kong and around the world, to learn more about industry trends, overseas market trends and investor orientation, establishing business network, expanding market and business.
"After the competition, we have received many emails, hoping to jointly develop high-quality alternative proteins. Including: frozen dessert factories want to cooperate with our OEM, and some companies want to order our products and raw materials. It is worth mentioning that after the competition, we were approached by the Hong Kong Intellectual Property Department, which invited us to Southeast Asia to promote Hong Kong's start-up achievements. It's a rare opportunity."
Meat the Next focuses on the huge consumer market in the Guangdong-Hong Kong-Macao Greater Bay Area and hopes to increase production by seeking partners to achieve local production and local sales and open up new markets.
Related links
Start-up Express
Meat the Next