Foreign trade from and into the Guangdong-Hong Kong-Macao Greater Bay Area (GBA) rebounded in March after a big dip in February. The dip, an annual event, was far less pronounced in the GBA than in the rest of Mainland China, with the stability of growth underscoring the resilience of the region's manufacturing base and overall economy.
In total, the General Administration of Customs of the People's Republic of China recorded US$55.99 billion in exports from Guangdong province in March, which was mostly goods originating from the GBA, especially Shenzhen, Dongguan and Foshan – three of the nine cities that, together with Hong Kong and Macao, comprise the GBA.
Mainland imports and exports as of the end of March were slightly below where they were in the same month a year earlier, according to data from Delta Analysis, a firm that tracks GBA‑related figures. Overall, the GBA has maintained a more positive trade balance than the rest of the mainland for many years, underscoring its role as a global production powerhouse.
The March rebound was a welcome uptick after the significant dip in February, mostly caused by the Lunar New Year break, according to economist Larry Qiu, Head of the Department of Economics at Hong Kong's Lingnan University. Emphasising that the pattern is normal, as is a rebound in March, Mr Qiu said: "There is a big dip of trade [both imports and exports] in February every year because, firstly, February is shorter and, more importantly, the Chinese New Year effect."
For his part, Yang Dong, Assistant Professor in the Department of Logistics and Maritime Studies at Hong Kong Polytechnic University, agrees that this fluctuation is natural, saying that the peak in exports usually comes before Christmas, given that many of the world's holiday gifts are produced in the mainland, and the peak in imports typically happens just before the Spring Festival. The dip in production in February, however, has a direct effect on trade and typically continues into March and April.
Peaks and troughs
When it first emerged, COVID-19 brought an unprecedented interruption to trade. International trade declined significantly in the first quarter of 2020, with imports and exports falling 6.4% year on year, while exports alone dropped 11.4%. As a result, the annual dip in February 2020 was far more pronounced than usual across the country, including in the GBA.
Maintaining that production is all about industrial and logistics chains, Mr Yang said: "When everything was normal, the chains were smooth, but once the pandemic hit local factories and made them pause, the chains were broken."
Nevertheless, mainland production capacity proved resilient and rebounded quickly the following year. This was in no small part due to the country having a relatively complete supply chain.
Expanding on this, Mr Yang said: "China's export volume and trade volume increased very quickly in 2021. The volume of trade and shipping was recovering fast. In 2021 freight rates for shipping increased more than five times. Production has grown."
Another crucial issue has been delays at ports, with the pandemic leading to operations being suspended from time to time. Noting the consequences of this, Mr Yang said that some ports suffered from serious congestion and, as a result, cargo shipments were delayed.
In broad terms, ports have continued operating, but shipment delays have proven to be an issue. Congestion has hit some ports, most visibly Shanghai, leading to delayed shipments which in turn dented trade. Data from Delta Analysis shows that container and cargo throughput in Shanghai held up throughout the pandemic, rebounding quickly after shutdowns – although the latest lockdown of the city in March has had the most significant impact to date.
Shanghai, typically the largest point of export out of the mainland and the location of the country's largest port, recorded Rmb1.01 trillion (US$151 billion) in trade during the first quarter of 2022, up 14.6% year on year, largely on account of steady growth in the electric vehicle industry.
That said, it is impossible to overlook the impact on trade of efforts to contain COVID-19. Shanghai, for one, was effectively locked down in March, increasing the importance of trade in and out of the mainland cities of the GBA and playing into the area's role as a key manufacturing engine for the country and the global economy.
Mr Yang points out that while trade from the GBA has also been impacted by efforts to prevent COVID-19 outbreaks, the impact has been relatively mild.
Powerhouse push
Four GBA cities – Shenzhen, Guangzhou, Dongguan and Foshan – have remained among the top mainland 10 cities for exports. For March 2022 alone, Shenzhen contributed US$18.8 billion, Dongguan US$10.1 billion and Foshan US$7 billion to exports.
Shenzhen's imports and exports accounted for 44.9% of the trade volume of all nine mainland cities of the GBA in 2021. The main exports out of the GBA were toys, electronics and furniture. In all, mechanical and electrical products accounted for 78.9% of exports from Shenzhen in the first quarter of 2022.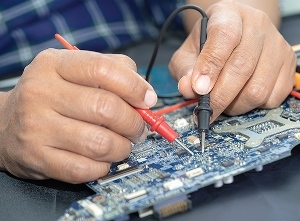 Imports of electromechanical products reached Rmb2.7 trillion in the first quarter of 2022, accounting for 81.2% of Shenzhen's imports. The main imported products included integrated circuits, components for automatic data processing equipment and mobile phone parts.
Underscoring the resilience of Shenzhen the category of general trade, which includes both imports and exports of products with a longer industry chain and higher value‑added, increased by 5.1% to Rmb395.17 billion, accounting for 53.4% of the city's trade.
Foshan, another GBA city with strong export capacity, also managed to ramp up exports of mechanical and electrical products, which helped increase overall trade in the first quarter of 2022. During that quarter, Foshan's foreign trade reached Rmb180.8 billion, an increase of 4.7% year on year. The city exported mechanical and electrical products worth Rmb77.94 billion, a slight drop of 0.1%. This category is significant and accounted for 49.9% of Foshan's exports in the first three months of the year.
In the same period, foreign trade out of Guangzhou, the capital of Guangdong province, hit Rmb247.03 billion, an increase of 1.1%. The city's trade structure is also improving. General trade imports and exports accounted for 58% of the total, up 8.5% year on year.

The resilience of the GBA is visible in Dongguan, a city with a traditionally strong textile and garment industry base. Foreign orders for many textile and garment enterprises in Dongguan have been trimmed somewhat but generally held up.
The GBA has long been the engine for the country's foreign trade and has rolled out effective pandemic‑control measures that have ultimately limited the disruptive impact on trade.
As with Shanghai, Shenzhen experienced an outbreak of the Omicron COVID-19 variant and implemented stringent measures, including a full lockdown for seven days. The approach seems to have limited the impact on production. Guangzhou also experienced an outbreak that was quickly brought under control.
Delta Analysis data suggests emerging cross‑border e‑commerce has helped Shenzhen keep its leading status in global trade. Shenzhen customs statistics show the value of cross‑border e‑commerce imports and exports has jumped 35 times over the past five years.
Related link
HKTDC Research