Among Association of Southeast Asian Nations (ASEAN) members, Malaysia is Hong Kong's second-largest trading partner. Malaysia's latest five-year development plan specifies that the country will actively develop its digital economy and attract technology-related investment.
To help Hong Kong businesses seize new opportunities, the Hong Kong Trade Development Council (HKTDC) arranged for small and medium-sized enterprises (SMEs) participating in its T-Box upgrade and transformation plan to meet with the Consul General and other Malaysian representatives in Hong Kong. The forum gave them a better understanding of industry development and market demand in Malaysia.

Digital technology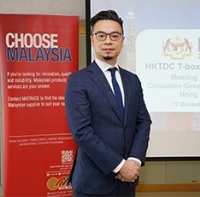 Lam Ka-jun, Managing Director of Hong Kong enterprise Digital Business Consulting, was invited by the HKTDC as a guest speaker at the forum to explain the experience of digital transformation. "After the meeting, I got to know the operator of My Town, a shopping mall in Malaysia, and arranged an online video conference through the HKTDC, and finally facilitated cooperation and provided digital marketing solutions.
"[The mall operator] said only about 40% of Malaysia's SMEs have completed digital transformation. However, with active promotion by the government, enterprises have realised the urgency and importance of digital transformation, bringing business opportunities to technology-related enterprises."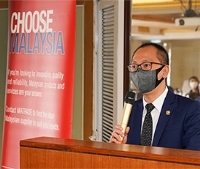 Yap Wei Sin, Consul General of Malaysia in Hong Kong and Macao, said that in the first nine months of 2021, Malaysia's trade volume with Hong Kong was about US$14 billion, and the country has long been Hong Kong's fourth largest export market (among ASEAN member countries), mainly exporting electronics and electrical appliances.
Mr Yap said the Malaysian government's five-year development plan issued in October pointed to improving export competitiveness, attracting foreign investment, especially for technology-related projects, and creating high-value-added jobs to promote economic growth.
The Malaysian government welcomes overseas investment and will provide competitive tax incentives for qualified companies in selected industries, Mr Yap said.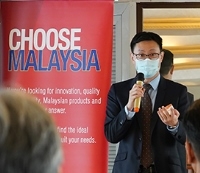 Dr Patrick Lau, HKTDC Deputy Director, said Hong Kong and Malaysia had always had close trade relations. In the past, the HKTDC would arrange trade delegations to visit Malaysia, and since the COVID-19 outbreak in 2020 has arranged several webinars and seminars to update SMEs. He said the forum would allow enterprises to maintain trade exchanges. More than 1,500 Malaysian buyers participated in the online exhibitions organised by the HKTDC in 2020, he said. A further 430 participated in large-scale online conferences, including the Belt and Road Forum and the recent Asian Summit on Global Health.
Dr Lau added that 1,700 enterprises had taken part in the HKTDC's T-Box upgrade and transformation plan, all of them dynamic, creative enterprises with high development potential and an interest in exploring Asian markets. Opportunities provided by the Malaysian market made a perfect match.
Strategic industries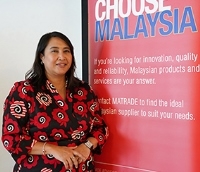 Ezzwanee Ahmad, Trade Commissioner of the Malaysian Consulate General (Centre for Foreign Trade Promotion) Hong Kong, said Malaysia's 12th Five-Year Plan (2021-2025) highlights key industries such as electrical appliances and electronics, global services, aerospace, creativity and tourism, Halal services, smart agriculture and biotechnology. The plan aims to promote industrial automation, mechanisation and high value-added transformation, and to introduce more high-tech investment in Malaysia.
Ms Ahmad said the country had 14 smart economic zones, which included the capital Kuala Lumpur. Each zone had its own needs for foreign investment. She recommended companies to invest in Malaysia through an agency to help set up a local company, as agencies have local connections.
With 60% of its population ranked as middle-to-high-income, Malaysia is one of the strongest consumer markets in Asia, she said. Of the high-consuming generation X and Y population, aged 25 to 54, 90% are internet users and 98.2% have mobile phones. E-commerce is growing rapidly, with a market size of US$3.4 billion in 2020. With Muslims making up about 60% of the population, and 5 million Muslim tourists visiting Malaysia every year pre-pandemic, there is a strong demand for Halal products, including food, ingredients, cosmetics and clothing.
She said consumers in the region often use YouTube and Facebook to find suitable products and services. According to her understanding, clothing, electronic products, cosmetics and personal care items are the most popular for online shopping.
Ms Ahmad emphasised that the Malaysian government offers policy and infrastructure support and has also cooperated with COVID-19 pandemic prevention measures. Business travellers can be exempted from quarantine measures.
Investment information
Hong Kong and Malaysia have many things in common, including their multiculturalism. Under the Belt and Road Initiative, Hong Kong is the gateway for Malaysian companies to Mainland China, and Hong Kong can use Malaysia to expand the ASEAN market. Dr Lau said that while the Belt and Road mainly involves relatively large infrastructure projects, other activities such as industrial park construction require support services, and the HKTDC will make use of webinars, business matching and T-Box activities to promote exchanges between Hong Kong and Malaysian enterprises.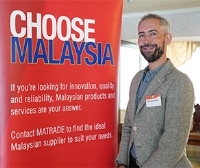 Rob Davenport, Director of Take Lifestyle, said he was satisfied with the activities at the forum. In particular, it allowed him to grasp important information about entering the Malaysian market, including how to set up a local company, and he said he now hopes to find a strategic partner. He said he established an environmentally friendly bamboo design brand in Hong Kong last year and, with the assistance of the HKTDC, he joined the T-Box upgrade and transformation plan to explore business opportunities in different markets.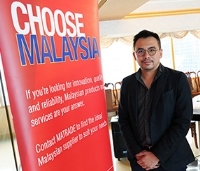 Feng Weilin, Chief Technology Officer of Jilian Technology, participating in a in the T-Box event for the first time, said his company now has a preliminary understanding of the Malaysian market, and the information he obtained at the forum will be analysed in detail. Zhao Chujie, Director of Jilian Technology, said the company is engaged in software design and intends to expand into the Asian market, so it was useful to gain a deeper understanding of Malaysia's local tax system, labour market and employment information.
Related link
T-Box