Many insurance technology (insurtech) firms are putting a premium on the Mainland China market, where an increasingly affluent and tech-savvy population looks likely to fuel strong demand for online insurance products and services. Just ask OneDegree group, an insurtech headquartered in Hong Kong.
The Hong Kong-headquartered insurtech start-up opened an office in Shenzhen's Qianhai economic cooperation zone last year, hoping to expand throughout China from the Guangdong Hong Kong-Macao Greater Bay Area.

OneDegree group seeks to innovatively improve user experience in the insurance industry. From a five-strong team at its 2016 inception, the group has grown to about 200 employees and operates in Taipei and Singapore as well as Hong Kong and Qianhai. The group aims to capitalise on the growth potential of Asia's insurtech market through these regions.
Digital platform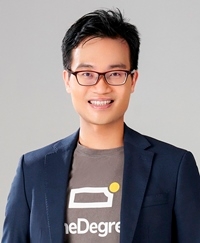 "OneDegree group is headquartered in Hong Kong. We have two main business lines: general insurance services and a core insurance system developed by ourselves," said a representative of OneDegree group.
The core insurance system, a virtual platform enabling insurance operations to be conducted online, offers a digital solution for other insurers.
"It deals with the workflow of traditional insurance companies, from product content formulation and sales to claims processing, etc. At present, many of these procedures are conducted manually," the representative said.
"In view of this, we formed a special team to develop a new core insurance system, hoping to use technology to make the insurance ecosystem in Hong Kong or even the entire Asia-Pacific region more complete."
Pet insurance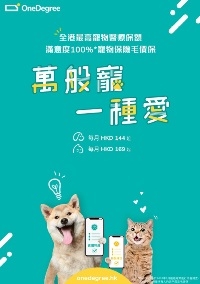 On the general insurance front, the group's subsidiary OneDegree Hong Kong (ODHK) in 2020 became the first batch of companies to be issued a virtual insurance licence in Hong Kong.
In April that year, ODHK launched the first product on its digital platform — the Pawfect Care pet insurance which covers up to 90% of vet expenses. The representative of OneDegree group said a consumer to complete a policy purchase or submit a claim online in just three minutes. The product quickly drew an enthusiastic response, with monthly compound growth rate of over 50% in the first 9 months.
Secrets of success
The representative of OneDegree group said a start-up with limited resources needed to fill a large market gap with the right product and understand customers' needs to stand out in the market. She attributed the popularity of Pawfect Care to these factors.
"Our co-founder Alvin Kwock's mother was a Buddhist and passed away in 2015. Alvin would sometimes pray for her at a Buddhist temple, where he saw, several times, people praying for their deceased pets," the representative recounted.
"Then he thought to himself: 'Many people now regard pets as family members, and if they buy insurance for family members, why shouldn't they do the same for pets?' So he came up with the idea of ​​offering pet insurance." The representative said just 2-3% of the 500,000 pet cats and dogs in Hong Kong had coverage since traditional insurers had overlooked this potential market.
"As a start-up insurance firm, we target this gap with technology. We strive to use technology to reduce transaction costs, so that customers don't need to pay commissions while getting better insurance products," the representative explained.
Hong Kong edge
As virtual insurance companies expand rapidly, OneDegree group leverages Hong Kong's advantages to develop insurtech for insurers in Asia.
"First of all, Hong Kong has the advantage of having a multitude of international insurance companies, which operate their Asian headquarters in the city. Being in Hong Kong, we find it very convenient to get in touch with different insurance companies. If they adopt our system, it will help promote it in other regions. Besides, Hong Kong's fintech advantages are also conducive to our insurtech development," the representative noted.
The representative said systems developed by OneDegree Global, a subsidiary of OneDegree group, helped the group innovatively develop insurance products and set new standards for the insurance industry. The start-up has received support from well-known investment institutions including BitRock Capital, Cyberport Macro Fund Cyberport Venture Fund, and Cathay Venture.
"In the past, insurance companies lacked technological support," the representative said.
"An insurance company might use different systems for different procedures such as writing and product development. These systems needed to work in coordination. If one of them had to be changed, the others should be adjusted in accordance," the representative explained.
"This undoubtedly put a lot of constraints on the entire product development cycle. That's why all insurers offered similar products."
This is where OneDegree Global's digital system comes in. "Previously, it might take a year to formulate an insurance plan. Now, with our one-stop system, the time needed for designing a brand new insurance plan is greatly reduced," the representative said.
"When other insurance companies adopt our system, we are actually using technology to improve their research and development capabilities for innovative products. In this way, through technology, we are helping to create a more complete insurance ecosystem for the entire market," the representative said.
HKTDC support
OneDegree group's success in Hong Kong laid a solid foundation for forays into the entire Asian insurance market. After opening offices in Taipei and Singapore, the firm also set up a presence in mainland for its expansion. Noting the development of the Guangdong-Hong Kong-Macao Greater Bay Area, especially the Qianhai zone in Shenzhen and official policies to attract investment, the group set itself up in Qianhai in 2021.
Last year it established its base to Qianhai in view of the development of the Greater Bay Area and the investment incentives offered in Qianhai, which is earmarked as a key area for boosting mainland-Hong Kong business cooperation.
"Qianhai has the advantage of being close to Hong Kong," the representative said. "But its advantages are not limited to geographic ones. Qianhai has introduced many preferential policies and more are expected to come. The local government is also proactively attracting Hong Kong investors and forging business connections."
"Besides, an office in Qianhai would help us access the entire mainland market and enhance talent exchanges between Hong Kong and Shenzhen."
During the process, Ms Tam said, the Hong Kong Trade Development Council (HKTDC) helped OneDegree Group expand its business network and set up in Qianhai smoothly.
"From our opening an office in Qianhai, the HKTDC's mainland offices provided assistance to us from time to time," she shared.
Ms Tam said the HKTDC's T-Box support programme for small and medium-sized enterprises (SMEs) also benefited the company.
"Their professional consultants recommended different seminars according to our needs. We also joined their social networking platform group and met companies from all sectors," she said.
"In addition to providing valuable advice, the consultants also introduced mainland government and business representatives to us. For example, I joined a social group related to the Greater Bay Area and met representatives of the Qianhai Administration and local companies, among others.
"These networks helped not only extend our business connections, but also understand more about setting up and doing business as well as preferential policies [in the mainland].
"Apart from supporting us in setting up in Qianhai and doing business in the mainland, these important connections also assisted us to formulate a more comprehensive mainland business plan," said the representative.
Based on the "sandbox" concept, T-box (Transformation Sandbox) helps SMEs enhance competitiveness and achieve transformation goals in the areas of branding, e-commerce, manufacturing and supply chain solutions and new markets.
The T-box team works with SMEs to identify their goals and provide support over a three-month period, with group and individualised services including advisory services and workshops as well as provision of government-funding information, market knowledge and networking opportunities. The programme is offered free of charge and is open to all companies registered in Hong Kong.
T-box has seen a strong response since its launch in April 2020, with more than 1,700 SME members at present. Over 450 free one-on-one consultations by professional organisations, business chambers, government agencies and consulates of various countries have been arranged.
Hong Kong-mainland partnership
The representative of OneDegree group said with the mainland's increasingly well-off consumers and rapid e-commerce development, the insurance industries of Hong Kong and the mainland are well placed to complement each other.
"We are optimistic about the development of the Greater Bay Area. Now that we have set up an office in Qianhai, we will gradually expand from the Greater Bay Area into the entire mainland market. While our office is located in Qianhai, we are actually targeting the whole country," the representative said.
The representative said the group's first product for the mainland market is also pet insurance, because of the large number of pets in the increasingly wealthy society. "Pet dogs alone number in the hundreds of millions. The mainland's pet insurance market has even greater growth potential than Hong Kong's."
"Also, the mainland market is becoming fully digitalised, with e-commerce getting ever more advanced. Mainland consumers are already used to buying different products and services online. We hope to learn from the mainland and promote the digitalisation of insurance business in Hong Kong," the representative said.
Related links
OneDegree Hong Kong
T-box