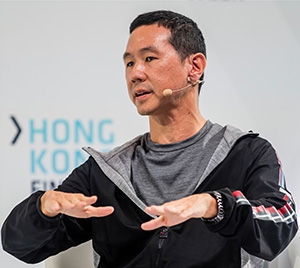 A new dawn of the internet is upon us. The blockchain-technology-based Web 3.0 incorporates concepts including decentralisation and token-based economics. A leading Web 3.0 firm is Hong Kong unicorn Animoca Brands, a Deloitte Tech Fast winner that ranked in the Financial Times list of High Growth Companies Asia-Pacific 2021. With more than 600 employees globally, Animoca's vision is to create an open, community-driven metaverse, Group President Evan Auyang said.
Developing blockchain-based metaverses such as The Sandbox and games based on popular global brands, including Formula 1, Disney, Power Rangers, and Doraemon, Animoca also has more than 170 investments in non-fungible token (NFT)-related blockchain companies, including Dapper Labs, OpenSea, Harmony, Bitski and Alien Worlds.
"We try to inject our blockchain know-how into these companies. We invest in the ecosystem to see if we can find the winners," said Mr Auyang, who joined the company last year after working in banking and as a management consultant for McKinsey.
Animoca Brands completed a capital raise of US$358,888,888 (approximately HK$2.8 billion) at a pre-money valuation of more than US$5 billion (approximately HK$39.07 billion) in January. The capital will be used to buy further portfolio companies. "We want to expand further in verticals like education, art and music," Mr Auyang said.
What does Web 3.0 entail?
With Web 1.0, you could only read web pages, then Web 2.0 represented the social media age. With Web 3.0, you're not only reading and writing but also owning something. The space in Web 3.0 is open architecture; it's about user-generated, user-owned content. In the traditional gaming universe, you don't own anything, can't buy or sell it – and here you can. And when you contribute to the gaming system, you can earn money out of it.
Who are your users?
Ardent gamers are natural adopters of digital asset ownership as they understand gamification, as are crypto natives and NFT participants interested in digital collectibles.
What are your leading portfolio companies?
The Sandbox is already one of the most prominent blockchain-based metaverses. It's a decentralised virtual reality platform that enables players to build virtual worlds and conduct transactions with NFTs and digital assets that use blockchain technology to verify ownership. There are tools for users to create your own avatar, and you can create assets by building and selling things and creating experiences.
A lot of brands have gone into The Sandbox. Some famous inhabitants include [American rapper] Snoop Dogg, who hosts concerts and events there. There are a lot of big brands on there, too, including Atari, Ubisoft, Warner Music, The Walking Dead and The Smurfs.
The Sandbox is a community-driven experience and community-owned space. It's about enjoying each other's company in the cyberspace. Ultimately it will become much more decentralised, where users are driving interaction of how the space develops.
How are Hongkongers taking to The Sandbox now that New World Development CEO Adrian Cheng has invested in one of the largest virtual lands?
It's a very large piece of land that he purchased last year and he's going to build a museum on there and create other experiences. The South China Morning Post also bought a big piece of land and plans to create Hong Kong-related experiences – they're rebuilding the Kowloon Walled City, for example. Adopters in Asia understand virtual land, and it's one of our most important markets.
What other projects do you have?
Phantom Galaxies is another big one. It's a space robot game based on manga-style sci-fi versions of robot fighting and already has 100,000 users. Before the alpha version came out, we dropped 500,000 free NFTs into players' wallets. We believe that if there's any value to be derived from this community, the users should benefit first.
There are also gamers who might not want to participate in the economy and just have some fun. All you do is buy the NFTs to access the game, so you don't have to do it just for financial reasons. It's about the community contributing time, and value is accrued to the platform and the community itself. The owners get to see the appreciation of the NFTs rather than us – all we get is a transaction fee. We sell the NFTs, facilitate economic activity, and derive our business from that.
What took Animoca Brands to unicorn status in May last year?
It's based on our co-founder Yat Siu's vision. He was involved very early in this space and is a visionary. We started with the distribution of CryptoKitties, which made us realise there was a lot of demand for digital asset ownership. So, we've pivoted from being a games maker to the blockchain gaming space. That led to investments in companies like The Sandbox, which at the time was non-blockchain.
What are the advantages of doing business in Hong Kong?
It's the heart of Asia and, being located very centrally, there's a lot of good access [to other countries]. Hong Kong is a very liveable city, and there's plenty of financial and professional talent here. It's a gateway to [Mainland] China where capital flows freely, and the speed at which things get done is second to none. Hong Kong will resurface as a big gathering place once the pandemic is over.
What is your vision for Web 3.0?
We want to educate people to believe in this space as a force for good and see our purpose as building communities that prosper. For our projects, we don't look at the return on investment: we look at how big are the communities we can build. We take a multi-stakeholder view of the space that we're in. If the community isn't profiting, neither should the investors.
Do other major players believe Web 3.0 is all about the community?
Yes, but not all of them. Facebook is also building a metaverse, but it's closed. You can contribute your time and they might allow you to earn some fees but, ultimately, everything you do there is for the benefit of the platform. You don't own assets and can't transfer them to other platforms.
What is your long-term plan for Animoca Brands?
We're working with global venture accelerator Brinc to launch an accelerator programme for metaverse architects, so they can build within The Sandbox. You can be a metaverse designer and play games for a living. It's not like e-sports, as that's very elitist. Here you're talking about people playing a casual game like Crazy Defence Heroes and earning money by winning some battles.
We want to unleash creativity and [give users] the power of ownership. This is about reshaping the entire internet as we know it, and Animoca Brands is at the forefront.
Related link
Animoca Brands