Social-distancing measures came to an end in Hong Kong this week as the mask mandate was officially lifted, expediting the recovery of business activities between Hong Kong, Mainland China and the rest of the world.
The 39th Hong Kong International Jewellery Show and the 9th Hong Kong International Diamond, Gem & Pearl Show, organised by the Hong Kong Trade Development Council (HKTDC), are the first major trade fairs being held at the Hong Kong Convention and Exhibition Centre in Wan Chai following this returns to normalcy. The twin shows opened on Wednesday and run until 5 March.
Hong Kong Special Administrative Region Deputy Chief Secretary for Administration, The Hon Cheuk Wing-hing, GBS, JP was guest of honour at the opening ceremony. Speaking at the ceremony, Mr Lawrence Ma, Chairman of the Fairs' Organising Committee, said: "The twin jewellery shows are the first major international trade event since the complete lifting of anti-epidemic measures, projecting a gradual recovery of economy and trade between Hong Kong, the mainland and the rest of the world. I hope the shows will create more business deals and collaboration opportunities for global exhibitors."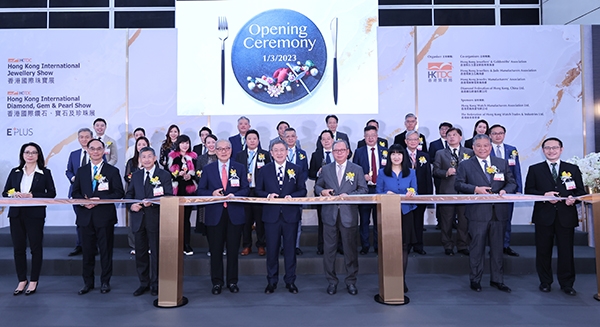 Keen participation from abroad
With the global economy moving towards normalcy, both mainland and overseas exhibitors were enthusiastic to participate in this year's shows, with more than 2,500 exhibitors from 36 countries and regions. The HKTDC has also organised 100 buying missions from 70 countries and regions. A total of 20 pavilions have been set up – including those from the mainland, Taiwan, Japan, Korea, Singapore, Sri Lanka, Thailand, India, Turkiye, Israel, Germany, Italy, Belgium, Brazil, Colombia and the United States.
Renowned jewellery industry organisations, such as the Asia Pacific Creator Association, International Colored Gemstone Association, Tanzanite Foundation and T-GOLD+METS Pavilion – co-organised by the Hong Kong Jewellery & Jade Manufacturers Association and the Italian Exhibition Group – also return, signalling the confidence of international companies in Hong Kong as a business platform.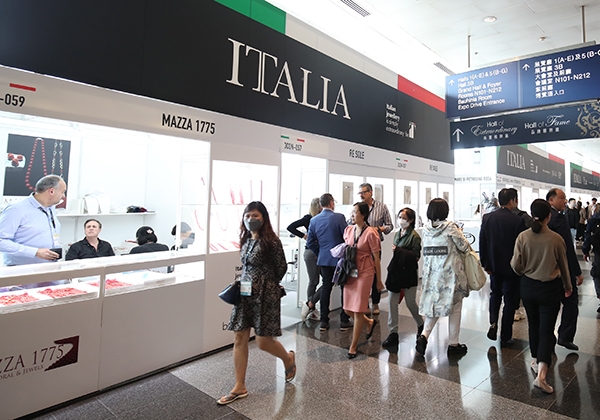 Themed zones gather world-class jewellers
Exhibitors value the first trade fairs after the pandemic and bring a wide range of valuable and unique jewellery items to both shows. This year's Hong Kong International Jewellery Show features 17 themed zones, including the Hall of the Extraordinary, Hall of Fame, Designer Galleria and World of Glamour, which showcases jewellery from local brands. A number of jewellers present high quality and distinct jewellery, including an exquisite jadeite bead necklace (On Tung Company, booth no: GH-C10); a classic elegant Burmese ruby ring (Fai Dee Limited, booth no: GH-C31); and a uniquely-crafted zodaria bracelet, a panther-shaped diamond bracelet in gold (Nico Juliany SL, booth no: GH-G03).
Also featured at the show is the 21st Hong Kong Jewellery Design Competition Open Group award-winning pendant in 18K gold, diamonds, rubies and sapphires (Charente Fine Jewelry, booth no: 1CON-008). Additionally, a Korean exhibitor has brought along a magnificent brooch inspired by the natural bracken plants of Jeju Island (Gina Fine Jewelry Creator, booth no: 1CON-024), highlighting the refined, beautiful wares with sophisticated craftsmanship.
The Hong Kong International Diamond, Gem & Pearl Show, held at the same time as the Jewellery Show, showcases the finest diamonds and pearls as well as quality gemstones and raw materials for jewellery from various origins in the Hall of Fine Diamond, Treasures of Nature and Treasures of Ocean. The show features natural coloured diamonds with cushion, oval pear, heart cuts and premium black opals from the Lightning Ridge in northern New South Wales, Australia; drop-shaped and hole-drilled emeralds; Canadian Ammonite and Ammolite; Mexican fire opals and various pearl products.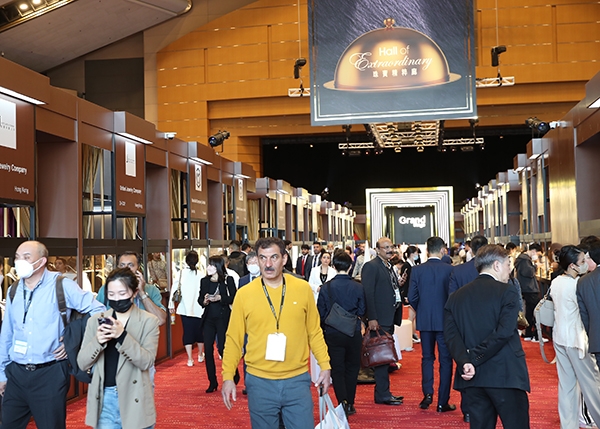 Business exchange forums
A number of seminars, forums and parades will be held during the twin jewellery shows to facilitate networking and keep participants abreast of the latest industry trends. These include a seminar titled Hong Kong Jewellery Industry Shines over the World and a buyer forum on Updated Market Trend of Jewellery Market in ASEAN Markets. There are also be seminars on Ammolite – A 71 Million-Year Natural Treasure only from Alberta, Canada and Jewellery Industry: Go Smart and Green and more.
The results of the 24th Hong Kong Jewellery Design Competition – which aims to raise the standard and quality of jewellery design, and to cultivate local creative talents – have been recently announced. The winning entries are currently displayed outside Hall 1E.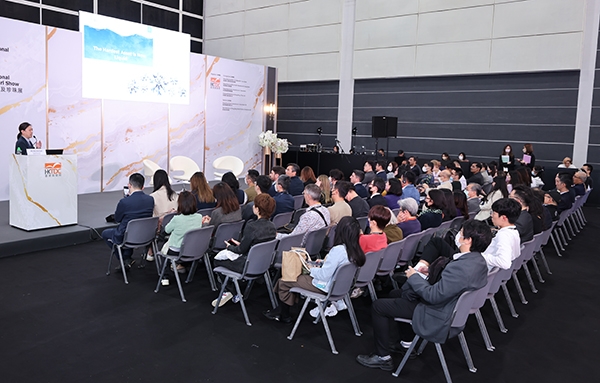 EXHIBITION+ hybrid
As the pandemic accelerated the adoption of e-commerce, jewellery retailers are increasingly using social media and e-platforms to promote their brands and expand sales channels. To help companies adapt to the new normal, the HKTDC's EXHIBITION+ hybrid model combines physical fairs, the Click2Match smart business-matching platform, online-to-offline seminars and forums (Intelligence Hub), and the hktdc.com Sourcing platform. EXHIBITION+ extends face-to-face interaction and promotion activities from physical exhibitions to online.
The Click2Match smart business-matching platform for both jewellery shows is accessible from 1 to 12 March, allowing both buyers and sellers an extended period to meet online beyond the physical fairs to facilitate further collaboration.
Related links
HKTDC Hong Kong International Jewellery Show
9th Hong Kong International Diamond, Gem & Pearl Show