A lawyer switched careers to become an entrepreneur, developing a non-alcoholic spirit tea that is very popular among young consumers and is often selected as a corporate gift. The operation became cash-flow positive in just one year.
The Hong Kong Trade Development Council's (HKTDC) T-box Transformation Programme supported the entrepreneurial journey, helping the founder master social-media marketing and providing professional advice on product packaging design, sales strategies and retail network expansion to accelerate business development.
Youthful market takes to tea
Chinese University of Hong Kong Law graduate Selina Tsang became a solicitor but in 2021 left a high-paying position and found More Tea, hoping to draw on her cultural heritage and create new ideas. She said: "My parents are engaged in the wholesale business of Chinese-style tea. From my childhood, I have learned to distinguish what is 'beautiful tea' and know the benefits of drinking tea. Many people think drinking tea is the exclusive right of the elderly." Noting younger people were taking to tea, Ms Tsang decided to go with the trend.
More Tea initially featured Organic Greek Mountain tea from Greece sold in local environmentally friendly bulk shops. Marketed through word of mouth at first, the brand appeared on the menus of coffee shops and small restaurants. Later, More Tea provided cold-brewed Organic Greek Mountain Tea to customers for Prada's pop-up store at IFC.
"In the early days of the brand's establishment, I didn't understand many things, and I relied on my own research. Fortunately, many brands supported and recognised the concept, and recommended our products to experts and friends."
Market positioning
A friend advised Ms Tsang to join the HKTDC T-box Transformation Programme where she obtained practical information and suggestions on marketing, brand building and market expansion.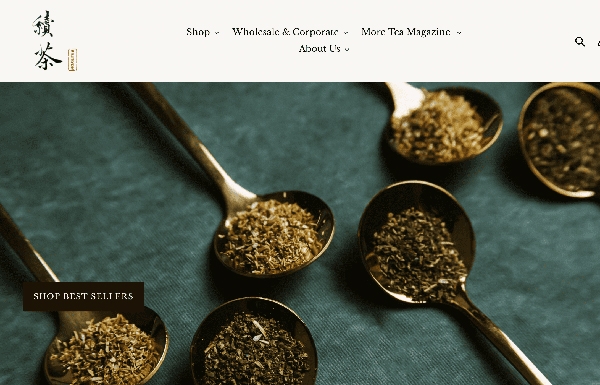 "The T-box team first carefully understood my business and gave feasible suggestions on market positioning and product packaging design. After participating in different workshops and watching a series of teaching videos, I have been able to design my own brand website and launch a website. I started to sell on the Internet and opened Instagram and Facebook accounts, with limited start-up capital, to reach potential customers and promote products."
She said the T-box team suggested switching to non-alcoholic spirit tea as the brand signature.
"At that time, there were no similar products in Hong Kong, which gave us the advantage of 'what no one else has', and the sales were good."
Eco-friendly packaging
Ms Tsang said developing non-alcoholic spirit tea took a year of research. "We mixed black tea from India, Sri Lanka and Fujian, and put it in a Scottish whisky barrel for about a month to become a non-alcoholic Scottish Whisky Tea. You can drink it with milk, lemon or even add a shot of whisky. Then we also developed Gin and Tonic Tea with lemon, cucumber and green tea, and Mulled Wine Tea with cinnamon, cloves and blackberry leaves."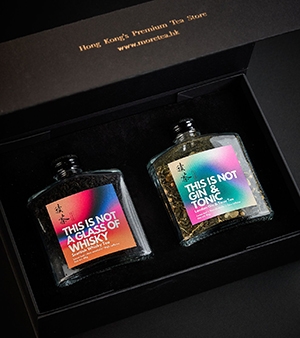 She said creating the products in the United Kingdom then flying them to Hong Kong for packaging and sale incurred high costs but was worth the money.
"We store tea in glass bottles, which is environmentally friendly and preserves the tea aroma. The products can be said to be completely 'plastic-free' and they do not even use plastic wrap when they are shipped." International firms such as HACTL, as well as international schools and investment companies recognise the brand and have entrusted the task of corporate-gift production to More Tea. The tea maker also had tea tasting workshops for the American Chamber of Commerce in Hong Kong and other companies.
"Large companies may follow ESG regulations to find some environmentally sustainable suppliers to cooperate with, or it may be the company's own environmental protection policy, hoping to work together to reduce the burden on the earth," Ms Tsang said.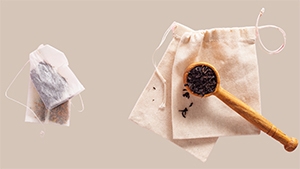 Retail expansion
At the B2B level, corporate gifts and wholesale deliveries to catering stores account for half of the sales. "The orders for corporate gifts are not frequent but each order is substantial. Conversely, restaurants place frequent orders for small quantities."
Most retail sales are through the website as well as consignment sales in M+ museum and Bookazine, and More Tea occasionally opens pop-up stores in shopping malls and markets. The T-box team recommended featuring the teas in the Hong Kong·Design Gallery outlet at the Hong Kong Convention and Exhibition Centre. Ms Tsang said: "Many consumers bought our products as Christmas gifts, and the sales volume exceeded expectations."
Venturing abroad
Ms Tsang plans to explore markets in Mainland China and Southeast Asia and open tearooms with partners. "The T-box team arranged one-on-one intellectual property consulting services for me according to my business development needs, and I learned about domestic trademark registration and practical advice on brand protection; T-box also searched out suitable market information and government funding for me. The team also introduced me to promotional activities. This year I plan to participate in the Hong Kong Pavilion set up by the HKTDC at the FHA Food & Beverage fair in Singapore as well as the annual HKTDC Hong Kong International Tea Fair so as to reach more people in the industry and the public, to understand the market response first-hand. I will also apply for the JD International cross-border e-commerce store in cooperation with JD Mall in the Hong Kong·Design Gallery to enter the huge sales market in the mainland."
Ms Tsang said: "I also hope that one day I can fulfill my wish and open a tearoom with my friends so that guests can enjoy desserts while refilling a cup of beautiful tea."
About T-box
To help Hong Kong enterprises transform their business and open up new opportunities, the HKTDC launched the Transformation Sandbox (T-box) programme which provides business consultations, workshops, government funding, market information and exchange opportunities for Hong Kong businesses, helping them to grasp trends, enhance skills and expand their business networks.
Since its launch, the programme has been well received and helped more than 2,800 Hong Kong enterprises, arranging nearly 800 free consultations provided by professional organisations, chamber of commerce representatives, business partners and HKTDC overseas offices.