Coming from the skyscraper capital of the world, Hong Kong firms have ample experience in building efficient, sustainable buildings and can build on this to serve the broader region.
The Hong Kong Trade Development Council (HKTDC) and Link Asset Management Limited (Link) released results of a survey Hong Kong Green Capabilities in Real Estate Development and Property Management: RCEP Opportunities which highlighted seven advantages of Hong Kong presents in the green-building field.
The report underscored green building challenges across Regional Comprehensive Economic Partnership (RCEP) countries creating potential business for Hong Kong to strengthen collaboration in four major areas to expand Hong Kong's and regional green building capacities to create a greener and sustainable future: climate risk assessment and design consulting; green financing; construction and facility management digitalisation; and green material certification and sourcing.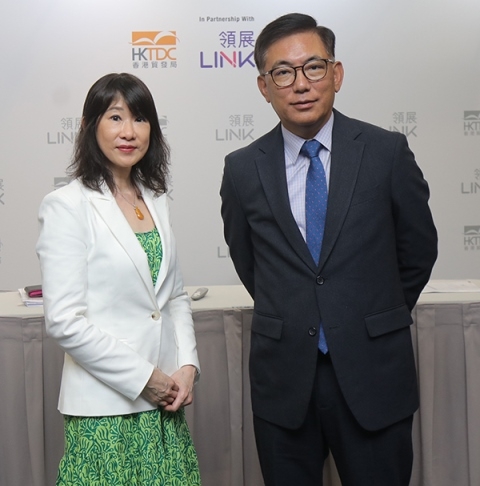 Mr George Hongchoy, Executive Director and Chief Executive Officer of Link Asset Management Limited, said: "We are delighted to learn that Hong Kong's real-estate sector is in a leading position in terms of green competences among the major RCEP markets being examined. As a real-estate asset manager and investor based in Hong Kong, sustainability is at the heart of Link's operation. We have been incorporating sustainability consideration in almost every part of our business, pioneering many sustainability applications in our daily operations, and striving to achieve net zero carbon emission by 2035. We are keen to work with other industrial practitioners to further advance sustainability initiatives in Hong Kong and showcase the city's green capabilities in RCEP markets to capture new opportunities in the region."
Ms Irina Fan, Director of HKTDC Research, said: "Green real-estate development and property management are a key element in achieving net zero by 2050, particularly in the case of Hong Kong, where 50,000 private and government buildings generate 60% of the city's carbon emissions. The progress made towards green buildings in Hong Kong in recent years is encouraging, thanks to the joint efforts of industry stakeholders. At the same time, demand for green real estate and property management services in RCEP economies is also growing. Hong Kong practitioners are well placed to take advantage of the momentum to seize business opportunities in RCEP countries, establish Hong Kong's leading position in green buildings in the global marketplace and create stronger synergies."
Green building advantages
The survey entailed desktop research on Mainland China, Hong Kong and other RCEP economies of interest to understand and compare green buildings trends. Surveyors conducted In-depth interviews with more than 70 real-estate and property-management stakeholders in RCEP countries and Hong Kong between July and November last year to assess the green capabilities of Hong Kong's property industry. A phone and online questionnaire survey of 300 practitioners from Australia, Japan, the mainland China, Singapore and Korea sought to gain a better understanding of green capabilities across the RCEP bloc, while exploring collaboration opportunities for Hong Kong practitioners. All survey respondents were manager level or above and had been involved in green construction, property development or facility management projects for more than four years.
The report identified seven advantages of Hong Kong in green building.
As Asia's leading green-finance hub with a deep capital pool Hong Kong can meet the diverse financing needs of the real estate sector. Construction material makers use of waste materials in production processes, reducing embodied carbon emissions.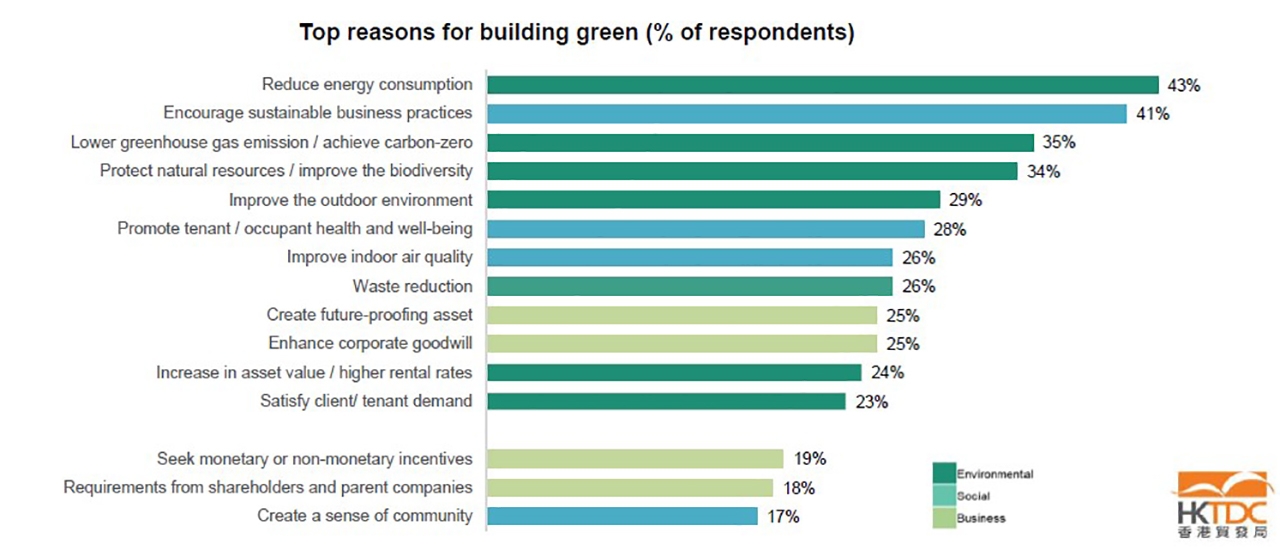 Hong Kong's well-established testing, inspection and certification (TIC) industry is pivotal in certifying green building products and projects. Firms in the city also have innovative construction methods boosting efficiency and cutting production costs, such as digitalisation and prefabrication.
World-renowned the supertall skyscrapers creating its skyline (main picture), Hong Kong is now turning up the dial on high-rise sustainable development and management.
Hong Kong's power suppliers have also been promoting a sustainable lifestyle and energy efficiency through such measures as renewable energy development, energy management, digitalisation and retrofitting. Hong Kong's industry practitioners have built features, such as common social facilities and shared climate-resilient infrastructure, into the design of real estate developments to create sustainable, well-connected communities.
Challenges for RCEP members
Our survey results show that reducing energy consumption, encouraging sustainable business practices and lowering greenhouse gas emissions are the top three reasons for adopting green building practices, as indicated by 43%, 41% and 35% of the respondents, respectively. In terms of specific green building approaches, site planning and construction management (85%) ranked highest, followed by sustainable architectural design and construction techniques (83%) and energy and waste management (81%).
The aspects considered the most challenging by respondents are efficient use and reduction of construction materials (18%), air quality monitoring and purification (18%), monitoring and reducing energy consumption (17%) and use of recycled or eco-friendly construction materials (17%). Passive design (2%), building information modelling (BIM) (4%) and Daylighting designs (6%) are considered the least challenging in the region, perhaps reflecting Asia's strong expertise in architectural design.
Sustainability has gone mainstream but challenges for green building vary across countries, with Japan, Korea and Singapore facing high initial costs, rated as the top challenge by 46%-56% of respondents. The mainland faced a lack of experienced talent (44%), while Japan struggles with securing financial resources (40%). The low availability of certified green building products and services is another area of concern among the Korean (32%) and mainland (33%) respondents.
Hong Kong can meet needs
The views of the survey respondents together with the in-depth stakeholder interviews carried out in Hong Kong and the five selected RCEP markets summarise four major areas, for which Hong Kong's green building capabilities can best meet the needs of RCEP markets. They are: climate risk assessment and design consulting services; green financing; construction and facility management digitalisation; and green building product certification and sourcing.
Climate risk assessment, design consulting services
Hong Kong has a well-established TIC industry able to cope with a volatile climate; 72% of respondents believe Hong Kong excels in design concepts and construction techniques, the city's experience in handling volatile climates and constructing high rises could be valuable in RCEP markets. The survey found biophilic design-landscaping with greenery (42%) and climate risk assessment (34%) will be the most and the fifth-most popular green building approach, respectively, for the next 12 months. Hong Kong is well placed to ride on its experience to provide these services to Australia, the mainland, Singapore, and Korea.
Green financing
Leading financial centre Hong Kong actively participates in sustainable finance development and can play a key role in providing green financing and carbon trading services to Japan, the mainland and Korea. Of the survey respondents, 84% were interested in increasing green finance product and service use in the coming 24 months, to enhance public recognition of (cited by 72%), public engagement with (65%) and transparency (60%) of their sustainability strategies.
Digitalisation
Hong Kong is experienced in adopting BIM, modular integrated construction (MiC) and design for manufacture and assembly (DfMa), while city practitioners are also good at implementing digitalisation in facility management and retrofitting existing buildings. Hong Kong can transfer knowledge of installing indoor air monitoring and control systems and smart waste management systems to RCEP. Survey respondents said AI to improve energy efficiency (41%) and the construction process (37%) will be the second and the third most popular green building approaches, respectively, for the next 12 months.
Certification and sourcing
As the world's sixth largest trading entity in merchandise, Hong Kong has a well-established assessment and certification protocol for green construction materials that can facilitate eco-friendly material sourcing, and Japan, the mainland and Korea will be the focus markets. Of the survey respondents, 40% have already adopted recycled or eco-friendly construction materials in their projects, they still find the sourcing and application of eco-friendly materials a challenge due to the lack of standardisation and certification.
Hong Kong can work with the RCEP market to develop a standardised assessment and certification protocol for green construction materials and set up a comprehensive regional database and platform of eco-friendly materials and suppliers.
Related link
HKTDC Research
LINK