Single-vehicle collisions on remote roads late at night; a highway crash caused by a driver texting while driving; a truck that veered off the road at the end of its driver's 12-hour shift. A single thread runs through these sad and familiar scenarios – driver inattention.
Road users, pedestrians, fleet owners, and even Insurers, all have an interest in keeping drivers focused on the road. Cipia's technology can do just that.
In-car sensing
Cipia has developed a driver monitoring system that can enable carmakers to alert drivers if they show signs of drowsiness and distraction (such as looking at the phone while driving or at the car's infotainment system for too long).
The firm is based in start-up nation Israel, which is home to many innovators that are working to build up the auto-tech ecosystem.
Eyes in the car and on the road
Tal Krzypow, VP Product at Cipia, shared that the company has partnered with another Israeli firm, Mobileye, an Intel company headquartered in Jerusalem, that is the industry's advanced driver assistance system (ADAS) leader, to offer Cipia's Driver Sense, driver monitoring system (DMS), on the Mobileye ADAS chip.
"Driver monitoring systems (DMS) are not only a natural complement to ADAS, but a critical component when it comes to intervention of the vehicle in case of impaired driving, as awarded by the Euro NCAP [European New Car Assessment Programme] upcoming protocol," Mr Krzypow said.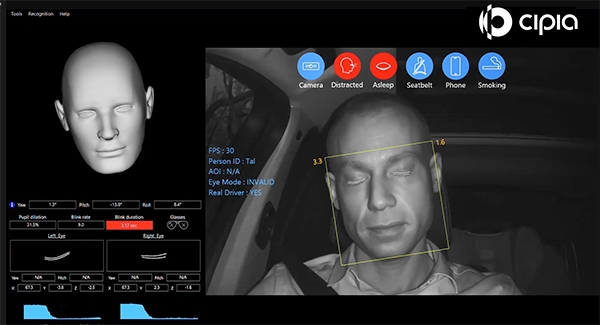 Mainland potential
With offices in Shenzhen and design wins with four leading Chinese OEMs, Cipia is actively developing a presence in the world's largest vehicle market, Mainland China. Cipia's leading DMS will be integrated into two more new models in the mainland, the firm announced early this year. The latest models increase the total number of global design wins for Cipia to 23 vehicle models, on seven different platforms across five car manufacturers.
Cipia CEO David Tolub said "With these new models, we continue to grow our strong presence in the Chinese automotive market, we look forward to strengthening our existing cooperation and creating new ones in this important market".
Mr Tolub added: "Cipia is the leading provider of DMS in the mainland market. We are already working with four leading OEMs in the mainland with vehicles on the roads today using our Driver Sense DMS to save lives."
With China OEMs also putting efforts on export of selected car models to the European market, EU regulations requiring drowsiness and distraction warnings from 2024 contribute to the potential growth of the DMS market in China. Moreover, several provinces in mainland China require driver monitoring in commercial fleets. Considering the long hours fleet drivers spend on roads, the advantage of this is clear.
The tech behind the software
Cipia's technology uses computer vision and artificial intelligence (AI) together with an infrared (IR) sensor to detect signs of drowsiness and distraction of the driver in real-time. The system can further recognise specific drivers which enables carmakers to adjust the in-car environment to the specific driver's preferred setting (mirrors adjustment, media, climate control and more).
The company doesn't focus only on the driver's safety, and offers full in-cabin monitoring, detecting how many passengers are in the car, whether they are wearing a seatbelt and if a child seat is present. Occupancy monitoring can also enhance the in-car riding experience by adjusting climate to the number of occupants present, setting the music according to the age range and other mobility services.
For fleets, Cipia developed a device based on the DMS software. It was designed to be installed in commercial vehicles such as trucks and busses and assist the drivers in remaining safe throughout their long shifts, the device called Cipia-FS10, provides audio and visual alerts to the driver when distraction, drowsiness and dangerous actions are detected (like smoking and holding a phone while driving), it also sends alerts to the fleet management system, allowing them to improve the fleet's safety and efficiency.
Related link
Cipia