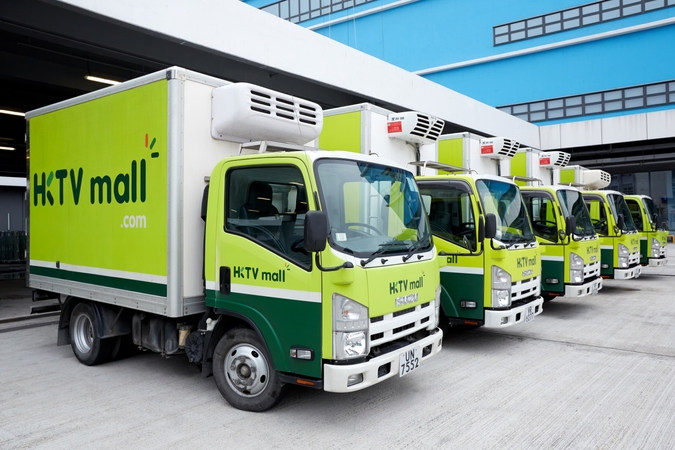 https://hkmb.hktdc.com/en/NTA3NDc5Mzc5
Navigating Covid-19: An E-commerce Market Leader
While the Covid-19 pandemic and the cascading economic turmoil continuing to cast long shadows over consumer sentiment, e-commerce players, which can courageously and timely pivot their businesses towards the behavioural changes, are seeing a much better chance of survival and success in both the thriving stay-at-home economy during the outbreak and the post-coronavirus world.
As Hong Kong's economy is hit by the coronavirus and consumers hunker down at home, the five-year-old homegrown e-commerce market leader, HKTVmall, sets record sales as consumers move online for daily essential supplies and personal protective equipment (PPE).
In an interview with HKTDC Research, Jelly Zhou, the company's Managing Director of Shopping and E-commerce, explains how different strategies such as production and distribution of surgical masks and O2O partnership programs like Thankful Festivals are helping suppliers and merchants survive Covid-19, while contributing to the betterment of the local e-commerce ecosystem.
A Broadening Consumer Base
E-commerce has been slow to catch on in Hong Kong compared with other developed Asian markets such as mainland China, South Korea and Taiwan, but attitudes are fast changing as Covid-19 keeps shifting more consumers away from brick-and-mortar to online shopping. The broadening of the consumer base together with a corresponding expansion of product ranges have thrusted e-commerce into the spotlight, while the click-and-delivery and click-and-collect shopping formats are fast becoming a new normal.
As the local market leader, HKTVmall has seen its unique device visits double from the pre-crisis level to more than 400,000 a day, with daily orders rising to about 30,000 from about 20,000 in 2019, with Zhou saying: "During the early months of the pandemic, we've sometimes recorded visitor traffic of more than a million a day."
Not only are the more tech-savvy young population fans of online shopping, but the older consumers are also rapidly becoming more comfortable and ready to go online. As a forerunner, HKTVmall last year launched a simplified app with a larger font, bigger display and more customer-centric payment options to cater to the growing needs of this burgeoning market segment. As Zhou explains: "We're content that the simplified app has come at just the right time to help local senior consumers, who are so used to starting their day with supermarket visits, adopt online shopping amid a global health emergency when people are being encouraged to stay, work, study and shop at home.
"Seeing the variety of an average shopping cart grow from items from two stores in 2019 to more than three stores now, our team have worked around the clock to secure a stable supply and fulfilment of the most sought-after products such as personal care and hygiene items from both local and overseas suppliers, while expanding the product catalogue by adding new collections such as cooking utensils and fresh/chilled meat, seafood, fruits and vegetables to meet with rising demand in response to the Covid-19 containment measures. More recently, we're seeing a bigger demand for indoor sporting goods, children's books and toys as the expected period of home-schooling and home-exercising is poised to continue."
From surviving to thriving, the e-commerce spree is likely here to stay. Zhou sees a high tendency for new customers to stay beyond the Covid-19 outbreak as most have developed a habit to shop two to three times a week, boasting both a bigger spend and a more diverse basket, adding: "The company aims to increase the share of online retail to 25% of the city's total retail sales."
On Automation
Contrary to the many brick-and-mortar retailers and service providers that see digitalisation as a means to cut capital expenditure and other fixed costs, HKTVmall has been pouring resources into the development of its own smart infrastructure. In response to the rapid growth over the five years of its operation, in March 2018 the company introduced a German robotic pick-and-pack system, which comprises automatic conveying, picking, retrieval and storage, and tote handling systems including software for material flow control and automatic management. Such insight has helped the company stay ahead of the coronavirus-triggered shopping realities.
The automated system, which can seamlessly match warehouse stock with orders, has not only allowed the company to mechanise previously labour-intensive logistics procedures, but has also increased its handling capacity and flexibility. As Zhou recalls: "When HKTVmall first started five years ago, our order consolidation was very much man-powered. During the peak seasons when our warehousing section couldn't catch up with the surge in orders, all other departments would be called to help. The installation of the automated system in our Tseung Kwan O warehouse requires, instead of 150 people running here and there in the warehouse, six picking station workers to consolidate as many as 12,000 boxes of fast-moving consumer goods (FMCGs) a day. We have a similar system in our Tsing Yi warehouse, which also greatly enhances accuracy."
Apart from efficiency and accuracy, scalability is another crucial element enabling HKTVmall to quickly respond to market changes. Since early 2020, for example, to cope with rising demand in the wake of the Covid-19 outbreak, the company scaled up the daily capacity of its smart warehouses to 35,000 orders from 20,000. Optimistic about the future of e-commerce in Hong Kong, Zhou reveals that the company is planning for the next stage of automation and warehouse expansion, saying: "As a result of Covid-19, we're approaching the daily handling cap of 35,000 orders earlier than previously forecast. Therefore, we are now planning to expand our automated warehouses and inventory control systems."
New Partnerships
The burgeoning e-commerce demand has allowed HKTVmall to develop new business partnerships and crossovers with suppliers, merchants, brands, service providers, logistics and delivery agents, as well as O2O promotion partners such as key opinion leaders (KOLs).
Explaining the dynamics of forming new partnerships, Zhou says: "While we keep reaching out to new suppliers for strategic product lines that we want to develop, we frequently receive offers from merchants and brands to sell on our platform. This has forced us to shift our merchant consultants from one-to-one to group sessions and webinars. And during the Covid-19 outbreak, our weekly webinars constantly attract some 70 potential merchant partners."
The company's merchant partners can choose from different business models to best suit their needs. So far most local merchants have opted for the "Standard Delivery" model in which they are required to piece-pick customer orders and send them to designated HKTVmall warehouses for consolidation and last-mile delivery. When it comes to overseas merchants, quite a number have chosen to work under the "Merchant directly deliver to customer" model where they can use the company's online ordering and payment system but complete the fulfilment process themselves.
To better serve the rising demand during the pandemic, HKTVmall has forged new partnerships with third-party logistics enterprises to create a new pick-up model. Zhou explains: "The factory shutdowns, border closures and cross-border logistics bottlenecks have forced us to order more own-branded trucks from our Japanese supplier. So we have developed and expanded our partnerships with third-party delivery partners, which now account for about 20% of our door-to-door delivery services."
"Delivery aside, our shoppers can also choose to pick up their orders at any of our 63 O2O stores, five pickup trucks and seven Foodwise store partners. But from time to time during the pandemic, they may need to wait in a queue for hours. To tackle this problem, we have entered into partnership with a wider array of retail chain stores such as Baleno, CATALO, GIORDANO and Hung Fook Tong. This greatly increased our pickup network from 75 to 100 locations within a week."
As the largest and only online shopping mall in Hong Kong, the company feels obliged to help retailers tide over the current difficult period. Therefore, it invited all branded shops at its Tier One Shopping Mall to join the trial program Thankful Festival in May 2020 at just 6.5% commission as a first step to "change window for offline". Zhou explains: "The festival was well-received by more than 80 international brands, including Columbia Sportswear, Calvin Klein, Eslite Bookstore, Fila, Giordano Ladies, Levi's, Marks & Spencer, Sulwhasoo and Staccato. Some of the merchant partners were making a million dollars in sales a day."
Nurturing an E-commerce Ecosystem
At the same time, the company has launched an online-to-offline (O2O) promotion campaign, including lucky draws upon taking selfies at the brand's brick-and-mortar stores and giving out offline coupons, with a view to promoting synergies between online and offline sales. As Zhou explains: "We see the entire retail industry as an ecosystem, with enormous potential of cross-fertilisation as our online marketplace incentivises consumers to visit the stores offline, and we share consumer insights generated from online transactions with offline partners.
"It has always been our vision and ambition to improve the e-commerce ecosystem in Hong Kong. We have worked very hard over the years to provide shoppers with a smooth, hassle-free online-cum-offline experience so that consumers would think of us whenever they want to buy something online. Now, due to the ensuing e-commerce boom, we're ready to launch new initiatives such as an Open Data Bank, an Open Interface project, a co-branded credit card and a food takeaway function on our existing app."
As the first co-brand credit card, the Citi HKTVmall Credit Card, was launched in June 2020 enabling its holders to HKTVmall's Mall Dollar and Citibank's Points for every online or offline transaction. As Zhou explains, the co-brand card is a useful tool aimed at bridging online and offline retail channels to give consumers a more seamless O2O experience, while providing retail partners with a better picture of the whole consumer journey.
To further empower its partners with big data, Zhou says the company is working to share its resourceful database. "Over the years since our 2015 opening, we've accumulated a significant amount of data which would be very useful for e-commerce players to analyse consumer behaviour by different groupings of preference and interest. We see big benefits in making it as open and transparent as possible to all stakeholders in the entire ecosystem. This is the rationale behind our Open Data Bank project, in which anybody, upon successful account registration, can access the purchasing history of all consumers represented by privacy-proof, system-generated ID numbers."
To further transform the O2O shopping paradise into an O2O cultural community, HKTVmall is also working to set up an open interface. Zhou concludes: "We want people to think of us as not only an online shopping mall, but also a place to stay abreast of what's going on in town and get inspired, so that they will use our app from time to time even when they are not planning to shop. To this, we are engaging and encouraging KOLs and e-tailers to develop and design their own landing pages on our platform to create and put out more user-generated contents (UGCs) such as news, KOL sharing and recommendations."
Zhou believes that the open interface would allow brands and merchants to keep their fingers on the pulse of their customers, saying: "over the past two years, we've seen more brands and merchants become more active in online customer engagement by allocating more resources to online marketing and advertising campaigns on platforms such as Facebook, Instagram and Google, while connecting online shoppers with their own store webpages by hyperlinks on our platform. We look forward to helping more e-tailers evaluate their online promotion strategies with the aid of our data-driven O2O community."
To help its merchant partners better utilise its different services and resources, HKTVmall is going to introduce a certificate course to walk interested parties through the whole e-commerce value chain. "Much effort would be put to maximise the effectiveness of e-commerce operations, from designing a suitable product description and shooting an attractive product photo to securing a smooth logistic flow," Zhou shared.
To support all these ambitious plans, the company is again turning to local talents. As Zhou explains: "We are in the process of hiring up to 70 IT specialists to spearhead the launch of the Open Data Bank, the Open Interface and the food delivery app. As a home-grown company, we've strong faith in our local talents, even when it comes to the most demanding technical parts concerning the operation and maintenance of our most critical components such as the automated inventory control and dispatch system."

Advertising Services
Machinery
Advertising Services
Machinery
Hong Kong
Hong Kong
Hong Kong
Hong Kong