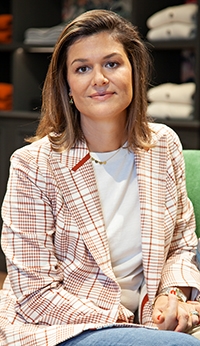 Hong Kong is renowned for bespoke tailoring, with many using a tailor for office wardrobes or formalwear. After more than 20 years of tailoring for men, Frederieke van Doorn was keen to begin offering tailored pieces for women. She established her luxury fashion brand, Frey, in September 2021 and has already opened a boutique on Queen's Road Central on Hong Kong Island. The brand has an off-the-rack range, which offers everything from shirt dresses to trench jackets, in addition to bespoke tailored garments.
"Hong Kong didn't have a dedicated women's tailors, which was surprising for such a workforce-dominated city and given that so many men go to a tailor for their suits," Ms van Doorn, who came to Hong Kong from the Netherlands, said. She wants to encourage women to buy a garment that will last 10 years rather than one season. "It's all about empowering women through their clothing. If they try one of our jackets on, they'll feel the difference."
What motivated you to move into tailored womenswear and how did you craft the brand?
Frey is a high-quality luxury fashion brand that focuses on tailoring. A lot of brands sell jackets and suits when they are on trend, but no one focuses exclusively on it like they do for men. Men's tailoring is big in Hong Kong but there are also a lot of women with jobs in high places required to wear suits and jackets. When I worked in men's tailoring, we always talked about comfort, and how natural materials were more comfortable.
Women's clothes tend to be more figure-hugging, and less tailored than men's clothing. A lot of women have a workwear wardrobe but don't really like it, and I wanted to change that. We spend a lot of time at work and it's a shame to spend so many hours wearing something you're not comfortable in.
Who are your customers?
Working women who are interested in natural materials and sustainability and think twice about what they buy. They are looking for clothes that can be worn for more than one season and tend to be high-end luxury shoppers or working women.
You have a store in Hong Kong's Central district. Will Frey be online too?
Yes, the Frey tailoring service will eventually be online, and customers can shop online for our off-the-rack pieces already. I wanted a store as I need feedback from customers and don't think a tailoring service can be an online thing. I love to talk to customers and see clothes on different body types. The customer relationship is important when you're creating garments for them.
Do you adapt off-the-rack pieces with an in-house tailor?
For small alterations, we can do in-house. We also use a tailoring app called Tailie, which can help us make a whole suit out of two pictures. If you have any garments you like, we can replicate them.
What fashion trends do you notice and do you follow them?
There is a big [1990s-inspired] trend for bold colours and sleek silhouettes and powerful suits – women are getting married in suits. We translate it into our own style but make it our own. As our customer base isn't 20-year-olds, it's a more subtle translation.
Why do women have fewer high-quality formal wear options as men?
I think it's because women are more driven by fashion, and we accept uncomfortable things like high heels – our feet hurt but we still look good! To look the part, women have suffered a lot in the past, too, wearing things like corsets to look slimmer. Now, women want to have more comfort.
Will you host events?
Yes, we are collaborating with a sustainable footwear and eyewear brand from Hong Kong called Kibo and will do a private shopping event with them. We also hope to do some trunk shows and fashion shows and host some private events in Mainland China. I'd like to do a pop-up in Shanghai and partner with some mainland suit brands.
So far, we've hosted events where customers can bring their colleagues and have a ladies' shopping night. We also did an event for fashion stylists, and plan to do one-on-one events with stylists.
What do you like about being an entrepreneur in Hong Kong?
Hong Kong is a great, diverse city and I've found that it's very supportive. If people want to use my store for an event, for example, that's fine. It's a great city for networking, too.
What are your plans for the next 12 months?
We are hoping to open another outlet on the Kowloon side by this September and hold more events as [COVID-19] restrictions are lifted.
What advice would you offer to any would-be start-ups?
Be flexible and willing to adapt. I started this business during a crazy time; we've had our goals, and they have changed along the way. But that's why I love working in production and finding a way to solve problems.
Related link
Frey