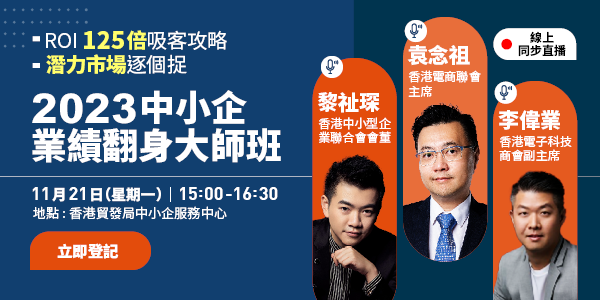 [2023 Master Class for SMEs] Customer Acquisition & Potential Markets Pinpoint | Seminar with Live Broadcast Online
Date
21 November 2022 (Mon) 15:00 – 16:30
Country / Region
Hong Kong
Format
Seminar & Workshop
Language
Cantonese (No simultaneous interpretation available)
Event Details
How to achieve $750,000 businesses and a 125x ROI with only $6,000 costs in 2 months? Should we eye on Europe and America or Southeast Asia for the next B2B potential markets? Is it worth to develop a mobile app? As the market and customers begin adapting to the post-pandemic consumption mode, enterprises also need to keep abreast of the trends and learn new promotional tactics for customer acquisition. For SMEs with constrained resources, effectively hunting customers at a low cost is key!
This month, Digital Academy has invited 3 specialists to share insights from macro-market trends, marketing strategies to backend platform management to help you succeed in 2023. Participants can raise questions on site, exchange ideas and seek professional advice from our experts. The seminar will also be broadcast online for those who cannot attend in-person to gain the latest market updates.
Register NOW:https://bit.ly/3srCM9P
Speaker



Session 1: Market Trends
Joseph Yuen / Chairman at HKFEC

Joseph was appointed as the Head of Commerce at IPG Mediabrands for HK and Taiwan in 2021, and entered the IT industry for nearly 30 years He is a veteran in the industry and very knowledgeable of the latest market trends. Joseph is also the Committee Chair of the Greater Bay Area Cross Border E-Commerce Industry Association, member of the Asia-Pacific Economic Cooperation (APEC) Electronic Commerce Steering Group, and Asia-Pacific Chief Executive of the International Data Center Authority (IDCA).
• B2B Market Trends under the Post-COVID New Normal
• Cross Border E-Commerce in 2023
• The Next Potential Market is…?
• Market Analyses of Europe & America/ Southeast Asia/ Greater Bay Area
• B2B Market Analysis



Session 2: Digital Upgrade (Frontend) – Marketing Strategy
Ben Lai / Director at HKSME Association

Ben is the Founder of the Start Up Group and has 18 years of corporate training experience. He provided entrepreneurial training services to a few thousand annual-subscribed members with a focus on digital marketing, social media planning, community operations and corporate management training. Corporate Partners include Manulife, Nan Fung Group and The Education University of Hong Kong etc.
• Latest Trends of Brand Building & Content Marketing
• 3 Steps for Automatic Drive Traffic
• Dos & Don'ts of Digital Marketing
• Case Analysis










Session 3: Digital Upgrade (Backend) – IT Support
Alvin Lee / Vice Chairman and IoT & ICT Sub-com Chairman at HKETA

Alvin is the CEO of Armitage Technologies Limited, mainly supporting IT upgrade and transformation of enterprises. His clients include the Watson's Group, Café de Coral, AIRLAND and Kao (Hong Kong). He also provides digital upgrade & transformation services, such as construction of sourcing platforms and stocktaking systems, to B2B trade and manufacturing companies.

• New Backend Support for E-Commerce
• Customer Relationship Management (CRM) System
• Enterprise Resource Planning (ERP) System
• How to Decide Which Technology to Use
• Case Analysis
Industry
Advertising Services,Business Management & Consultancy Services,Information Technology Services
Organiser
Hong Kong Trade Development Council