A professor at The Chinese University of Hong Kong (CUHK) has established a firm, EggLogics Limited (EggLogics), that has developed patented technology to increase the success rate for in-vitro fertilisation (IVF) through egg "recharging", bringing new hope to families troubled by fertility problems.
EggLogics was a winner in the 2022 edition of the Hong Kong Trade Development Council's Start-up Express entrepreneurship development programme. In the fourth quarter of this year, the company will conduct Series A financing to raise US$8 million to help expanding in Mainland China and Southeast Asia market.
In Hong Kong, the age at which women have their first baby is getting higher. This delay into the time of lower fertility leads more and more women to seek IVF. Professor Tin-Lap Lee, the Founder and Chairman of EggLogics, who is also an Associate Professor at the School of Biomedical Sciences at CUHK, said the overall IVF success rate drops rapidly after age of 35, with less than 10% by age of 40. This means one has to undergo 10 rounds of IVF to have a successful live birth. With the introduction of the EggCellent technology, it is believed that IVF will become more efficient and less stressful.
"Approximately 300 to 400 eggs will be ovulated across a female reproductive life but its quality and quantity declines with age. To generate multiple eggs at the same time, ovarian stimulation protocol will be implemented during the initial stage of IVF, yet some eggs are still immature and will be discarded after the retrieval process, especially for women aged 35 or above, providing ladies of later maternal age with few options other than repeating multiple rounds of painful and expensive egg retrieval. Our aim is 'no less than one', and we hope to use our revolutionary technology to increase usable number of eggs from conventionally discarded immature eggs and improve the quality of the mature eggs.
Energising eggs
The "Eggspert" team combines clinical science, regenerative biomedicine, genomics, biomedical engineering and bioinformatics to develop innovative egg-enrichment technology "EggBoost" to improve egg quality and promote egg maturation, which is unique and highly competitive. He described the whole process as the biological version of charging a mobile phone.
Prof. LEE explained that mitochondria are the powerhouse of a cell. Age-associated decline of mitochondria is associated with poor egg development and reproductive outcomes. Replenishing mitochondria in the eggs thus will restore the cellular functions in the eggs.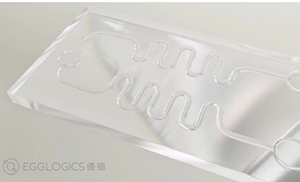 "We use biocompatible hydrogels to make a proprietary chip – a "chamber" full of pipes. We place the immature eggs at the top then inject the mitochondria donating cells (MDCs) at the other end. MDC could be found in the mother's menstrual blood. Just 5 millilitres of menstrual blood can "rescue" up to 20 eggs.
After 12 hours incubation, a mature egg would be observed. Finally, a negative pressure is used to retrieve the matured eggs, and the rest of the artificial insemination will continue."
Prof Lee pointed out that this technique is also applicable to egg freezing (also known as cryopreservation), "but women with blood cancer or after menopause do not benefit. To this end, we have developed another technique to extract mitochondria from other cellular sources from the same subject, which also helps increase prospects for pregnancy." Compared with the traditional techniques, "EggBoost" is neither invasive nor ethically controversial.
Encouraging cooperation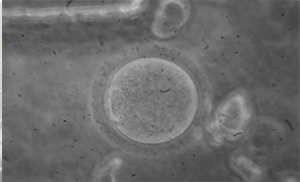 In addition to using innovative technology to boost eggs, EggLogics provides "EggCheck", the first precise gene-based egg quality assessment to identify IVF usable eggs. It uses precise genetic information with a simple grading rubric to give women and clinicians the opportunity to make an informed decision for IVF and egg freezing.
""EggBoost" and "EggCheck" technologies are expected to use the patent licensing model to cooperate with institutions that provide IVF services to bring continuous income to the company," Prof Lee said.
EggLogics works with the The Assisted Reproductive Technology (ART) Unit of Prince of Wales Hospital at present and nearly 50 women have been recruited to experience the technology.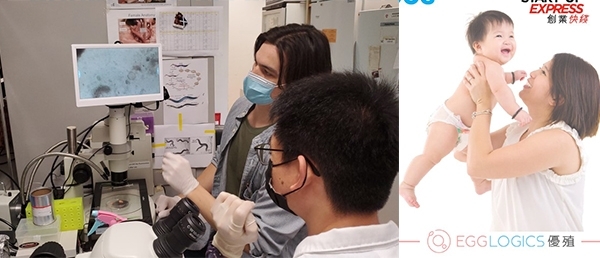 Funding drive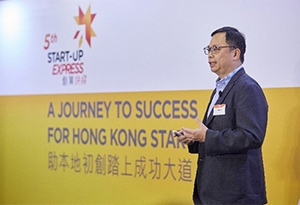 Prof Lee said that following its 2018 establishment, the company was supported by the CUHK Pi Centre, the University Technology Start-up Funding Programme of the Hong Kong Innovation and Technology Commission, and the Biomedical Technology Incubation Programme of the Hong Kong Science and Technology Park.
EggLogics also received support from an industrial partner and Pentepebble. Currently, EggLogics is actively preparing for A-round financing in the first quarter of next year. It expects to raise US$8 million to expand its business in the mainland and Southeast Asia, and intends to apply for patents in Europe, the United States and the mainland.
"We are applying for regulatory approvals from National Medical Products Administration in China and Food and Drug Administration in the United States." The business operation will mainly be in Hong Kong for the first two years. Prof. Lee said.
He added that the global IVF market is worth as much as US$14 billion a year, and he believes there will be great opportunities for business development. However, Prof Lee emphasised that making money was not the original intention in starting the business – the aim had been to find a way for fostering graduate students to become a passionate scientist and to build a path for their career development.
"I hope to make good use of government resources to bring social impact through innovation and technology, making use of market resources to enable the sustainable development of research projects, so as to feed a new generation of scientific research talents."
Award-winner
Following its Start-up Express win, EggLogics will take part in a series of local and overseas activities to build connections, explore markets, seek business and funding partners, and enhance brand awareness, including participating in the second HKTDC-organised Asia Summit on Global Health to be held at the Hong Kong Convention and Exhibition Centre on 10-11 November. Through the ASGH Deal Flow, EggLogics hopes to conduct one-on-one physical or online meetings with potential investors including venture capital funds, private equity funds and family offices.
Related links
EggLogics
Start-up Express