Hong Kong's has a sound financial and legal system and its unique geographic advantages make the city an ideal venue for international legal and arbitration services.
Many domestic and overseas companies use Hong Kong as a platform to develop their business, consolidating Hong Kong's status as a legal and dispute resolution service centre.
Law Society of Hong Kong recently arranged an event, the Forum on Doing Business in Hong Kong in a Rapidly Changing World, attended by Hong Kong Special Administrative Region Chief Executive John Lee and a group of officials, along with Hong Kong Trade Development Council (HKTDC) Deputy Executive Director Patrick Lau.
Rule of law
Mr Lee told the forum Hong Kong was becoming an international legal and dispute resolution service centre in the Asia-Pacific and was the only city in China that implemented a common-law system. The city had abundant legal talent and many international legal organisations had set up in here.
At the same time, Hong Kong met China's need for international legal talents, continued to enhance the depth of cooperation with mainland and international institutions, and promoted exchanges and mutual learning with domestic and overseas institutions on foreign-related legal issues.
Legal professionals
Mr Lau said Hong Kong's legal-service industry was known for its outstanding professionalism. The city's lawyers were experienced in handling international commercial-law cases and could provide professional legal and dispute resolution services in many sectors. This made Hong Kong an ideal platform for providing international legal and arbitration services to enterprises from overseas and Mainland China.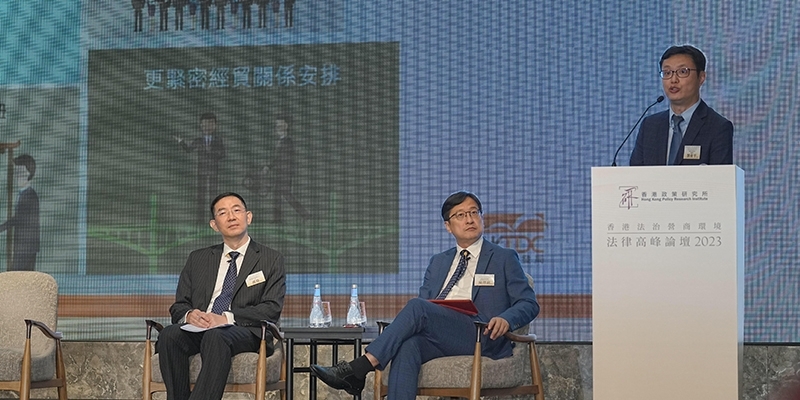 The mainland was one of the largest mergers and acquisitions markets in Asia, and a number of the world's top legal advisory firms have entered Hong Kong to provide services to clients in the region. Law firms in Hong Kong have established strong business and client networks. With the listing of many mainland companies in Hong Kong and simplification of procedures for mainland firms to set up institutions in Hong Kong, the market had a greater demand for various professional services provided by Hong Kong law firms.
The HKTDC and the HKSAR Justice Department have been cooperating on a number of projects to promote legal services, including co-organising the Resolve2Win – Legal Services of Hong Kong, Opportunities programme in Thailand in March , promoting services for the Guangdong-Hong Kong-Macao Greater Bay Area (GBA) and ASEAN..
Connecting capital markets
Hong Kong and the mainland had reached nine legal service arrangements in civil and commercial matters, covering assistance in legal procedures, arbitration and mutual recognition and enforcement of company winding-up procedures and other civil and commercial matters.
Hong Kong, as a link between Eastern and Western capital markets, has been deepening and expanding capital market links between the mainland and the world. Since the HKEX's Hong Kong dollar-renminbi dual counter launch last month, 24 listed companies had set up renminbi counters, accounting for about 40% of daily average equity security turnover in the Hong Kong market.
Related links
Law Society Hong Kong